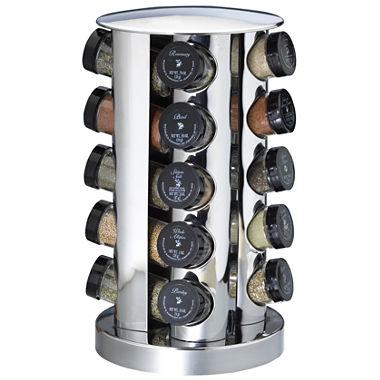 20-Jar Stainless Steel Spice Rack
web ID: 7816003
Keep your spices close at hand with this 20-jar revolving spice rack made in America; register with the manufacturer to receive free spice refills for five years.
updated stainless steel design looks great on countertops
space-efficient; revolves smoothly for easy access to jars
labeled jar lids are easily visible
licensed hygienic spice-filling operation
measures 7.63x7.63x13.5"H
Herbs and spices include basil, celery salt, chives, chopped bay leaves, cilantro, coriander seed, crushed mint, dill weed, fennel seed, herbs de Provence, Italian seasoning, marjoram, oregano, parsley, pizza seasoning, rosemary, savory, sea salt, seasoned salt and thyme.
Rated

4

out of

5
 by
Sofiseven
Great spice rack, if you catch it on sale!
I purchased two of these as gifts, and both recipients (who work in the food service industry) absolutely loved them! The metal on these is not terribly thick, but they're very attractive, and it's nice to get spice racks that arrive filled. I had also purchased another Kamenstein spice rack (the square Heritage polished finish one that JCP used to sell) for myself, and really love that one, too. Same qualms about the thinner metal, but I'm very happy with mine, and I liked one thing about this style even more: these came with screw-on caps that don't have shaker holes on them, which is a definite plus, as spices stay fresher with a snap-on shaker cap inside of a solid screw-on cap. My only real issue is the pricing that keeps creeping up here on the JCP site. I scored all three of my racks using coupons and JCP rewards, so I never paid over twenty five bucks for any of mine, which is fair pricing. But these aren't worth the hundred bucks claimed. Also, be mindful that the "five years of free refills" still require that you pay shipping costs for those refills, putting each bag at just over a buck to refill each bottle... Just FYI.
June 28, 2014
Rated

5

out of

5
 by
shopper9954
Fantastic
I love this spice rack. Very classy looking.Contains a lot of the spices I use.
March 11, 2015
Rated

5

out of

5
 by
Spring07
Great Product
I'm very happy with this spice rack. Just what I was looking for. Other places were way more expensive and not as nice. GREAT Buy!
October 22, 2014
Rated

5

out of

5
 by
pretttygoodcook
This product is just what I was looking for.
I had been shopping for spices by purchasing indivdial bottles or cans, and many spices are difficul to find. This spice rack has all of the everyday spices plus others that will come in handy for special occasions. The jars are easy to open, and the rack's design makes it easy to remove them for use, and they the easily fit back into their slots. I would recommend this product, great for anybodys kitchen!
April 14, 2013
Rated

5

out of

5
 by
4myreview
This product has spices that you never would believe it has.
I totally love this spice rack. It's convenient as well as decorative in my kitchen. No more reaching over my head for spices it's right there within arms reach.
September 19, 2014
Rated

5

out of

5
 by
rhodab
Great Christmas gift
Beautiful set, sitting in a stainless steel lazy susan rack. The jc penny web site stated that you get 5 years free spice refills when you register with the manufacturer. there wasnt any paper work to fill out in the packaging. I had to look up the manufacturer on the web site and customer service was very nice. they are sending me a form to fill out so we can get this great offer.
December 19, 2009
Rated

5

out of

5
 by
PAZ060
Great wedding gift!
Our daughter is getting married this month and we needed the perfect wedding gift. She and her soon to be husband love to cook, either on the grill or in a big crock pot. They have five children between them. Their kitchen appliances are all stainless steel, so with their love of cooking for this large family, I think this will make the perfect gift.
December 12, 2013
Rated

5

out of

5
 by
TheSavvyShopper
This product has a bonus of FREE refills for 5 years!
What a great gift for my 23 year old son who loves to cook and now has a home of his own. The design helps to keep it all organized and the sturdy construction will last him. I was thrilled to know that it also came with 5 years of FREE refills once you take a moment to register online. That makes the overall cost - well worth it.
January 2, 2014