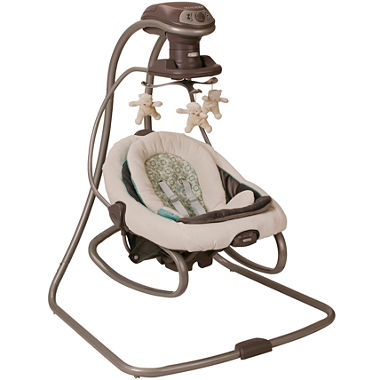 Graco® DuetSoothe Swing & Rocker - Winslet
web ID: 3433049
Depending on baby's mood, the DuetSoothe can sway side-to-side or swing front-to-back, making it a double-duty nicety.
mobile above
5-point harness
2-speed vibration
6 swing speeds
plays 10 classic melodies and 5 nature sounds swing is for babies 5.5-30 lbs.; rocker: 5.5-25 lbs.
requires 4 D batteries, not included
plug in to save on battery usage
34x33x43"
polyester/cotton seat pad
imported
Rated

5

out of

5
 by
MommyofSI
Perfect
This wasn't hard to assemble. I was able to do it by myself at 9 months pregnant. The rocker is simple to take off and rocks very well. When the swing is on it runs smoothly and quietly.
October 15, 2015
Rated

5

out of

5
 by
sgirton88
In love with this product
I purchased this swing/rocker combo about two months ago and am thrilled I did. I did a lot of research and it had all around decent reviews and for very good reason it's incredible. It's so nice to be able to detach the rocker and carry my son around the house since he can't be left alone with his older sibling. It's great also since it has the vibrate feature which my son seems to reAlly enjoy.
October 9, 2015
Rated

5

out of

5
 by
BabyPooch1022
Great Space Saver!
I was looking to save space, and this is just the thing! A swing and rocker in one! If our son falls alseep in the swing, we can simply remove the rocker and take him around the house with us without waking him up.
October 8, 2015
Rated

1

out of

5
 by
ro81
Sudeenly stopped working!
We did a lot of research and had very high hopes for this product. Unfortunately, the motor stopped working after using it for less than a year!! Unfortunately, since we received it a few months before our daughter was born, the product is past its 1-year warrant period. I wonder how many people are in the same situation as us and are stuck with a swing that's not working but out-of-warranty period because it was most likely purchased a few months before the baby was born. For the price point, we had really expected a more reliable, better quality product. This was our first Graco purchase and sadly will be our last.
September 8, 2015
Rated

5

out of

5
 by
cmayer11
Life Saver!
This swing saved my life!! I was a first time mother of twins and i was honestly losing my mind! my son cried all the time! nothing would soothe him, it was awful! That was until I was given this wonderful, amazing, magnificent swing! This swing calmed him down, it got him to stop crying, it helped him fall asleep! I was able to pay attention to his twin sister now and take care of her too! I can honestly say this swing was the best thing I had. I was so sad when they out grew it. Get the swing! You wont be let down. :)
September 17, 2015
Rated

4

out of

5
 by
Holly b
Good songs and white noise,multiple directions
Bought in 2014. Love the noises and music. Like the multiple swing directions. But takes up a ton of room/ floor space. Bad for people short on space. Mobile doesn't turn or move like you think it would. Swing can be taken off and just used as a baby seat around the house with a handle.
September 18, 2015
Rated

4

out of

5
 by
butterfly68
Outstanding Product!
My husband and I are thrilled with this product, and we have received many compliments on it from fellow parents who didn't have the swing+rocker option when their kids were infants. Our baby girl loved it at first, but is fussy no matter what these days...:) Regardless, all the features of this product are really nice, and I love being able to detach the rocker and take it with me to the shower or outside by our pool. Not to mention having the plug in or battery option as well. There are only 2 cons we have found: 1. The "soothing" vibration makes a loud noise when on, and we have to hit it to make it stop; 2. We wish the bears mobile moved rather than stay in place.
August 28, 2015
Rated

5

out of

5
 by
LauraAS94
Amazing Swing/Rocker
I had one of these for my daughter. Such a great swing. The calming music, vibrations, speed settings, and rotating swing head help ease an unsatisfied little one. Also, the take and go rocker is awesome. Easy on and off for when a rocker is more convenient. An overall great product!
September 17, 2015