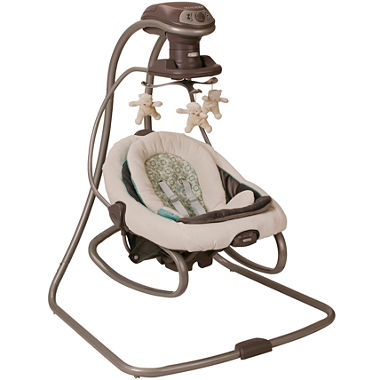 Graco® DuetSoothe Swing & Rocker - Winslet
pp5002490694
PRODUCT DESCRIPTION
Depending on baby's mood, the DuetSoothe can sway side-to-side or swing front-to-back, making it a double-duty nicety.
mobile above
5-point harness
2-speed vibration
6 swing speeds
plays 10 classic melodies and 5 nature sounds swing is for babies 5.5-30 lbs.; rocker: 5.5-25 lbs.
requires 4 D batteries, not included
plug in to save on battery usage
34x33x43"
polyester/cotton seat pad
imported
Rated

2

out of

5
 by
KatyP
Not worth the money!
My son isn't even 2 months old yet and the swing has stopped working. He is only 12lbs, which is no where close to the 30lbs weight limit. My son loves the swing and I'm very disappointed that I paid so much money for a swing that broke that soon. I haven't called yet, but I expect a new motor to be sent to me free of charge or I will not buy another graco product.
September 22, 2016
Rated

5

out of

5
 by
bobmek
Everything you need all in one
We love this swing. We can put our newborn in it and carry her around the house while we do things or leave her swing for a little to help her calm down in a fussy time. Just a great product.
September 12, 2016
Rated

5

out of

5
 by
Opasuzy
We love all of the features!
We bought this to have at our house for our Granddaughter. My husband put it together & realized the AC adapter was missing. I called Graco. Their customer service was great! We received an AC adapter 2 days later! My Grandaughter came to visit that week and loved it!
August 22, 2016
Rated

1

out of

5
 by
AK1987
Multiple Issues
We bought this swing two months- it was perfect for the first three weeks or so. Goes side-to-side and back and forth, plays music, and seems very comfortable. However, after about one month of use, two things happened. First, the swing started to rattle, making an awful squeaky noise every time it goes back and forth, so that we can hear it all the way upstairs with the door shut when its in our downstairs living room. We tried to take it apart, use WD40, but nothing has worked. Its almost so squeaky that its unusable. Second, it barely swings when its on the highest level. Our son weighs 15.4 lbs, and we are constantly manually swinging him, because it hardly swings at all with him in it. We're very disappointed with the durability of this swing.
April 26, 2016
Rated

4

out of

5
 by
shell78
Great Swing
The swing is great, love the color, love the features, but the base is really big, barely fit through the doorway of the nursery. Also, didn't come with the animals that were in the picture that I purchased? But it soothed the baby to sleep and that was the main goal.
June 24, 2016
Rated

3

out of

5
 by
MommyJackson
Very soft & cozy to the touch
I loved this swing & just had to have it. It was the softest fabric I came across & I just knew it would be perfect for bambino..... Boy was I wrong! I dont think that it was an issue with the swing, but that he just didn't like swinging in it! It was still worth every penny though because it can be used as a portable rocking chair also. Since he didn't enjoy swinging, I still got my moneys worth in using it as the other option!! :)
June 14, 2016
Rated

5

out of

5
 by
ejbs1502
Perfect combination
We were worried this product would take up too much space in our living room but it isn't as large as we thought and still does a great job of swining our little one. I love the feature to detached the seat so if you need to bring it into another room it makes for a simple transition. I would recommend this swing to other parents. It has several swing speeds and can be turned to swing from right to left or back to front and the chair has its own set of movement features. You can find the right one to help comfort your little one.
May 16, 2016
Rated

4

out of

5
 by
erihime
Rock To Sleep Baby
Our baby is teething, so she does not want to be put down more than usual. We bought this, so I may be able to do other chores still. It works. Our baby was awake when I put her in the swing, and she eventually fell asleep on her own. The reasons why I did not rate this product as excellent are following. There was a part in the assembly where it just wouldn't snap together properly, as in the metal was scraping the sides of the plastic. Also, the metal base itself is difficult to transfer to other rooms, since it does not easily go through doors if it's upright.
April 30, 2016