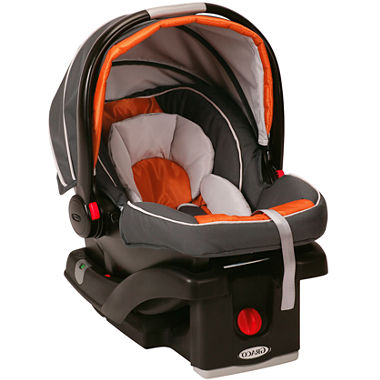 Graco® SnugRide® Click Connect™ Car Seat - Tangerine
web ID: 3433050
The top-rated rear-facing Graco SnugRide car seat is thoughtfully planned, rigourously tested and stylishly constructed.
Click Connect technology provides a one-step secure attachment to all Graco strollers
simple safe one-hand adjust harness system and headrest
engineered and crash tested to meet or exceed U.S. safety standards
EPS, energy-absorbing foam for effective impact energy management
LATCH-equipped stay-in-car base
for babies from 4-35 lbs. and up to 32"
30.67x18.66x15.59"
assembled
polyester/cotton
machine washable seat cushion
imported
Rated

5

out of

5
 by
nursemommypaige
Easy to Install & Tons of Accessories for Purchase
This car seat is wonderful! First and foremost, it is super easy to install. The latch system is really easy to use and it is incredibly easy to get our baby in and out of the seat easily, without struggling with the harnesses like I have with some car seats in the past. The straps do not get tangled easily, and the car seat is incredibly light (around 8 pounds) so it is easier to carry our baby out of the car in the seat. It was also very easy to find other accessories to fit this seat. For example I need a double stroller so I plan on purchasing the Graco Ready2Grow Click Connect Double Stroller very soon, and also an extra base. Some of the lesser known brands are not easy to find extras that the infant seat will fit into, but I am very happy with Graco for this reason. Overall, this is the perfect seat for out busy, on the go family. *While I received this product for free, the opinions and thoughts included in this review are my own.*
July 22, 2015
Rated

5

out of

5
 by
GildaMom
Great car seat!
I received this product for free, the opinions included in this review are mine. A couple of months ago, my bundle of joy born and this car seat made it easier and safer to transport my baby in the car, on the stroller or simply carring by hand. The harness straps fit perfectly to the size of my baby keeping her safe on any trip. The cover is very convenient for it keeps my baby protected against cold, rain and can be removed during the summer months. At home, we are very happy with the product.
October 24, 2015
Rated

5

out of

5
 by
bkeepsushonest
Great Car Seat Design
This is the 3rd Graco infant car seat my family has owned and I am very pleased with the improvements made the design over the past several years. The SnugRide Click Connect is much lighter than our previous Graco infant seats which is ideal since you often carry it around. I also really like that it's easy to install properly with the LATCH system and 6-position adjusting dial. The removable boot is nice for cold weather. And the 5-point harness is still easy to operate making it easy to properly buckle in baby. I will agree with other reviewers that the fabric doesn't breathe well but that also makes it much easier to clean. If you've ever had to clean a car seat after a blow-out diaper you'll understand why this is ideal. Overall, I really like this car seat and find it easy to use, attractive and safe. While I received this product for free, the opinions and thoughts included in this review are my own.
July 27, 2015
Rated

5

out of

5
 by
xpsbuff
Looks great, appears sturdy!
Really easy to get in and out of the car with the Click Connect feature. It looks great, simple, and easy to use.
October 27, 2015
Rated

5

out of

5
 by
cganderson123
EASY TO INSTALL, GREAT FOR NEW PARENTS
I bought this product for my second child that was coming due, having a six year old I was highly impressed with the ease of installation of this car seat over the many previous ones I have owned in the past with my oldest. The safety features are second to none as with all GRACO products I have noticed. The seat itself is light and easy for my fiancee to lift and carry and the ease of leveling the base in the car with the one handed adjustment and the built in level are amazing.
October 17, 2015
Rated

4

out of

5
 by
NikkiRho
Too much time between kids...I forgot!
I have a 11 and 17 year difference between my two oldest children and the baby. I forgot how heavy kids get when in the car seat. I made it to ten months an had the switch out. Your best bet is to get the Click Connect 22 and save some money for the convertible seat...you will need it.
October 14, 2015
Rated

5

out of

5
 by
Grampa B
Incredibly convenient
So simple to use, love that the base is left in the car...one latch and out comes the lightweight carrier. We got the modes stroller to go with the car seat, so we can transfer the carrier directly into the stroller.
October 18, 2015
Rated

4

out of

5
 by
karl48
easy to get in and out
I bought this car seat for my first child and I am very happy with it. was easy to install and once you get the hang of it if you need to move to another vehicle it really isn't difficult to switch in and out. I wish it was lighter but then I feel that it wouldn't be safer for my child so as for carrying it no matter what it isn't much fun. My daughter was born in December so when you add winter to the combination it isn't fun but incase it was icy going from vehicle to store/clinic etc. I was very happy I had a infant carry car seat for her protection! over all I would buy it again. only bad thing is not having the all in one combination for them growing but if not sure about going with an all in one I would recommend it!
September 18, 2015