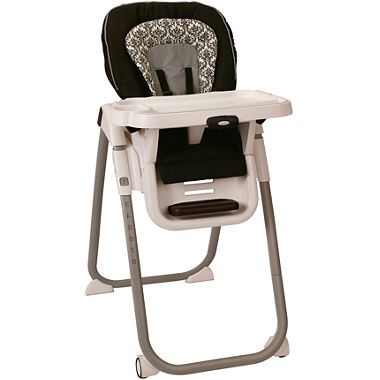 Graco® TableFit High Chair - Rittenhouse
pp5002490689
PRODUCT DESCRIPTION
Let baby feel like one of the family at the dinnertime. The TableFit highchair slides right up to to the table.
8 height positions
3 recline levels
dishwasher-safe tray insert
5-point harness system
partially assembled; instructions included
for children up to 40 lbs. and 3 years old
23x34x43"
polyester/cotton seat pad is machine wash, line dry
imported
Rated

4

out of

5
 by
msjj
My baby enjoys it!
I've recently purchased the Tablefit Highchair after several days of research. I decided to go with this one because of the features and the reasonable price. It was pretty easy to assemble. I only needed to affix two screws that were provided. Everything else pretty much snapped into place. I was so excited to put it together and let my baby try it out. Once completely assembled, I sat my baby in it. She initially cried b/c she probably wanted to be "free", however a few seconds later she began to smile as she seemed comfortable in the plush seat. No more tears! I like that the Tablefit has 8 different height adjustments and 3 different recline options. It seems quite durable, but also has a bit of bulk to it. I thought that it would fold completely for storage and possible travel, however only the legs "fold", which makes the chair slimmer for storage or to leave against the wall in the kitchen. This is still a good feature for space-saving when not in use. The material is easy to clean...just wipe down. I like that the tray also has a removable insert that is dishwasher safe. I plan to keep this highchair because my baby really seems to enjoy it and it makes feeding time much easier! Even my husband thought that it was a good purchase when he saw it. I can see my daughter using this for quite a while. Thanks.
July 28, 2016
Rated

5

out of

5
 by
leftee677
Love!!!
I got this as part of my registry and I am so glad I did. My son loves! It was so easy to put together, easy to clean, and lightweight. I would recommand
August 5, 2016
Rated

4

out of

5
 by
Divinesally
So versatile!
Upon first putting this highchair together I thought the legs were a bit thin, which made me think it wouldn't be sturdy. But it seems to be pretty balanced thus far. I love that you can adjust the seat to tilt back and forwards. The best feature is definitely how we can adjust it to fit any table. It has many heights so your baby can fit into any table where the family is eating. It's very modern in the color scheme and folding legs. It's pretty light and compact and the wheels are a wonderful addition, helps me move the chair easily around the house. The one criticism I have thus far is the seat itself, strapping my baby in require me to hold her up while locking her in otherwise she might fall out. The seat isn't very deep. I would always have to tilt the seat back before seating my baby. Not too big of a deal. The seat seems pretty cushiony and easy to clean. I believe it's stain-proof. You can easily clean off mess.
May 5, 2015
Rated

5

out of

5
 by
LCJ1015
Great from the start!
We have only had this highchair for a day but so far we love it. It took my husband and me about 15 minutes to put together, it was so easy either of us could have done it alone though. We put our little guy in it (he is almost one) and he immediately loved it. The snack tray is great. Perfect for Cheerios and Crasins while he watched me make dinner and the big tray has a lot of room and we love the sippy cup spot. The 5 point harness kept him safe and snug so I wasn't worried at all that he would slip out. We love that is has several heights available and that it is easy to move from one setting to another. The wheels make it easy to move from counter to table. We are very excited to be able to use this right up to our table so that he will feel like part of the family sitting at the table like a big boy. All in all we love this so far and hope to have many years of use and love out of it.
May 21, 2015
Rated

5

out of

5
 by
Jonel
PerfectFit
We purchased this chair about a week ago for our grandson. This chair is very simple to put together and put away. All the features for securing the baby while using the chair are awesome. I definitely recommend this chair.
June 3, 2016
Rated

4

out of

5
 by
MOM RACHEL
Great High Chair
This seat fits my son comfortably. The seat adjust allows him the right amount of back support as he grows. The chair comes with a removable plate for the tray to allow for easy clean ups. The design is very tasteful. This is slightly bulkier then some other chairs but it makes up for that with comfort for baby.
May 15, 2016
Rated

5

out of

5
 by
Meme88
I absolute love it!
My son is almost 10 months old and he fits in it perfect. The high chair is one of the best products that I have bought from Graco yet. I also have the matching car seat and stroller which were also great. When I shop for my son I usually always shop Graco.
April 19, 2016
Rated

4

out of

5
 by
dani23
LOVE LOVE LOVE!
Love the three different reclines options and height adjustments. I was little worried my 4 month old would be young for it but I wish I would have gotten it a month ago. Perfect for having him at my height while i cook dinner.
April 11, 2016