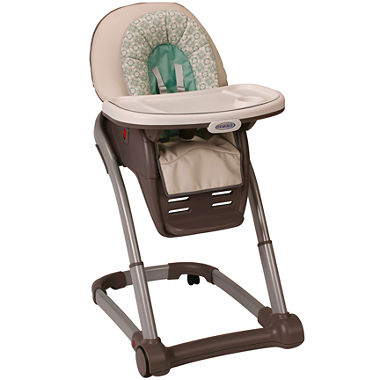 Graco® Blossom™ 4-in-1 Seating System - Winslet
web ID: 3433015
Graco's seating system accommodates your child through all stages of eating at the table. It converts from highchair to infant feeding booster to toddler booster to youth chair.
use high chair and toddler booster or infant feeding booster and youth chair to accommodate two children simultaneously
6-position height adjustment
3-position adjustable reclining seat
booster includes removable seat back insert
removable seat cushion is machine wash, line dry
dishwsher safe tray insert; wipeable plastic tray
stage 1 (highchair): up to 3 years old and 40 lbs.
stage 2: (infant feeding booster): up to 3 years old and 60 lbs.
stages 3 & 4 (toddler booster & youth chair): use removable seat back insert through 3 years old and 60 lbs.
22½x29x41"
partially assembled; instructions included
polyester/cotton fabric
imported
Rated

5

out of

5
 by
_Jasmineee_x3
My Daughter Loves It!
I put this item on my registry. I received it at my baby shower back in April of 2015 but did not open it or put it together until last week. I had forgot about all the cool things the high chair did. I was so amazed as I was putting it together. I love the ability to adjust the height. I like the fact that I can push it around. The wheels ride so smooth. I love the fact that the chair itself can recline back. But the best part is that my daughter loves it! She just recently started to sit up and she loves the fact that she can look around and be alert. I am so happy with this product. I am glad that I can use this for years to come ( hence 4-in-1 ). I got my high chair gender neutral so I can use it in the future for any possible future children.
September 10, 2015
Rated

4

out of

5
 by
Bakka
Very Sturdy
This product is very sturdy and has lots of safety features. It is a little on the expensive side however, this product grows with your child which is great!
October 18, 2015
Rated

4

out of

5
 by
driftedpigeon
Great product but with some minor flaws
It's overall great, light and sturdy convertible high chair. The multiple trays are easy to deal with, to clean, and to get the baby in and out of. The harness in particular is great because all 5 straps release with one button, so if something goes wrong to my baby or she starts coughing I can take her out of the chair, have her on my shoulder and on the go in just seconds. In addition, I also like the high chair feature that it can recline for milk bottle or sit up if I am to feed the baby. Furthermore, all the removable parts make it very versatile and usable for a long time as the baby grows, which is the big reason I bought this chair in the first place. Setting it up is also easy, which I believe is true for all Graco products. I have the swing and the playard from Graco and highly recommend these as well. Only two minor complaints: - The plastic piece under the tray meant to go between the legs is too tight. However, I was able to fix it by simply popping it off the bottom with a little pressure. If this piece were not removable I would not rate it this high. - The wheels are still somewhat easy to move even when locked (I believe that the rear wheels still move as only the front wheels are locked) so I normally have to have one foot on the chair to get my baby out. I deduct 1 star from the product due to this.
September 26, 2015
Rated

5

out of

5
 by
vtho
Very Sturdy we have two Golden Retrievers
Super Sturdy, Dogs won't be able to knock over by accidents!!
October 10, 2015
Rated

5

out of

5
 by
Amazon Addict
Great sitting for toddler and baby
I has been a great pleasure using this product. The only part is the bottom is a little big to move around for some people, it doesn't bother us because we have big room for it. I enjoyed it a lot and my son loved to sit on it from 4 months old to 28 months old. It will be ready soon for my second baby. :) recommended.
September 17, 2015
Rated

5

out of

5
 by
2015baby
Great product
Easy to put together. I love that it grows with your child.
October 7, 2015
Rated

5

out of

5
 by
Soon 2 B Mommy of 3
Great grow with me product
Loved it the day I brought it and still do! I've had it for 3.5 years. I've been using it in its last stage for my daughter, found out we have abother in the way and looking forward to using it again! Only con is because it is a toddler rolling seat, the base is at bit wide for any kind of storage.
September 17, 2015
Rated

5

out of

5
 by
cherik14
perfect highchair
This product offers numerous convenient ways to seat and feed your baby. Also the material parts are easily removable for cleaning mealtime messes.
October 4, 2015