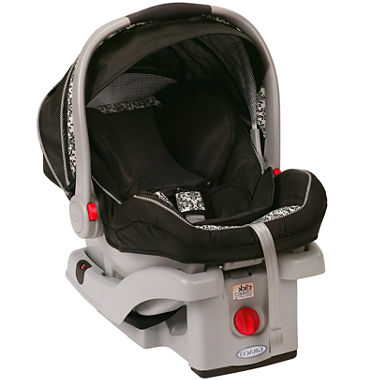 Graco® SnugRide® Click Connect™ 35LX Car Seat - Rittenhouse
web ID: 3433026
The top-rated rear-facing Graco SnugRide car seat is thoughtfully planned, rigourously tested and stylishly constructed. It's equipped with Click Connect technology providing a one-step attachment to all Graco Click Connect strollers to create a travel system.
simple safe one-hand adjust harness system and headrest
engineered and crash tested to meet or exceed U.S. safety standards
EPS, energy-absorbing foam for effective impact energy management
LATCH-equipped stay-in-car base
for babies from 4-35 lbs. and up to 32"
18.66x30.67x15.59"
fully assembled
polyester/cotton
machine washable seat cushion
imported
Rated

5

out of

5
 by
CiarraDS
Wonderful Car Seat!!!
Using this car seat has really has been a wonderful experience so far. It fit my newborn perfectly. The base was very easy to install and removing the car seat from the base is very easy, unlike others that I have used before. It was fool proof! The design on the car seat is very attractive. Something that I thought was pretty cool was the ability to remove the strap covers that are attached via Velcro. One thing that has been a bit frustrating was the handle placement on the car seat. I would love it to "click forward" just one more. It would make carrying the car seat (for me) a little easier. But I am a pretty small woman, so carrying ANY car seat is a bit difficult for me. I am able to balance the car seat over my arm and on to my hip though with out any discomfort or difficulty. Over all, this has been an amazing car seat! While I received this product for free, the opinions and thoughts included in this review are my own.
September 14, 2015
Rated

5

out of

5
 by
digits311
We greatly enjoyed the Graco SnugRide 35 LX
While we received this product for free, the opinions and thoughts included in this review are my own. Overall we found the Graco SnugRide 35 to be a car seat that met our needs. It was easy to install with great instructions. We really enjoyed the weight of the car seat. It is lighter than most competitors. The lightness of it made it easy to transfer in and out of the car. The foot muff for the car seat is an added bonus for the winter months. The color of the car seat is very modern and gender neutral which we enjoyed. We also liked that this car seat can click into the lightweight breezes stroller. With all the pros there do come a few cons that we discovered. The infant head support that was included was not as supportive as we would have liked. We also found the incline of the seat to be problematic for naps while our child was in the seat. If it were reclined just a bit more it would have been great! Overall we greatly enjoyed the Graco SnugRide 35 and would purchase it in the future as well as recommend highly it to others.
August 13, 2015
Rated

5

out of

5
 by
Bluebuttterfly
All around perfect
As a mother, I tend to go to brands that I know and trust. We can never be to safe when it comes to our precious cargo. I love this car seat, it has so many great features. It is simple to adjust harness and head rest with one hand, which is a pure genius idea. I rarely have both hands available. My child fits perfectly in this car seat and that gives me the confidence in her being safe. With other seat it she had a lot of unnecessary room. I love that the click attachment lets me know that it is secure in place when attaching it to the stroller, no extra work. When my other children where younger, I had to move the car seat from the car to the house but with this light weight design i literally take it everywhere. As with any child things get dirty, I am so glad this cover is machine washable. I have literally washed it a hundred times it seems and still looks brand new. I received this product free in exchange for my unbiased feedback.
July 22, 2015
Rated

5

out of

5
 by
FreeForAll
SnugRide perfect for babies!
Snugride Click Connect 35 LX is perfect for Sierra my 8 month old she is in that stage where she is still really small but moves a lot and this seat fit her perfectly. She has room to wiggle but at the same time is supported ad comfy sleeping when she falls asleep. My favorite feature since we owned a Click Connect Graco Car seat already is that Click Connect™ technology in the SnugRide Click Connect LX 35 offers a one-step secure attachment to all Graco Click Connect strollers which enables you to create a travel system that can be customized to your needs out of any Click Connect stroller. The base stays in the car allowing you to take only the seat in and out for carrying baby which comes in very helpful since we have to travel every morning through the week to Granny's early while mom works. I received this car seat free of charge in exchange for my honest opinion and I really loved this seat and would recommend to anyone.
July 30, 2015
Rated

5

out of

5
 by
fbskiracer
Functional, Compatible, Versatile
My wife's concern in selecting a car seat was looks. Mine was function. This car seat is highly functional and easily compatible with our stroller which is another brand. My wife likes the seat because it is lighter than other models we looked at. The seat fit our infant well and the infant insert and headrest are easily removed for cleaning after accidents. The harness can also be easily adjusted at the hips and chest for a secure, snug ride. I think the car seat is built for the long haul, and time will tell. So far our daughter sleeps every time we have put her in it, so I don't think it can be uncomfortable. All in all, I'm glad we got this car seat. We considered many others on the market, but we were planning to get this one after we saw our friends hand it and the stroller we got. While I received this product for free, the opinions and thoughts included in this review are my own
August 18, 2015
Rated

5

out of

5
 by
Cindyq1
Great carseat
It is very comfortable for my baby I really like it that is very lightweight..
October 27, 2015
Rated

5

out of

5
 by
jennf83
Top Notch Car Seat!
I absolutely love this model! It is so easy to install…I didn't even know my husband had installed it because he had it in so quick. It's extremely sturdy in my backseat and the indicator on the side helps you to know that it was installed correctly. I was surprised how easy it is to remove it from the car seat base, I was able to do it with one hand. I am using this car seat for my second child and the car seat I had for my first was a pain. The straps are really easy to adjust, my daughter looks comfortable and it has great support. The fabric is high quality and the color Holt is very gender neutral. I can't say enough awesome things about this car seat. I am really impressed and happy! While I received this product for free, the opinions and thoughts included in this review are my own.
September 15, 2015
Rated

5

out of

5
 by
emina0113
Lots of Parent-Friendly Features
I love the new Graco SnugRide Click Connect 35 LX Infant Car Seat. It is compatible with the Graco Click Connect stroller that we already have and it can be easily attached to it with its one-step secure attachment making it a perfect travel system. It has a lot of features that is very parent-friendly and makes it easy to use. One feature that I particularly like and made me interested is that it was particularly designed to protect rear-facing babies from 4-35 lbs. and up to 32". This is just perfect for our little one. She fits just right and is cozy enough to sleep soundly every time she is in the car seat. The car seat comes with a five-point, front-adjust harness which helps us keep our baby's head and body in a comfortable position. It also makes it easy for us to get our baby in and out safely and adjust the harness to fit snugly without being too tight or too loose. The weight is very light as well so it makes it more manageable to carry it without any problem considering I am a petite mom. Overall we are so happy to get to try this product for free from Graco as it is just perfect for our little one and perfect for us as well. While I received this product for free, the opinions and thoughts included in this review are my own.
September 9, 2015