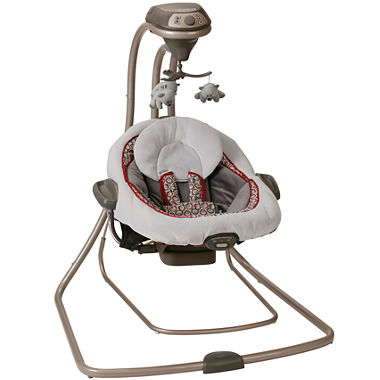 Graco® DuetConnect LX Swing & Bouncer - Finley
web ID: 3433048
Get two products in one! Swing seat doubles as a bouncer, giving you flexibility to move around the house while keeping baby close by.
mobile above
head support
5-point harness
2-speed vibration
6 swing speeds
plays 10 classic melodies and 5 nature sounds
swing is for babies 5.5-30 lbs.; bouncer: 5.5-18 lbs.
requires 4 D batteries, not included
plug in to save on battery usage
partially assembled; instructions included
34x29x43"
polyester/cotton seat pad
machine wash, line dry seat pad
imported
Rated

4

out of

5
 by
JHill
Useful Purchase
Pretty useful if your kids likes the swing. The music/sound features are nice. Assembly wasn't to bad. Good speeds. Even though I have it on a solid and level surface it rocks when it swings. The bouncy seat is useful but gets out grown quickly because there are no toys to entertain the child.
October 19, 2015
Rated

3

out of

5
 by
etamommy
Well....
First off let me start by saying I LOVE this product!!!! My daughter can stay in this hours! I love how it is also a bouncer so I do not have 2 separate baby pieces sitting in my livingroom! However, I used this product for 2 months before it started getting slower and slower and finally it quit swinging. I called Graco and they replaced the motor. I had the new motor for 2 days before it started to slow. When I say slow I had to put the swing on setting 6 to get it swing at setting 1. Anything under 6 and there was no movement. My child only weighs 9 Ibs so it is not that she is to heavy. I called Graco again and they decided to expedite a brand new swing. I received it in 24 hours!! I give this product a 3 because I have had to replace parts already but Graco has such amazing customer service and workers so I will continue to be a buyer!!
September 10, 2015
Rated

4

out of

5
 by
alabelle
So far so good
I wanted a product that did multiple things. Rock, play music, disconnecting bouncer seat, somewhat affordable. So thats what i got. The only thing is the swing motor is kind of loud..... and you need a D battery no matter what to make the chair vibrate. But LOVE the plug in option for the rest, no way was i going to use a battery only swing... these things are lifesavers!
October 8, 2015
Rated

5

out of

5
 by
John Martin
Cozy Duet Swing and Rocker
My sister came for a visit from Florida to meet her great nephew and went shopping and bought him a Cozy Duet Swing and Rocker to have at my house.Our grandbaby just loves it it seems to sooth him. Now my daughter can't say that we are spoiling him. The swing just does fine.
October 13, 2015
Rated

3

out of

5
 by
Khickey
Great but...
I received this as a gift. It was truly a great gift but I wished it had more options. First off the options for ways to swing were slim. Secondly, the batteries ram out quickly. Lastly, it didn't have a mobile that would move on its own. I just feel like for the price that is asked, the mobile should be electronic. But- some positive aspects of this product are the ease of setup, the ease of use, and the material used on this product is soft and holds up nicely. The bouncer seat was also a huge plus!
September 18, 2015
Rated

3

out of

5
 by
celessp5
good design
I bought this about 2 weeks ago and it works good but it really loud. When the vibration is on the whole thing shakes and is extremely annoying and loudyou can hear it across the room. The swinging part is also loud you can hear it even in the lowest setting. I got this one because it was the two in one but wish i would have spent the extra money and got two separate items. Not worth the money.
September 28, 2015
Rated

5

out of

5
 by
Pops
Well built
This is well built and seems like it will last. Nice it has a duel purpose, which is why I bought it. Got it on sale for an even better deal.
September 18, 2015
Rated

5

out of

5
 by
Jodi28
Super Convenient!
I loved this product for for my twins. The convenience of being able to let them swing, then easily lift the bouncer seat from the swing and take them to the next room with me was.a must!! Also the different settings of vibration was great because each girl preferred it different. They loved the different sound choices as well. I received this product at my baby shower and loved it so much I bought another so both girls could use it at the same time!
September 17, 2015