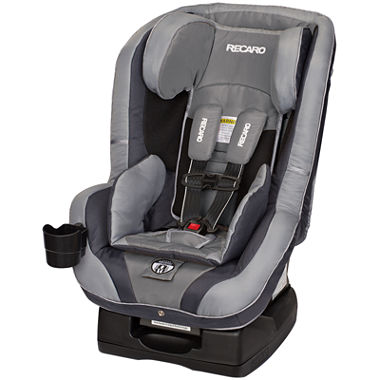 Recaro Performance Ride Convertible Car Seat - Haze
web ID: 3433100
Recaro takes their four decades of racing seat safety and applies that technology into the side-impact protection of the Performance Ride Car Seat. The new HERO harness safety system resists harness twisting while ensuring proper chest clip positioning. Plus, being a convertible seat means you can use it from day one up to 65 lbs.
mesh side vents
easy-adjust no re-thread harness
memory foam
removable cup holder
chest-clip storage pockets
5-point harness system
polyester; polyurethane foam filling
hand wash, line dry
15x24x28-29"H
for use by children 5-65 lbs. (rear-facing 5-40 lbs.; forward-facing 20-65 lbs.)
National Highway Traffic Safety Administration (NHTSA) certified
fully assembled
made in America
Rated

5

out of

5
 by
Twinmom14
WE LOVE OUR RECARO'S
We bought our Recaro's for our twins about 6 months ago and our twins love being put in them, they don't get as hot as they did in other seats. I feel safe knowing they are in these seats. Unlike most other seats Recaro has very little problems with recalls. Highly recommend this product!
November 23, 2015
Rated

5

out of

5
 by
Emily84
I love this car seat!
I love this car seat! My daughter looks so comfortable in it. It has tons of padding and cushioning. It's easy to clean too. It's also incredibly safe. I feel secure while out and about knowing my daughter is safe in her car seat.
November 7, 2015
Rated

5

out of

5
 by
mommytoaprincess
I love this carseat
This carseat is perfect for me, my child, and my car! However I do see how it may not be perfect for everyone the seat does sit very high however I don't mind it and it's a perfect fit in my car. (I drive a 2012 dodge charger) For rear facing I highly recommend using the latch system to get a tight fit it will be hard to install with the seat belt rear facing because there is no lock off built into the seat. This is a very well made seat and it's perfect for me however I do see how people may have issues in smaller cars or trying to get a good install in the center without latch. I love the great side impact protection as it was tested to european safety standards and I really feel my daughter is very safe in this seat. The harness is also super easy to adjust. bottom line: I love love love this car seat but you just have to have the right car to actually get it installed correctly! My mom has a lower end basic car seat and I honestly see a huge difference and always look forward to putting my daughter back into her recaro (it's just so much better and easier to adjust the harness and what not)
July 26, 2015
Rated

5

out of

5
 by
Dr Teddi
Racing Chiropractor Approved!
When I found out I was pregnant with our first child a year ago I immediately started looking for car seats. I am a Chiropractor and also a Baja 1000 desert racer so I knew I wanted the safest and best car seat available for my future child. I soon discovered that RECARO made child car seats and instantly knew that is the seat I wanted! My little boy is now 5 months old and I cannot say enough good things about his RECARO Performance Ride seat! Even the customer service was amazing when I called to register the seat and request the free infant insert. The seat is stylish, he enjoys sitting in it, it was easy to install, easy for me to adjust and most importantly you can just look at it and know it's safe! His head is well protected by the side cushions and the seat is sturdy without being bulky; it fits perfectly in my CTSV-Wagon and matches my RECARO seats perfectly! I love it and both my husband and I would never trust our sons' safety in any other brand!
October 15, 2014
Rated

5

out of

5
 by
beccamcgee
Love Love Love!!!
We have 2 of these Car seats and 2 of the Pro Rides for both of our vehicles. We absolutely love the car seats and recommend them to everybody we know. They are well worth the money. I feel completely safe having my kids in their car seats. My son has been in this car seat since day 1 backwards facing. He is now 3 1/2 and is forward facing. He loves it and so do we.
September 16, 2015
Rated

5

out of

5
 by
tuna
Amazing Comfort
We purchased the Plum seat for our daughter almost 3 years ago and it has grown with her very well. We started her rear facing just before turning one and she always seemed so comfortable. She is very tall but still fits in it forward facing at four years old. I like that it sits higher up and allows her to see out of the window. Now we just need to get a Sapphire one for our little man since he is looks so uncomfortable in his other bucket carrier. My only complaint is that you can't remove the cover to wash it. So we end up hosing it down outside, scrubbing it and putting it in the sun to dry, which usually takes a full day of sun exposure.
August 14, 2015
Rated

4

out of

5
 by
Honey4Drea
Overall, great car seat
We've been using this car seat with our daughter since she was 10 months old. She's now 14 months old and we really like the seat. She looks comfortable and sleeps so well in it for long trips. It's easy to get the straps just right. The only issue we've had is with the installation. We've had difficulties in both of our vehicles (2014 Impala and 2012 Jeep Grand Cherokee) of getting it within the one inch movement criteria. It took us a long time and we even took it to a car seat check and they took two hours to get it right. We aren't going to remove these seats until they go forward facing!
August 11, 2015
Rated

4

out of

5
 by
Havasumama
Easy to use
We purchased this seat almost a year ago. Whike I love the easy adjust harness, there are a few features I am not as crazy about. This particular seat does not give much leg room for rear facing passengers, causing the hip portion of the harest to dig inot the thigh area. It was difficult to quickly route an airplane seatbelt through the rear facing belt path. The LATCH connector belt if also very short, making it difficult to get enough leverage to get a tight install. My daughter is comfortable in this seat, for the most part, and I know she is safe.
August 14, 2015