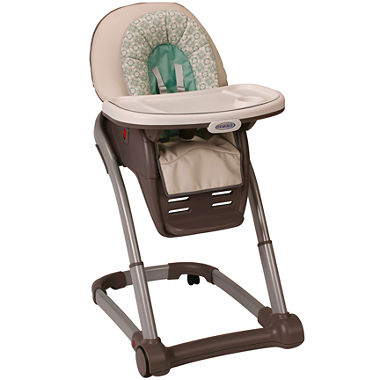 Graco® Blossom™ 4-in-1 Seating System - Winslet
pp5002490699
PRODUCT DESCRIPTION
Graco's seating system accommodates your child through all stages of eating at the table. It converts from highchair to infant feeding booster to toddler booster to youth chair.
use high chair and toddler booster or infant feeding booster and youth chair to accommodate two children simultaneously
6-position height adjustment
3-position adjustable reclining seat
booster includes removable seat back insert
removable seat cushion is machine wash, line dry
dishwsher safe tray insert; wipeable plastic tray
stage 1 (highchair): up to 3 years old and 40 lbs.
stage 2: (infant feeding booster): up to 3 years old and 60 lbs.
stages 3 & 4 (toddler booster & youth chair): use removable seat back insert through 3 years old and 60 lbs.
22½x29x41"
partially assembled; instructions included
polyester/cotton fabric
imported
Rated

5

out of

5
 by
1sttimegrandma
Highchair
This highchair is able to grow with your child...easy to clean
August 8, 2016
Rated

5

out of

5
 by
Aidensmommy2012
Love this highchair!
I have had this highchair for a couple of weeks now and I must say it is wonderful! We love everything about this chair! I have looked and looked at it online for so long that I felt like I was prepared for how multifunctional it is but once I got it in I was overwhelmed! I have used friend's highchairs for months so I knew exactly what kind of features I wanted in the chair. We have both a tall table and a regular height table so I wanted the chair to be able to reach both comfortably. I have been using a Bumbo for months now but my son has gotten mobile enough that he can squirm out of it, so it has become unsafe for him and I needed something that could contain him. This chair can also be used as a high chair and a booster seat for an older child at the same time pretty well making it two seats for the purchase of one. In my mind this chair is the upper end for the price range that it is in. The price may seem a bit steep but I can guarantee that it is most certainly worth every penny paid for it.
April 9, 2013
Rated

4

out of

5
 by
GrammieD
Happy Grammie!
I did a lot of research before buying the Graco Blossom. It was highly recommend by Consumer Reports and previous/current users. So with that said, I purchased one online from Graco and am very happy with the Blossom. The only thing I would change is the small removable seat cushion. It needs a little more cushiness and perhaps a more secure way to attach it to the seat cover.
July 30, 2016
Rated

5

out of

5
 by
Momma2H
Got this as a gift, still use it
Adjustable height, seat reclines, ability to roll or lock wheels. Great must have and grows with your baby
August 5, 2016
Rated

4

out of

5
 by
Jess79
Great Features
We registered for this highchair and so far love all the different features. Love the fact that it can be used as both a highchair and a booster seat at the same time. This will be perfect when we have two children.
July 29, 2016
Rated

5

out of

5
 by
MrsCarr10
Great quality!
We received this high chair system as a gift from our baby shower!! It was by far one of my favorite/most used gifts. I love that it was so easy to clean and that is so long lasting. My daughter is 3.5 and still using the booster seat feature. We're getting ready to unpack the high chair soon as baby #2 is due any day now :)
June 20, 2016
Rated

5

out of

5
 by
Babystace
So far so great!
We got this as a baby shower gift. We didn't think we would break it out for a long time but at 4 months when baby started sitting up with support it came in handy for those times she got tired of sitting in her bouncer. We also found it helpful that we could lean the seat back and bottle feed her. At 6 months when she started puréed foods the blossom became an even more vital fixture in our home. She's 8 months now and it's still great. With all of the attachments we look forward to our continued use of it as baby grows. It's super easy to clean too which it great!
May 21, 2016
Rated

4

out of

5
 by
Bailey06
Easy assemble
I got this for a baby shower gift and it's great. I love that it can grow with my baby and I won't need to buy another highchair or booster ever. It reclines too, which is nice no matter the babies age. Easy to clean-which is a bonus in its sled!!
June 7, 2016