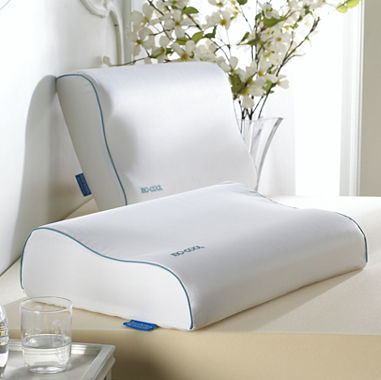 Isotonic® Iso-Cool® Memory Foam Contour Pillow
web ID: 7257037
Sleep Better™ with the supremely plush Isotonic contour memory foam pillow that equalizes pressure and reduces tension.
300 thread-count cotton cover is zippered and hypoallergenic
Outlast® Adaptive Comfort™ technology regulates body temperature, absorbing and releasing body heat as needed
contour shape promotes neck and shoulder comfort
Sold individually. Visco-elastic memory foam measures 14½x20½x5"H. Cover is washable; spot clean foam. Manufacturer's 5-year warranty. Made in America of imported materials.
Be sure to care for your investment with a pillow protector. It's an added layer of protection that will help keep your pillow clean and fresh.
Rated

5

out of

5
 by
Love2Sleep
Exceeded my expectations
I was hesitant to drop what I considered big bucks on a pillow but after waking up almost every morning with a kink in my neck and a blinding headache, I took the plunge. I normally slept on 2 pillows and I still use an extra flatter pillow under this one but it has made an incredible difference in my sleep. The first thing I noticed was that it smelled pretty bad - like commercial processing but the packaging warns you of this and after airing it out for 3-4 days it smells just fine now. The second thing I noticed was how wonderfully cool it felt - no need to flip it like the old ones. The wave form supports my neck and also prevents me from slipping off the pillow (which I did when using my old pillows - hence crick in neck). I give it all AAAs. No neck pain, no headaches! You won't be disappointed.
November 19, 2015
Rated

4

out of

5
 by
insp678
A little firm
After 2 weeks use, these still feel a bit firm compared to less expensive versions we've used, however...my husband and I have both slept great on them, and both wake up without neck pain. We are hoping they "wear in" a little and get softer. They feel softer when lying on our sides than they do when lying on our backs. Not recommending though due to the firmness probably being off-putting for most.
November 11, 2015
Rated

5

out of

5
 by
Mudpuddles
Stays Cool
Hubs likes it..even though he did get a stiff neck.
November 12, 2015
Rated

4

out of

5
 by
TLady2
Relief for TMJ & hot flashes
I bought 2 of these pillows, one for our daughter & one for myself. We have TMJ & suffer with the effects....headaches, neck & shoulder pain....I had an Orthopedic Pillow & needed a new one & I knew our daughter was needing one too. We also like the "cool" aspect of this pillow; such a nice addition for older women with hot flashes! The pillow is a little softer than what I expected, but it still helps. It has a nice pillow cover to protect the pillow itself, nicer than others I've seen. It does have a little odor, as others have mentioned, but the smell lessens with time airing out. Our daughter noticed it too, but it didn't bother her & I expected it would, as she is very sensitive. She too, loves her new pillow! The pillow does still have a slight odor even after having it for awhile now, but I like to spray a lavender scent on my pillow at night & that seems to help too. (I spray it only on the pillow case, not the pillow itself.) I also like the warranty of 5 years.
February 5, 2015
Rated

5

out of

5
 by
GrandmaMST
Very comfortable pillow.
I have arthritis is my neck and back. I have tried other pillows but they just didn't hold up. This Isotonic Iso-Cool Memory Foam Contour Pillow has stayed firm and maintained it's shape. Very comfortable and I have less pain after using this pillow.
October 28, 2015
Rated

2

out of

5
 by
disappointed
didn't work as stated
I purchased this pillow with the hopes of being able to help with my hot flashes, however after giving it more than ample time, I will be returning it for a refund. I had high hopes that it would help me but it didn't.
October 23, 2015
Rated

4

out of

5
 by
blueeyedbelle
Good ergonomic pillow
This was a good product at a reasonable price. We would buy it again. My only complaint is it does not have a custom fit pillow cover included.
October 22, 2015
Rated

2

out of

5
 by
klwagoner
Became hard as a board within one week.
Pillow seemed OK at first but within a week, it felt hard as a board. I returned it.
October 14, 2015