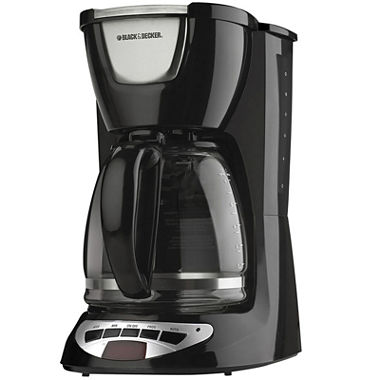 Black+Decker 12-Cup Coffee Maker
pp5006241501
PRODUCT DESCRIPTION
With QuickTouch programming and an array of handy extras like a Sneak-A-Cup feature and 2-hour auto shutoff, this coffee maker will give you fresh, hot coffee without a fuss. Plus, with useful features such as a dishwasher-safe removable filter basket and a Duralife carafe, you get simplicity and performance that will last.
programmable clock
auto brew
optimal brewing temperature
QuickTouch programming
Sneak-A-Cup feature
2-hour auto shutoff
nonstick "keep hot" carafe plate
removable filter basket
plastic and metal
dishwasher-safe parts
9.37x12x13.74"H
imported
Rated

2

out of

5
 by
Richlandbrewer
Disappointed and unhappy with product longevity
In the last two years we have purchased (2) B&D 12 Cup Programmable Coffeemakers; Model DCM100B. Each unit ran great for about a year and then suddenly, without warning, would not brew the coffee. The power was definitely on to the unit; the clock worked fine, however, neither the instant on nor the auto on would kick in to brew coffee. We stuck to the recommended cleaning schedule for each unit. That our units were purchased over a year apart and had the exact same problem tells me this product has quality issues. I'm not happy. We have given up on B&D for coffee makers. We purchased based on brand name and found that really meant nothing as related to this particular product. I see the manufacture of this item was outsourced to overseas. Maybe if this item was made here in the USA I wouldn't be experiencing this quality issue and brand name (Black & Decker) disappointment.
February 3, 2012
Rated

5

out of

5
 by
Happy Camper
Owned for 4 year and makes great Coffee
We have owned this model for 4+ years. It is easy to add the water as the lid opens up very wide and there is plenty of room to pour it in. We haven't had a problem with it spilling. We take our thumb and slightly raise the lid and it pours great. It has the great sneak a cup feature and doesn't over fill the basket when we pour two cups. I am actually surprised so many have had issues. We purchased another model for company to make decaf and it made us realize what a great little coffee maker this model really is! Wish it came with more SS bling but will be happy with what we get.
December 22, 2015
Rated

1

out of

5
 by
irritated consumer
strong dislike
I detest this coffee maker. the lip on the warming plate or whatever it's called is raised. therefore when the pot is placed back on it if it is not pushed properly into place it sits at a lean. this means that when you go to make coffee if you are in any way distracted, in a hurry, or tired and you don't pay complete attention to it you are likely to have a HUGE mess to deal with first thing in the morning. a terrible way to start out a day. i have done this more times than i care to admit. when this happens the coffee overflows the top of the actual coffee maker getting grounds, coffee and pretty much just a huge mess all over the counter and likely the floor. also, the actual warming pan is chipping and pealing. we've had this piece of garbage for less than a year.
November 18, 2011
Rated

5

out of

5
 by
coffeelovers
this coffee maker lasted over 2 years.
WE had bought 3 coffee makers 3 years ago and one gave out and so we opened one of the other 2 and it didn't work so we called Black and Decker and they replaced the new one for free. that was very nice of them. We just had to pay the shipping and handling. We just want everyone to know that this is a great coffee maker that lasted a long time. It is so nice to wake up and the coffee is ready. thank you so much for all your help in this matter. other companies may have told us the warranty was expired but they helped us out. We had to cut off the cord and send it in but that was not a problem either.We really appreciate what this company did for us. S and G Martinez ,Texas.
September 1, 2011
Rated

3

out of

5
 by
Ijustwantacupofcoffee
This product works well overall with one flaw.
This product works well overall, but has one flaw. I almost always have grinds that settle in the pot. When I noticed this, I had already purchased filters that were a little short. So I put those away and purchased some that were taller. The grinds still come into the pot. When I take the basket out to wash it, that is when I notice how the grinds have risen to the top of the filter and over. This is not good when you are sipping on your coffee and have to contend with grinds in your cup and mouth. I might add that this occurs no matter how much coffee I put into the basket. My usual amount is enough for two cups a day. Unhappy Customer!
August 4, 2014
Rated

1

out of

5
 by
dustyiam
Does not work, call center hours wrong
Bought this today, came home and unpacked it. Read the booklet to see if anything unusual appears in the instructions. Washed the carafe out, poured water into the reservoir and put in a filter, attempting to run a cycle before I actually brew a pot of coffee. Plug it in, turned it on, and NOTHING. No water pumping, the warming plate stays cold, and no help available because the offices are closed at this time. It was 745pm, est., and the booklet says call until 11pm cst M-F. Website says 8pm est. Either way, no one working to help a customer. So far, I am really disappointed...
August 15, 2011
Rated

1

out of

5
 by
Karen, Canadian Coffee Lover
12 cup Programmable CoffeeMaker
I hate this coffee pot. It does not flow directly into the pot because the coffee filter HOLDER DOES NOT sit properly, therefore the coffee flows incorrectly. I did not require to purchase a coffee pot for 4years and this is one is the worst replacement. In fact, this pot will be replaced and it may very well be a possible back up although I never required one for four years. This product is poorly made, does not dispense coffee into pot properly. Required paper product because would not fit a reusable filter. DON'T WASTE YOUR MONEY! Karen, Canadian coffee lover
July 26, 2011
Rated

4

out of

5
 by
Arbie.
Good quality, good price.
I have been pretty pleased with this coffeemaker. I have not been pleased with the replacement carafe. I cracked the original after about 2 years and bought the recommended replacement. I had the correct model number and the replacement carafe was the correct one, but it does not fit well and the basket will not drain fast enough. I have had several times of grounds in the coffee and have resorted to placing a heavy object against the carafe to push the spring to empty the basket of coffee.
January 1, 2012