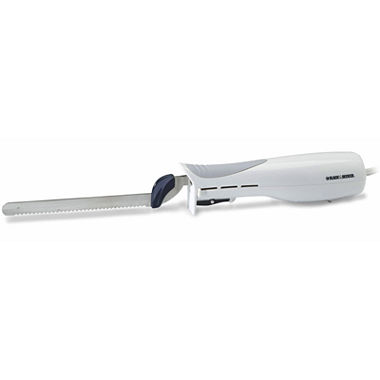 Black+Decker 9" Electric Knife
pp5006241511
PRODUCT DESCRIPTION
There has never been a simpler way to slice your favorite meats, poultry and breads with ease and precision than with this electric knife. The non-slip tabs make blade removal and cleaning easy while the safety lock prevents accidental start.
9" (23 cm) stainless steel blade
non-slip tabs for easy blade removal
safety lock prevents accidental start
comfortable handle with non-slip grip
plastic and metal
blades are dishwasher safe
2.75x12.25x3.12"H
imported
Rated

1

out of

5
 by
Scude
Very disappointed!
I bought this to replace an electric knife that I had for 20 years that finally stopped working. This B&D knife worked OKAY for about 2 or 3 cuts & now it's basically useless. I don't know if it's because it's dull or the blades aren't moving properly. I did notice that only one side of the blades seems to move.
September 6, 2016
Rated

2

out of

5
 by
TxLicketysplit
EK 700 Replacement Blades
Have used knife twice, now blades are so dull they won't cut hot butter. Can't find replacement blades
August 25, 2016
Rated

4

out of

5
 by
Keith Westbank brah
Need to either sharpen or replace blades
I have had this knife for years, date code 0425-DE, and now I need to either sharpen or replace the blades. Please advise.
August 27, 2016
Rated

1

out of

5
 by
applejacks4
Disappointed with it
I bought this knife and the blades don't work now. So its hard for me to recommend it.
July 19, 2016
Rated

2

out of

5
 by
old was better
Old knife Better
I have been using this brand of electric knife for years and would like to find "old stock". I cut a lot of meat with it (seasonal commercial business). Really like how this brand feels but new safety button is a nuisance as you have to push it in everytime you start the knife, old one you just switched once. In the last month, I have purchased 3 of them. All 3 haven't lasted one use. The blades don't slide back and forth, one stays stationary. The first knife I returned as the metal pin that holds the blade fell out before I even used it. The second one, I never could get the one blade to move. The 3rd one I tried it at the store before I even brought it home to be sure both blades were moving. It worked fine until I started cutting meat and then the one blade went stationary again. As I stated before, really like this brand of knife but the new ones on the shelf seem to be defective.
September 2, 2011
Rated

1

out of

5
 by
Sir cooks allot
Easy to use and light weight
Down side is blades dull quick will not cut after two uses
April 30, 2016
Rated

1

out of

5
 by
Hawk33
Throw it in the trash
Either I'm an idiot, the knife is defective, or it's just poorly made. 3 adults have tried to use it and none of us can figure out how to keep it in the "on" position. The safety is always on. It basically takes two hands to operate it which in turn defeats the purpose of using an electric knife. So, with that said, does anybody know if there is a way to turn the safety off while you're using it? Having a safety feature while using it is great if you are letting a 5 year old carve your turkey however it's not necessary for adults. Looks like I'll be using just an old fashioned knife today to carve the turkey, throwing this electric knife in the garbage and buying one made for adult use before Christmas.
November 26, 2015
Rated

1

out of

5
 by
Mlparker
Will not cut
I used my knife one time and it stopped working half way through while slicing a ham. I am very disappointed.
April 1, 2016