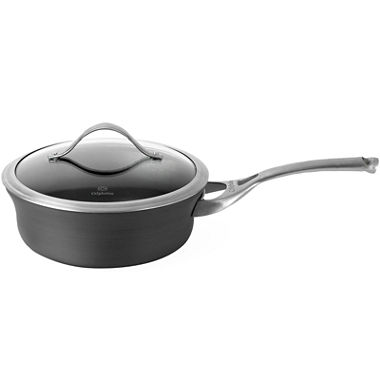 Calphalon® Contemporary 2½-qt. Nonstick Shallow Covered Saucepan
web ID: 7823903
Create sauces that rival a chef's culinary concoctions with this nonstick, shallow, covered saucepan from Calphalon.
heavy-gauge aluminum for even heating
multi-layer nonstick coating for lasting release
pan and cover are oven safe up to 450ºF
stay-cool, brushed stainless steel handles
Aluminum. Dishwasher safe. Imported.
Rated

5

out of

5
 by
eeeyore
Always out for use
I try to put this away but its to the point I just leave it out on the stove. Its great for cooking veggies, soups, eggs, etc., its our new go to pan.
November 27, 2015
Rated

5

out of

5
 by
GrammaX2
Perfect size
I needed a slightly larger calphalon sauce pan and this was exactly what I needed.
November 24, 2015
Rated

4

out of

5
 by
memompalmer
good chose of sizes in one order
I bought the pot/pan as a xmas present. I hope they are as good as they are advertised
December 24, 2014
Rated

2

out of

5
 by
11111
I was quite disappointed
I own quite a few Calphalon pots and pans and love them immensely. However, this exactly product left me very puzzled. I tried to make some sauces in the pot and and was really surprised with the aftertaste my cooking had -- after first time I cooked, then after the second, then again after the third. To try it the last time and make sure I cooked the rice I cook practically every day and know the taste completely. The rice had the aftertaste and the unpleasant smell after being cooked in this pot. The shape and size of the pot are great though. I would love to find the substitution. The only reason I gave 2 stars is because I decided to stop trying now and send it back. Maybe I am reacting too soon and should try and use the pot up to 10 times - I do not know. Nobody mentions this issue as a potential challenge anywhere so I have no idea how long I am supposed to put up with the bad results before I get my *perfect pot*. :)
January 20, 2013
Rated

5

out of

5
 by
yfz43
Great soup pan for 3
I really like the shallowness of this pot/pan for soups as the low and wide profile make it excellent for smaller batch stews and soups. I have slowly been replacing my current stock of cookset one by one with Calphalon and I am really happy with this piece. Its wide base makes it excellent for browning/searing meats prior to making soups/stews. It is also a great multipurpose combo pot/pan for pasta dishes, omeletes, etc. I have been using this pot for 6 months and apart from some chips in top received at store where it was bought from, it still looks brand new. Clean up is a breeze with a squirt of dishsoap and wipe with cloth.
February 2, 2012
Rated

5

out of

5
 by
kush
This shallow pan is one stop solution
I have been using the same pan of my roommate . Hence I was pretty sure where my dollar are going. I love this pan because it help a rookie like me to cook like pro. Most of time whether dry or gray based cooking it work like champ. Cleaning the pan is easier. And steel handle is firm and easy to grip . Even you cook for long handle never get hot to burn your palm. I will say just go for it.
January 20, 2015
Rated

5

out of

5
 by
Megan
Best item in my Kitchen
I bought this pan about 6 months ago and love it. I cook almost everything in it as it is perfect size for all my daily cooking. Food doesn't stick and it is so easy to clean. I can cook using very less oil in it, which I like the best. I hope to buy more of Calphalon products very soon.
November 17, 2014
Rated

5

out of

5
 by
tacoma
Love this saucepan
Bought this to replace a pan I ruined (burnt sugar). I was a little apprehensive about the nonstick coating, but the pan has performed wonderfully. I also like the glass lid--easier to see product and not have to remove lid and lose heat.
November 16, 2014