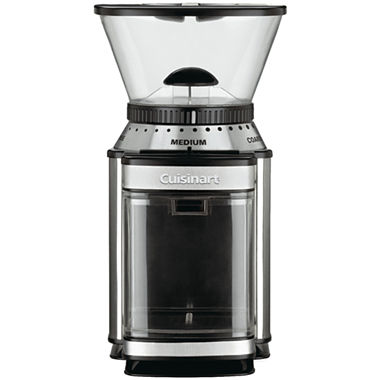 Cuisinart® Burr Mill Grinder
web ID: 7804091
From ultra-fine to extra-course, finding the perfect grind is simple with this Cuisinart design that holds up to 32 cups of ground coffee.
18-position grind selector
provides uniform grind and optimum flavor
4 to 18 cup slide dial
removable 8-ounce bean hopper and 32-ounce grind chamber
electric timer
made with BPA-free plastic
AC current; 500 watts. Plastic. Measures 6x7.13x10.75"H. Wipe clean. Imported.

Rated

5

out of

5
 by
Furball
Totally worth the money
We have had this product for a good 8 years till the selection panel internal piece broke. Since then we replaced with another of the same type. We love being able to grind to a fine powder to brew our coffee, which in the long run you use less coffee to brew a good cup of joe. Less waste more satisfication. It is a bit loud but its worth every penny.
October 7, 2015
Rated

5

out of

5
 by
Mamawolf33
Loving Coffee Even More
I knew I'd love a burr grinder and decided to try Cuisinart because of the quality I've seen in other Cuisinart items I've bought or been given, and I'm not disappointed! Great features include being able to select exactly how much you want to grind (and the mill holds about 1/2 a pound of beans), and how coarse or fine you want it ground. It's also a sleek little appliance and will be easy to maintain and clean it. The only change I'd want is for the cord to be longer - looking at it, it seemed fine but in practice is much too short for my taste. If you're treating yourself to a good cuppa, why not get the best grind you can? Love it!
May 25, 2015
Rated

2

out of

5
 by
Browning62
Let's try this again
My wife got us this grinder for Christmas and it worked for maybe one and a half bags of coffee beans. It worked intermittent when it did work and I compared our regular two cup measuring spoon to what the grinder produces and found the grinder to use much more coffee. I do like the look of this unit though the quantity lever seemed a little flimsy. We are in fact waiting for a shipping label to return ours to either be repaired or replaced with hopefully one that will stand the test of time. A very nice grinder just want it to work.
March 4, 2015
Rated

3

out of

5
 by
Keith
Good while it lasted
We have had one for three years. It has been used once daily for 8 cups during this time. For the last several months, the coffee had a burned taste and the grinding seemed to take longer. Disassembly revealed the burrs had worn down. Unfortunately, replacement burrs are not available so what I thought to be a quality product is no landfill fodder. :-(
April 10, 2015
Rated

4

out of

5
 by
OjaiShopGirl
atractive design & Cuisinart quaility
Many grinding choices & can set premeasure option for volume of coffee desired. The hopper holds a large quantitiy of beans. I am very happy with my purchase. The only drawback is that the caddy for the ground coffee must line up perfectly to reattach to the unit...it takes initial pacience until you are use to it. There is a center nodule to assist you in lining it up. I think the grinder is visually attractive...I like the design.
February 24, 2015
Rated

2

out of

5
 by
quest for good espresso
Not OK for Espresso
This was the first grinder I bought to help with the making of espresso coffee. I thought it would be OK, but have discovered that it can not grind fine enough for espresso coffee. It is good for regular percolator coffee, that's it. I'm looking at selling it and spending the money for a high quality Italian grinder.
January 22, 2015
Rated

3

out of

5
 by
waxhorn
Nice, but...
I wanted a burr grinder so I spent the money on this one. So I get controls for fineness....and surprisingly for me, number of cups. What? So I look at the instructions. How the heck am I supposed to know what settings to use? There is useless guidance in the instructions. I figured I'd put beans in the hopper for a fine grind and start, but no...I have to set the number of cups also. That makes NO sense to me.
October 23, 2014
Rated

1

out of

5
 by
Steve
Stopped working after one use.
Bought this today. Ground enough for 18 cups and it stopped working. I bought this grinder because I though it would be a quality product. Boy was I wrong. Should have gone with the Black & Decker!
December 18, 2014