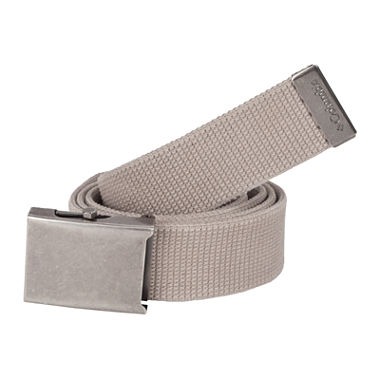 Columbia® Cotton Web Belt–Big & Tall
pp5004230477
PRODUCT DESCRIPTION
Laid-back, but with plenty of polish, this washed cotton web belt has the right weekend attitude for your off-hours looks.
cotton web
metal buckle
1½" wide
fits sizes 32-44
imported
How to Adjust the belt:
Open clamp in back of buckle, remove belt
Cut belt to appropriate size
Open clamp in back of buckle, insert belt, then close clamp
Rated

5

out of

5
 by
joe8
So good, I bought another one!
I purchased a Columbia belt just like this one many years ago. I basically wore it every day for years and it held up extremely well. The web belt eventually started to wear and was looking a bit faded however the metal buckle was still in very good condition. I love the belt so much that I just decided to get another one for replacement. I love this style of belt and how easy it is to adjust. The military buckle locks so that it stays tight without any slipping. The buckle is well made and a very good design. The webbing is a nice texture and quite heavy duty. I know this new one will last for many years. I might just need to buy another in case these are not available years down the road.
November 11, 2015
Rated

4

out of

5
 by
CinJenks
Well-made, short
I have purchased the same Columbia belt for my husband before. It was long enough to cut to fit, as this style belt is meant to be. This belt is so short it barely fits a size 36-38. The quality of the webbing and buckle are good, however.
September 30, 2015
Rated

5

out of

5
 by
Jazzman
Great web belt
I needed a replacement web belt -- like the one I had that lasted through basic training and 6 years of week-end Army drills back in the 60s. The only difference is the old one was green and the new one is khaki to match most of the slacks and cargo shorts I wear. I had been replacing my leather belts after less than I year when I recalled the good old web belt. This shows no sign of wear at all.
July 7, 2015
Rated

3

out of

5
 by
Onereturn
This product is not the size advertised.
I ordered belt number xxxx8530 because it was, and still is, advertised as a 54 inch belt. In reality, it is only a 46 inch belt. If I had paid more attention to the reviews, I would have realized that this product is incorrectly advertised. I then ordered belt number xxxx8540 which is a 54 inch belt, as advertised. With all of the negative, but informative, reviews, it's hard to understand why this item is still advertised incorrectly.
April 29, 2015
Rated

5

out of

5
 by
JCC1
Great Belt
This belt is just what I wanted. Sturdy belt and buckle that allow for easy adjustment through the day. The knobs on the buckle adjustment are east to get a good grip unlike many buckles of this type that are too smooth and hard to grasp. The overall length of the belt is easy to adjust, allowing for perfect length while allowing for after eating slack. Belt is good thickness which results in good grip of the buckle mechanism.
November 28, 2014
Rated

4

out of

5
 by
TheBigTomato
Good Belt
It's a fine belt, although it isn't a versatile belt in that it should be worn for casual occasions only.
September 9, 2015
Rated

1

out of

5
 by
wshaw320
Sizes are incorrect
I wear a size 46 belt. Not just when I was in the military and had such a belt, but every belt I've bought. So when I ordered this belt that fits all "46-54" waists, I was disappointed to find that there was a four inch gap between the buckle and the end of the belt. To bad you can't buy an over sized length and cut it off, as I did in the military.
April 12, 2015
Rated

5

out of

5
 by
Robbi2
Great belt
This style belt is hard to find and is exactly what my husband wanted. Fit is adjustable and is a good length.
August 12, 2015