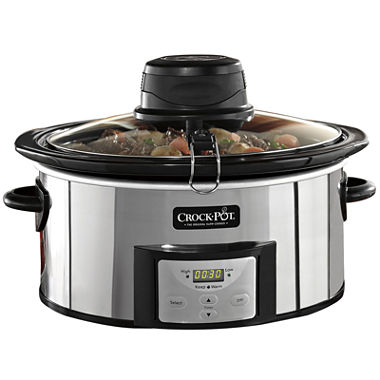 Crock-Pot® Digital Slow Cooker with iStir™ Stirring System
pp5005310224
PRODUCT DESCRIPTION
This Crock-Pot slow cooker with iStir automatically stirs your food so you don't have to be home to do it. You also don't lose any precious heat or moisture because you don't have to remove the lid.
iStir™ automatic stirring system has two removable stirring paddles—a general purpose paddle and a stew paddle
a removable classic lid handle is also included for stirless cooking
programmable control panel with digital countdown timer allows you to set cooking time anywhere between 30 minutes to 20 hours
high/low temperature settings
automatically shifts to warm when cooking is complete
removable oval stoneware pot
polished, stainless steel exterior with black accents and plastic handles
6-quart capacity
serves 7+ people
AC. Metal/plastic with stoneware pot and glass lid. Measures 15.2x10x15.2"H. Lid and pot are dishwasher safe. Imported.

Rated

1

out of

5
 by
LizR
Beware! stir paddle made food taste like plastic
Bought this a few months back and loved it at first but had only used the metal stir paddle for larger stews. I used the general stir paddle this weekend for chille and it completely ruined the entire batch it smelled and tasted like plastic. I washed the stirir before use so I don't know why I had this issue. I had to throw the entire batch away which was awful since I had guests over for the start of the NFL season. I don't know why the stirring paddle is made out of plastic in the first place and not metal like the other attachment. The inside of the crockpot still smells like plastic even though I've cleaned it twice. I might have to trash the whole thing. Very disappointed.
September 13, 2016
Rated

4

out of

5
 by
Alaskacool
Great Usable features!
Really liked to convenience. However only used it twice and when I went to use it again the top had shattered. Looking for a replacement top...........SCCPVC600AS-P w/ iStir.
August 21, 2016
Rated

5

out of

5
 by
kd3pc
Great cooking made easy!
This Crock-Pot is the one to own. From large family meal prep to preparing canned goods or soups and stews for later freezing, it has the size and stirring to make it happen. The keep warm will let you use it on the buffet or game day with no worries. I made Apple Butter for canning as well as beef stew, vegetable soup, and tomato sauce for freezing to use this winter. It is great to have the automatic stirring available for those dishes that need an occasional stirring. No need to lift the top. Everything turned out as it should. It is large and may be a handful for the older cook to clean and handle. It will take up some counter space, compared with conventional counter top appliances and when stirring "thick" sauces, fruits, make sure you use the thinner paddle, as the larger one may only move the contents, rather than the desired stirring. I received this product to sample as an honest evaluator of it's performance. It worked better than advertised or expected in my use. Well done Crock-Pot!!
September 8, 2013
Rated

4

out of

5
 by
Danzig9821
Great design
Pretty much every design features I can think of to make it my favorite Crock Pot
August 7, 2016
Rated

4

out of

5
 by
chantelleknick
Great product if you love soups and stews
I received this product in exchange for testing it and reviewing it. It is a beautiful addition to my kitchen with its black and stainless finish. I love the convenience of having an automatic stirring feature so I know that my soups, stews, pasta dishes, etc. will not stick and burn while I'm away. I love that I can attach one of the stirring implements or I can just attach the regular handle if I'm using the crockpot to make something I don't need automatic stirring on. I love that I also have the option of using the stirring attachments manually as well. I love that the lid has a locking mechanism. Although its a decent size, though, we are a family of 6 and this is not large enough for me to make a roast with all the vegetables or any other larger dishes. This is the perfect addition to the kitchen of a smaller family or for bringing something to a potluck. I wouldn't recommend this product for someone with a large family or if you don't often make homemade soups or stews or other dishes that need to be stirred often.
September 9, 2013
Rated

5

out of

5
 by
Little bit
Wonderful Creation
I get up 2:00 a.m. for work and we have dinner by 5, then clean up and bed by 7:00. So I wanted something I can set and forget, but not have a scorched hard mess to clean up either. I love the istir and would give it 10 stars if that where a option. I definitely recommend this product.
July 17, 2016
Rated

5

out of

5
 by
Doug12
Love the iStir!
Hot days, cold days, throw it all in and cook it! My advice, a pint of liquid is enough on a 5hr cycle and add the potatoes an hour before the end, or they go to mush and don't use the stir setting once the potatoes are in.
July 10, 2016
Rated

5

out of

5
 by
amazingaustin
Great product
This thing is great made Catfish Gumbo and all I did was add the rue and other Items turn it on and forget it. After 14 hrs added the catfish chunks and cool down. 24 hrs later took it out of the refrig beck in the C P heated it up and wow.
July 16, 2016