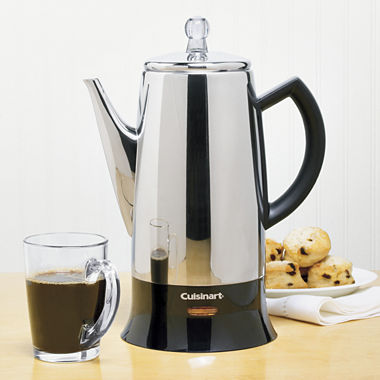 Cuisinart® 4-12 Cup Percolator
web ID: 7806027
This percolator from Cuisinart gives you the rich, full flavor of brewed coffee.
convenient capacity of 4-12 cups
transparent knob reveals progress of the brew cycle
detachable cord for easy serving
stay-cool bottom sits safely on any surface
stainless steel design features long, tapered, no-drip spout
Rated

5

out of

5
 by
ShopHobby
this is an excellent product
actually 2nd one I bought for a gift since I love mine so much! It makes excellent coffee especially if you prefer percolated coffee. The measuring lines are clearly marked inside the pot so its easy to make just the right amount you want. Components fit together perfectly so no fighting to get the lid off.
November 20, 2015
Rated

5

out of

5
 by
Jean
Nice coffee pot
Be careful, coffee is extremely hot when done brewing! Coffee taste so much better when made in a percolator.
November 15, 2015
Rated

1

out of

5
 by
valore
product not good, poor
This morning I prepare my coffee in the percolator and plug in electrical unit and it did not work. I tried it in another electrical unit and it failed. I will be taking the percolator back this morning and see if I can exchange for another percolator. Very disappointed. Will not recommend this percolator to no one. This product has very poor features sad customer Earline Lee
April 2, 2015
Rated

5

out of

5
 by
Shilohkd
Quick Brewing
I had wanted this classic piece for awhile and gave myself a treat for early Christmas present! Happy I did! I used it for Thanksgiving and was pleased with its performance. Its quick and easy, keeps coffee nice and hot. Only drawback is if you like very strong coffee follow their measurements ratio of coffee to water. It was to strong for us at ratio for 12 cups I used alittle less grind to 12 cup of water measurement. Percolator keeps coffee hot enough to our liking but don't be misled that its still brewing...it's not just keeping your coffee hot is all when after main brew time which is about 10-12 minutes . I have no regrets with this purchase. Big plus included it is a very attractive piece to add to your table.
January 9, 2014
Rated

5

out of

5
 by
gr8rot
great product
My friends recommend trying percolated coffee instead of the drip coffee. I was hesitant at first. So she brought her old percolator and made some for me. WOW!!! Night and day!! Great tasting coffee I must say. I immediately went on jcp.com and found this product on sale. I had to try it. This product did not let me down. I had to tweak a little on how to prepare the grinds though. I was told to use coarse grinds vs regular grinds. What a big difference, less grinds in the coffee. So far, it's working great despite what the reviews states. I bought the warranty so I am not discouraged if anything goes wrong with it. I do recommend this product.
April 23, 2014
Rated

3

out of

5
 by
thecolonel
does not keep coffee hot
while this makes good coffee, it does not hold the temperature hot for serving after first perk. really disappointed with this product. it is being returned. still looking for the percolator that will perform like our old presto machine
February 14, 2015
Rated

5

out of

5
 by
CoffeeLover73
Makes a great cup of coffee
This is my second Cuisinart® 4-12 cup Percolator. It has always performed above my expectations and makes the best coffee I have tasted in years. My first pot was broken by one of my children who inadvertently slammed it into the sink and broke the bottom. This was not the fault of the manufacturer. I used other coffee makers for a couple of weeks but after tasting the coffee from those pots I had no alternative than to re-buy my favorite... the Cuisinart® 4-12 cup Percolator so that I could again enjoy my coffee.. I will continue to use this percolator and be sure that my daughter does not try to help me make coffee again.
November 15, 2012
Rated

5

out of

5
 by
Loverofbaking
Best Coffee!
This is a hard to find item these days. Everyone uses the k-cup machines and the old style peculators still make the best coffee. I bought a few of them for me and my sister to keep as a spare.
January 22, 2015