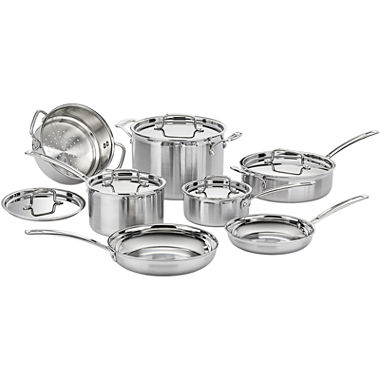 Cuisinart® MultiClad Pro 12-pc. Tri-Ply Stainless Steel Cookware Set
web ID: 7821193
When you're serious about cooking you'll appreciate the superior performance of this Cuisinart 12-pc. stainless steel cookware set. Heat surround technology provides consistent, even heat distribution along the base and side walls of cookware while the polished stainless steel cooking surface does not discolor, react with food or alter flavors.
professional triple-ply construction features a core of pure aluminum bonded to brushed stainless steel exteriors and stainless steel interiors
drip-free pouring tapered rims eliminate drips and spills while pouring
snug stainless steel covers seal in moisture and nutrients for more healthful and flavorful results
solid stainless steel riveted handles stay cool on the stovetop
use on stovetop, in oven or under broiler
induction ready compatible for cooking on induction stovetops
freezer safe for easy storage
oven safe to 500ºF
12-piece set includes:
1½-quart saucepan with lid
3-quart saucepan with lid
3½-quart sauté pan with lid and helper handle
8-quart stock pot with lid
steamer insert with lid (fits 3-quart saucepan)
8" skillet
10" skillet
Stainless steel. Dishwasher safe. Imported.

Rated

5

out of

5
 by
Jazminejo
Excellent Cookware
For several months I have been reading up on the various cookware that is available, determined to buy a high quality replacement for my current cookware set. At first glance, I thought to buy All Clad, but found the price off-putting. Then I found Cuisinart's Pro-Clad set. After reading all the glowing reviews, I decided to purchase it for myself. As I unpacked the set from the box, I could tell right away that it was well made and solid, which is exactly what I wanted. I've been using the cookware for two weeks now, and I'm so pleased with its performance. It cooks evenly with no hot spots, and I haven't had an issue with food sticking, even scrambled eggs. If you take the time to preheat the pans properly before cooking, your food won't stick. I agree with the other reviews I've read, in that this Pro-Clad set is of comparable quality to the All Clad, but for half the price. I adore this cookware and plan to add more pieces of Cuisinart Pro Clad to my collection soon.
February 14, 2015
Rated

1

out of

5
 by
Keepitsimple
A Disappointment-Returning it
I spent a lot of time looking at reviews to make a good choice on a nice set of stainless steel cookware as it was our desire to use a "healthier" cookware option. We tried out best to make the Cuisinart MultiClad Pro set work. We experienced all the of following: Seasoned pans to try to create more of a non-stick surface Used non stick spray Used barkeeper friend/interior/exterior Used stainless steel polish/exterior Soaked before cleaning Dried immediately after washing to avoid water spots Only cooked with low to med/high heat Handles DO get very hot! Heavy and unbalanced "WAY TO TEDIOUS" to maintain Food sticks even when following all recommendations to prevent it Scratches very easily. Unfortunately this set is not working for us and is a disappointment...just creates STRESS in the kitchen. We have used stainless before, but nothing like this! Unfortunately will have to return and make another choice.
July 14, 2015
Rated

5

out of

5
 by
Jakques
Great Cookware Set!
I have had this for over 2 years, it is my first cookware set. They are thick, can go into the oven up to 500 F, and adjust to heat nicely. The lids seal on very well, and the handles are comfortable to grip. Set has everything you would need for a home kitchen. My only complaint is one of the pans warped. Might have been my fault putting it hot into cold water. I cannot tell as I originally had a coil top stove before getting a glass top. I think there is a lifetime warranty on this. The other two 1 star reviews are questionable. Stuff will always stick to steel unless you use oil or butter, or cook in a liquid; they are not stick free teflon! If you use metal utensils or scratch pads (to clean with) in the pots, it will only make it harder to clean the next time as it makes the surface rougher allowing food to stick. This is true for all steel pots and pans. Try soaking in hot water and soap and use a soft cloth. As for changing colors, steel will always change colours when you heat and cool it, especially when using acids (lemon or tomatoes), or if you slightly burn the food.
December 11, 2014
Rated

5

out of

5
 by
tootser
The best cookware for the price
Wish I would have ordered this set years ago. If anything sticks I use a little baking soda and it comes right off. I fry meats and eggs with no sticking. Reading other reviews really helped. Don't use metal utensils, they scratch, never cook on high heat, and always make sure pan is heated to right temperature before adding food.
May 30, 2015
Rated

5

out of

5
 by
VikingMama
Something to pass on to my grandchildren
I've been using cheap, useless teflon coated pots and pans in the past years. When I received these in the mail, I was so excited, but at the same time, I didn't want anyone to touch them until I could, rightfully, break them in. The glory that was to be, with the first dinner I made, using each and every one of the pots and pans, to the enjoyment of my family. The biggest challenge was on how to clean them. After different trials, I finally googled the solution and watched a video on YouTube. The secret is....... BarKeepers Friend! That's right! Doesn't scratch up the pots and pans, and leaves them sparkling clean. Only to be used if you have stains on the pots and pans that won't come off.
September 7, 2014
Rated

1

out of

5
 by
asimpleheart
Not worth the money.
My Husband bought me this set as a Valentine present. I read the booklet that came with it and have followed it closely. Every time I use the frying pans everything sticks to the bottom and such residue that I have to soak in warm water to get it halfway clean. I have used 2 of the pots and the same thing happens. I would not recommend them at all!!!!! Extremely disappointed.
February 26, 2015
Rated

5

out of

5
 by
Nolagirl22
For your average cook also!
This set of pots is amazing! I am no professional, however I do enjoy my time in the kitchen. With a little research on cooking with stainless steel, these pots and pans are everything I was hoping for! Great looking and practical!
March 4, 2015
Rated

1

out of

5
 by
unhappycustomer
not happy..
I just bought this today and might i add it was very expensive. I cooked on one of the pans tonight and everything stuck to it, i had to soak it and even after that i couldnt get the food off without really scrubbing.. these are suppose to be a good brand? lol i do not suggest buying these.
November 14, 2014
$9.95 oversized item surcharge

An oversized item surcharge may apply to some heavy or bulky items due to size, weight or special handling required. This item surcharge is in addition to standard shipping rates.