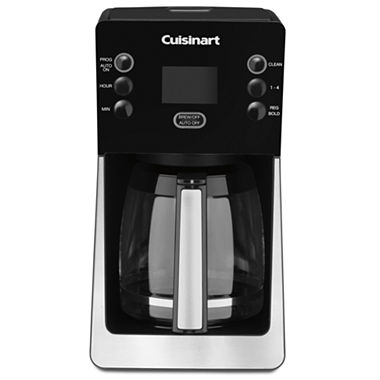 Cuisinart® Perfectemp 14-Cup Coffee Maker
web ID: 7806100
This coffee maker combines state-of-the-art coffeemaking technology with a new high-tech look for style-conscious kitchens.
delivers hotter coffee without giving up flavor or quality
14-cup glass carafe with decorative stainless steel handle
control panel with extra-large LCD
full-automatic with 24-hour porgrammability
self-cleaning
1-4 cup setting
auto-off (0-4 hours)
brew strength control allows you to select regular or bold
easy-to-view water window for accurate viewing
brew pause lets you enjoy a cup of coffee before the brewing cycle has finished
60-second reset recalls setting and position in the brewing process in case of loss of power
gold-tone filter
charcoal water filter
1025 watts. Stainless steel/plastic/metal/glass. Measures 9¼x8x14½"H. Wipe clean. UL listed. Imported.
Rated

2

out of

5
 by
satch
Poor quality
Two year old DCC2800c coffee maker. Makes good coffee. Been leaking water for last year on counter. Lid spring tab just broke, the other one will now not be far away. Bought because we have numerous Cuisinart kitchen small appliances, and thought this would be good quality, not so. Will not be sending it back for repair, not worth the shipping costs, will look for another brand, to replace.
October 17, 2015
Rated

5

out of

5
 by
JayCee
Best coffeemaker EVER
We purchased this coffeemaker just under a year ago and have found it to be the best coffeemaker we have ever owned... The very best feature in my opinion is the brew time... you have both the regular brew and the strong brew... It is a tiny bit slower than a regular coffee maker but this is absolutely no problem as the coffee comes out perfect every time. Other features I really liked are the shorter cord (and wrap away).. small batches (1-4 cups).. extended warming plate (2-4 hours)..bell feature for both ready and finished.. water filter (for smoother taste)..it is very easy to clean.. you can actually fit your hand inside to wipe off any stains.. and of course the 14 cups. Unfortunately, it gave up the ghost just short of one year.... and I misplaced my sales receipt (bummer) You may think this is a rather flattery review, but I felt I had to try to counteract the opinion of the other reviewer for completely failing the machine because of a sprung spring. If you decide to buy this machine, you will love it...
September 30, 2014
Rated

1

out of

5
 by
Lucgg
Lid breaks very easily
I bought this coffee maker in Aug 2014. After a few months of use the lid broke. We replaced the unit in Nov 2014. As of Feb 2015, the lid spring is broken again despite the fact we took extra care shutting the lid on the coffee maker. On a positive side it makes very good coffee.
February 22, 2015
Rated

1

out of

5
 by
Potash
Very poorly made
Bought first one in 2013. It lasted almost 9 months. Replaced under warranty. Second one lasted 5 months. Replaced again under warranty. this one lasted almost 3 months. Time to try a different model.
February 18, 2015
Rated

2

out of

5
 by
Budhardt3
Garbage
We've had this machine for a couple of years. After 6 months the lid spring broke, but, hey, we could live with that. But, now, in the last 2 months it has slowly started leaking when you set up the night before. The last 3 mornings we have a counter covered with water. This morning it had run onto the floor and my 14cup coffee maker only made 9 cups. I mopped up the other 5 cups. Looking for a new coffee maker.........a different brand.
December 20, 2014
Rated

1

out of

5
 by
shopper4454
I do not recommend this product
Have purchased Cuisinart coffee makers in the past and was thoroughly satisfied. This one, however, fell apart after bout a year of use. First the springs in the lid, now a rubber gasket is falling out where the coffee drips down.
February 16, 2015
Rated

5

out of

5
 by
rlac12
Good to the last drop
I've had Cuisinart coffee makers for years and have never had any trouble, the same goes for this one. The only drawback is filling the water, I can never quite get the last 1/2 in the reservoir without spilling it but that has more to do with the size of the coffee pot being larger (14-cup).
January 21, 2015
Rated

5

out of

5
 by
mydoodles
Simple to set and makes great coffee
I have the one like this but with the thermal pot. I love it and intend on buying this style too. Wish JCP would get the one with the thermal pot. The style is so easy to set and simple to understand. I totally disagree with the one review about the "cheap" plastic. The coffeemaker is well made so don't let the plastic on it detour you from making a purchase. Love everything about this Cuisinart coffeemaker and believe me I've bought several style and made the comparison. Great sale price too.
May 30, 2013