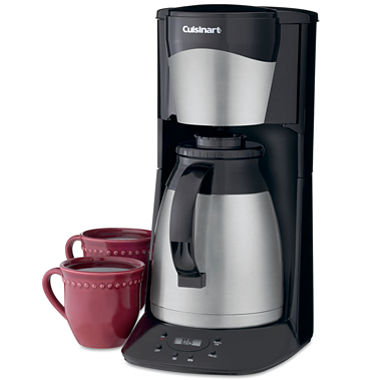 Cuisinart® Thermal Coffee Maker
web ID: 7806008
The Cuisinart thermal coffee maker keeps coffee hot and fresh for hours, with that just-brewed flavor. You'll love the way this elegant stainless steel unit sits on your counter.
no-drip 12-cup double-wall insulated stainless steel carafe
patented hands-free brew-through and pour-through lid seals out air
fully automatic with 24-hour programmability
brew pause feature stops flow of coffee when carafe is removed so cup can be poured mid-brew
automatically shuts off; beep sounds after brewing cycle is complete
1000W. Plastic/brushed stainless steel. Measures 7.25x11.25x15.38"H. Wipe clean. UL listed.
Rated

5

out of

5
 by
sewblessed7
Great coffee maker!
We've never had a thermal coffee pot before. And wouldn't have one now if it weren't for JCPenney's generous help in replacing a bad coffee pot we bought last year. But this one is amazing. It makes very hot coffee. My first sip burnt my tongue and made me laugh! I had an old Black and Decker coffee pot that I bought years ago that I had to dig out of storage when my coffee pot I had bought last year finally quit. It would make barely hot coffee and cool almost immediately. By the time my daughters got around to coming out for coffee, it was cold. This pot makes super hot coffee that stays hot for hours! I tested it once the other day. Over 12 hours later, the coffee was respectably warm. I'm amazed! The one thing that has been a bit silly is that it doesn't come with a reusable coffee filter. Also, it only comes with 4 disposable ones. So, of course, I forgot to buy filters when I was at the store. I tried to use a couple of the old style ones I had on hand, which ended up causing a backup and mess all over the counter. Lesson learned! But I still think that for the cost of this pot, and the quality expected, a reusable filter should be standard accessory. Other than that, this pot is wonderful! Hot coffee most of the day!
November 25, 2015
Rated

5

out of

5
 by
drconcrete
This is an awesome coffee pot!!
We had this same coffee pot for over 8yrs & never had any problems. So when we bought another coffee pot, we purchased the same one & are hoping we have that same experience.
November 11, 2015
Rated

1

out of

5
 by
Mom2threebusyboys
Disappointed
I bought this coffeemaker as a gift to myself. Easy to set up, everything was working great until day 4 of the first week of use. While preparing the coffee the night before to start automatically the next morning as I always did, all of a sudden, the coffee started brewing. Tried to hit off, none of the buttons worked, all the buttons were frozen. I had to unplug the coffeemaker to get the coffee to stop. Plugged in again and immediately coffee started brewing. I let the cycle finish and then tried to set the time and nothing would work. I called Cuisinart and was told it was probably frozen so to unplug the machine for four hours and that should reset it and it will be good to go. Well I did and still could not program the clock, or do anything. Coffeemaker was making noises like it was trying to brew but fortunately there was no water. Called Cuisinart again and was told to return to JcPenney.
January 16, 2015
Rated

1

out of

5
 by
CaraJo
Ordered two - neither worked
Unpacked the first, ran two test batches and set it to brew in the morning. Woke up - no coffee. Tried just turning it on. Stayed on for a minute then shut itself off without brewing. Tried setting new timer - turned on but turned itself off. Checked manual. It said if there is no water in reservoir machine would turn itself off after one minute. Double checked - water ok. Called Cuisinart - they hadn't heard of such a thing. Recommended I return it. I did and had to reorder. Had to return to store again to pick up new maker. Second maker -worked just fine for 3 weeks then one morning no coffee. Tried just turning it on, thinking I'd forgotten to set the timer. Stayed on one minute and shut itself off. Same as last time. Called Cuisinart again. Very apologetic but no explanation. Said maybe JCPenney got "a bad batch". Thankfully, JCPenney refunded the reward points I had used toward the purchase.
November 14, 2014
Rated

5

out of

5
 by
14Veritas
Good Product A Bit Pricy
Brews coffee and shuts off after brewing is complete. Thermal Carafe keeps coffee hot all day. Easy to clean. Suggest purchasing the optional stainless steel basket to eliminate the need for paper filters.
July 16, 2015
Rated

4

out of

5
 by
Snydes
Great except for some details
I love the capacity and it keeps the coffee warmer longer than any carafe I have owned, but the lid will take you two or three tries to get it on as it like to screw on crooked and the spout pours very slowly. I normally just take the top off to fill my thermos. The timer numbers and letters are very small and not backlit.
June 29, 2015
Rated

5

out of

5
 by
mydoodles
Perfect coffeemaker and easy to set
I've purchased practically every Cuisinart coffeemaker except the ones that grind. I finally purchased this one for myself and I love it. So easy to set and what I like best is when I want coffee now, I just hit ON and when it's done brewing, I make coffee for the next morning and hit AUTO ON and it's ready immediately for the next morning. No fuss or muss. Like a previous customer wrote, when you start putting the lid on with the words 'POUR' over the spout, there's never any problems. Fits right under my overhead cabinets and when you place it on a mat, you just pull it out, fill, put desired coffee in basket, push it back underneath the cabinet and it's ready to go. Just that simple and easy. One of the simplest coffeemakers Cuisinart makes. Bought it on sale at a good value and just as happy as can be.
February 8, 2014
Rated

4

out of

5
 by
sissysissy
Good for the price
over all nice, makes great tasting coffee. I have only 2 things I dont like. The led window so small I have to put my glasses on to see what I am doing. The no open pour is so slow takes forever gill your cup.
May 13, 2015
Product Q&A
Ask your questions. Share your answers.
1 month ago
by
0
out of
0
found this question helpful.
Was this helpful?
helpful
0
unhelpful
0
http://answers.jcpenney.com/answers/1573/product/158264/question/2447533/undohelpfulness.djs?format=embeddedhtml&sessionparams=__BVSESSIONPARAMS__&return=__RETURN__&innerreturn=http%3A%2F%2Fanswers.jcpenney.com%2Fanswers%2F1573%2Fproduct%2F158264%2Fquestions.djs%3Fformat%3Dembeddedhtml%26scrolltotop%3Dtrue%26expandquestion%3D2447533&user=__USERID__&authsourcetype=__AUTHTYPE__&submissionparams=__BVSUBMISSIONPARAMETERS__&submissionurl=__BVSUBMISSIONURL__
Answers
Answer: 
It came with 2 cone filters but I prefer the flat bottom which I use daily. The instruction booklet said to insert a paper or gold tone filter (not included) so I guess the answer is yes.
1 month ago
How often do you shop at JCPenney? 
Occasionally
0
out of
0
found this answer helpful.
Was this helpful?
helpful
0
unhelpful
0
http://answers.jcpenney.com/answers/1573/product/158264/answer/2432385/undohelpfulness.djs?format=embeddedhtml&sessionparams=__BVSESSIONPARAMS__&return=__RETURN__&innerreturn=http%3A%2F%2Fanswers.jcpenney.com%2Fanswers%2F1573%2Fproduct%2F158264%2Fquestions.djs%3Fformat%3Dembeddedhtml%26scrolltotop%3Dtrue%26expandquestion%3D2447533%26expandanswer%3D2432385&user=__USERID__&authsourcetype=__AUTHTYPE__&submissionparams=__BVSUBMISSIONPARAMETERS__&submissionurl=__BVSUBMISSIONURL__