/css/webkit-ext.css?v=2014_6.7.0_B6.0"/>
JF J. Ferrar® Black Herringbone Suit Separates
Getting the perfect fit and style has never been easier. Suit separates let you create a sharp, professional look that fits, without taking the time to visit a tailor. Just select the jacket and pants in the exact size you need to build a modern suit in a classic pattern that's just right for you.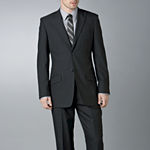 JF J. Ferrar® Black Herringbone Jacket
$180 original $69.99 clearance $69.99 $69.99
Sale prices are subject to change. Store prices may vary.