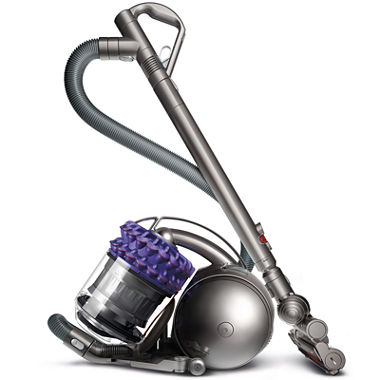 Dyson® Cinetic™ Animal Canister Vacuum Cleaner
pp5006150641
PRODUCT DESCRIPTION
Designed for homes with pets, this powerful canister vacuum cleaner features a tangle-free turbine tool that efficiently removes hair from carpets and upholstery.
Cinetic technology captures dust that clogs other vacuums
no dirty filters to wash or replace
ultra-fine carbon fiber brushes remove fine dust from hard floors
rides on a ball and steers easily into difficult places
whole-machine HEPA filtration expels clean air
includes combination and stair tool with tool holster
AC current. Plastic/metal. Measures 19.7x10.3x15.7"H. Assembly required. Imported.
Rated

3

out of

5
 by
Pamlea
don't like
I don't like , because it doesn't follow very well it get hung up on corner's and furniture. I'm sending my unit back! Thank you!!!
June 29, 2016
Rated

5

out of

5
 by
TheLees
Excellent Vacuum
I was deciding between this Cinetic Animal Canister Vacuum vs. the Upright Animal Vacuum and I settle with this one because after i tried using my sisters upright I felt that it was heavy. First, I've never really owned a nice vacuum and thought that shoppers were paying for the brand vs. the quality. Boy was I wrong, We purchases a new house so we have a lot of dust re-settling on our floors. After the first 10 minutes of use I had to stop the vacuum because I wasn't sure that it was working because it was so light to the hold. But then when i looked at the canister there was so much Fine dust that was filling up. Then, I knew this vacuum was amazing. I like to clean but now I'm afraid that I'm going to be OCD because of this vacuum. That's how good it is in my opinion. I love that the canister is easy to move around and that the handle is so light! I would recommend this vacuum!
July 20, 2016
Rated

5

out of

5
 by
bestaudioguy
Awesome
Decided to pull the trigger and get a Dyson after going through a bunch of inferior vacuums over the years only to have them fail. Since we are pet owners, I needed something that would last years without failure. So far, after 8 months, its a great tool to get things done. Has almost too much suction for my 1850 pumpkin pine floors, but it does collect a lot of dog hair! The only drawback is that it fills very quickly and must be emptied often. I guess this indicates its working well? It has to be emptied 3 times during a regular house cleaning. I do like the fact that there are no filters to buy/replace, which in the long run saves time/money. The power head is great, but I would like to see the power head on the cordless model be used here. It looks to be much better for older hardwood floors. We did have one part come off the power head. Its just the plastic wheel that is pressed on. Hope to get it replaced under warranty. Otherwise a great vacuum!
March 27, 2016
Rated

4

out of

5
 by
CJean
Sweeps well, small waste bin, bad emptying desigh
Bought this model about a year ago as I could no longer manage our larger one due to shortness of breath. First I noticed it really picked up the dirt better than our in use Dyson model. The kitchen floor actually felt clean and crumb free! My problem is with the smaller dust bin and the emptying process. With the dog hair, I found there was too much hands on to empty it. To avoid this, I use my Dyson upright to "empty" it by sweeping it out This makes it not as easy to use as I had hoped. I do like the blind attachment I purchased. It works better than any attachment or gadget I've had.
September 8, 2016
Rated

5

out of

5
 by
jk872
Outstanding - Better Than Any Other Vacuum Cleaner
This Dyson vacuum cleaner works better than any other vacuum cleaner I've had in my life. I purchased this vacuum on a whim, given my only real complaint with my old vacuum cleaner was that it was too loud and too heavy. I vacuumed my floors with my old vacuum, then went over the floor again with my brand-new vacuum. I was disgusted at what my new Dyson had sucked-up from what I thought was a perfectly clean floor. Plus, this vacuum cleaner feels so much lighter to move around than all of the many other uprights and canisters I've owned until now. It's so much quieter, too! I was expecting the usual howling motor noise of a stereotypical vacuum, which usually disturbs my dogs. Instead, my dogs aren't running away like they used to, and my ears are thankful. Best of all, I'm not scrubbing at my couches and cushions with some turbine-powered tangling hand-tool to vacuum up my dogs' hair they've left behind. The so-named "Tangle-free Turbine tool" definitely works without tangling. Plus, it looks cool. :D
November 29, 2015
Rated

5

out of

5
 by
2SamoyedsClean
Dyson Cinetic Big Ball Animal vs DC 39 Animal
I am a big fan of my Dyson vacuum... because I have two Samoyeds, and a lot of fur on my floor. The DC 39 has served me very well for 5 years and is still going strong. And then Dyson gave me the opportunity to try the Cinetic Big Ball Animal. Here's why I like the Cinetic Big Ball better: 1. It's quieter. Not a whole lot quieter, and the DC 39 is already a nice level of quiet for a vacuum, but it was noticeable. Even the dogs noticed, and cared even less that i was running around picking up all their shed mess. 2. It is more stable. I didn't have a lot of complaints about the DC 39, but it will tip. This new Cinetic Big Ball is seemingly impossible to tip. 3. The handle is improved. I never thought that would even be something I noticed until this articulating handle came and showed me how to improve on a handle. It's easier for vacuuming, it's easier for storage. 4. The brush head collects fewer hairs inn the bristles and more in the canister. That means I spend less time untangling long dog hair from the brush head. So to me, that's an efficiency improvement. What I don't like: 1. I liked the way the canister empties on the DC 39 better than on the Cinetic Big Ball animal. I'm sure I'll grow to enjoy it just fine, but I do think the DC 39 style was less messy. (caveat: the canister on the Big Ball Animal reattaches easier than the DC 39, so that's a plus). That's the only thing I don't like as well or better than the DC 39 Animal. Overall, the Cinetic Big Ball Animal canister does a great job of removing pet fur, dirt and small debris from any surface I ask it to - carpet, tile, area rug. It's not a shop vac, and I don't use it like one. I use it to keep my floors clean and the air quality nice in my home. For what I want out of a Dyson pet vacuum, it more than meets my already high expectations.
August 31, 2016
Rated

5

out of

5
 by
SRehme
Great machine for you and your house
I have been using Dyson Vacuums for years as well as Dyson heaters and fans. When I replaced my Dyson upright with the Cinetic Animal unit I was skeptical as to how much better this unit could be as I was completely satisfied with the upright I had been using for years. This machine is a nice improvement with regard to the lack of filters that require to be cleaned once a month or so. The only thing that is required is to keep emptying in as often as needed. That is the only issue I have with this unit and all the positives make up for the difficulty I have in getting all the dirt to drop out on the hinged side of the machine. I think Dyson could probably design a tool to assist in clearing that part of the tank until they have some other reason to redesign this unit or replace it with something different. Other than that, this is the perfect machine for carpets, stairs and hardwood and tile floors. I would recommend this machine to anyone that needed to buy a new vacuum.
July 28, 2015
Rated

5

out of

5
 by
madhappy
I love love love my Dyson Cinetic Animal vacuum cleaner. Here is a list of positive reasons why I love this vacuum cleaner: - Awesome suction - Easy to maneuver ( Lightweight and because of the roller) - You could visually see when to empty out the cleaner, marked by a red line, written maximum. There's no guess work when to empty out. - Easy to empty out container - Retractable cord with a press of a button. - It has a variety of attachments and extension ability. (easier to vacuum hard to reach areas; I also use to vacuum/dust plants that have wide leaves, dust shelves, base boards, - Easy to clean the roller brush at the bottom of one of the extensions. I have very long hair, so when my loose hair gets vacuumed, my hair gets coiled around the roller brush. Previous vacuums didn't make it easy to clean out. My Dyson vacuum cleaner makes it easy to clean the roller. Therefore it allows the vacuum cleaner to work more optimally and last longer.
June 6, 2015
Product Q&A
Ask your questions. Share your answers.
What tools are included with the Dyson® Cinetic™ Animal Canister Vacuum Cleaner? Does it include tools for hardwood floors, dusting, crevices, etc?
Thank you
Elaine
10 months ago
by
0
out of
0
found this question helpful.
Was this helpful?
helpful
0
unhelpful
0
http://answers.jcpenney.com/answers/submit/1573/product/pp5006150641/question/2491539/undohelpfulness.djs?authsourcetype=__AUTHTYPE__&format=embeddedhtml&innerreturn=http%3A%2F%2Fanswers.jcpenney.com%2Fanswers%2F1573%2Fproduct%2Fpp5006150641%2Fquestions.djs%3Fexpandquestion%3D2491539%26format%3Dembeddedhtml%26scrolltotop%3Dtrue&return=__RETURN__&sessionparams=__BVSESSIONPARAMS__&submissionparams=__BVSUBMISSIONPARAMETERS__&submissionurl=__BVSUBMISSIONURL__&user=__USERID__
Answers
Answer: 
This product includes these tools.
Tangle-free Turbine tool
Dyson Combination tool. The debris nozzle on the combination tool converts to a brush tool for dusting.
Combination tool
Dyson Stair tool. With velour strips to pick up hairs, an agitating edge to lift carpet pile, and airflow bleed holes to stop the tool sticking to upholstery.
Stair tool
10 months ago
0
out of
0
found this answer helpful.
Was this helpful?
helpful
0
unhelpful
0
http://answers.jcpenney.com/answers/submit/1573/product/pp5006150641/answer/2476485/undohelpfulness.djs?authsourcetype=__AUTHTYPE__&format=embeddedhtml&innerreturn=http%3A%2F%2Fanswers.jcpenney.com%2Fanswers%2F1573%2Fproduct%2Fpp5006150641%2Fquestions.djs%3Fexpandanswer%3D2476485%26expandquestion%3D2491539%26format%3Dembeddedhtml%26scrolltotop%3Dtrue&return=__RETURN__&sessionparams=__BVSESSIONPARAMS__&submissionparams=__BVSUBMISSIONPARAMETERS__&submissionurl=__BVSUBMISSIONURL__&user=__USERID__