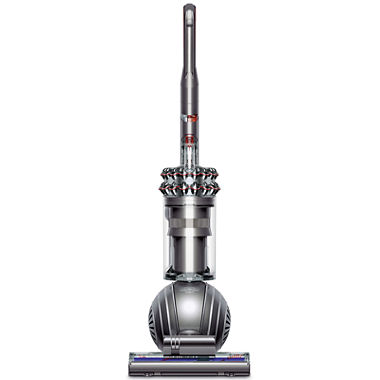 Dyson® Cinetic™ Big Ball Animal and Allergy Vacuum Cleaner
pp5006120426
PRODUCT DESCRIPTION
Engineered to remove fine dust and allergens from hard-to-reach places, this vacuum cleaner is perfect for homes with pets.
Radial Root Cyclone™ technology captures dirt and microscopic dust
self-adjusting cleaner head seals in suction across carpets and hard floors
rides on a ball and steers easily into difficult places
whole-machine HEPA filtration expels cleaner air
tangle-free Turbine tool removes hair from carpets and upholstery
includes combination/stair tool, crevice tool, carbon fiber soft dusting brush, mattress tool and tool bag
AC current. Plastic/metal. Measures 17.2x13.4x43.3"H. Assembly required. Imported.
Rated

5

out of

5
 by
AW1718
This product is great!
Powerful and many features! Seems a bit clunky and heavy on hardwood floors, but I bought it mostly for carpet cleaning.
August 15, 2016
Rated

5

out of

5
 by
mls1234
It does exactly what it says it does!
We have owned this vacuum for two weeks, and have used it four times. We live in an old house that seems to create dust daily, and we have a shepherd dog who is in summer shedding. Each time, I am surprised at how much dust and dog hair we have in our house to capture! The canister fills up quickly because of this, and I find myself emptying it around 3 to 4 times each vacuuming! This machine is very easy to use, moves smoothly around carpets and hardwood flooring (though I have yet to figure out how to KEEP the motion brush off while doing the hardwood floors). I am surprised at the other reviews that state that this is a heavy, big, and not easy to move machine - I couldn't disagree more, my experience is that it is easy to move, turns easily, and moves from room to room with ease. My only improvement that I would suggest that I liked in competitors models is the retractable cord, it is so much easier to press a button and have the cord wind up, rather than get on my knees to manually wind the cord around two knobs. Other than the cord inconvenience, I have yet to find anything wrong/bad with this machine, I love it and would highly recommend it.
August 10, 2016
Rated

5

out of

5
 by
dogperson
Awesome!
Powerful cleaner. I have dogs and it gets up everything! Very maneuverable, and seems lighter than it is. Love that it uses no bags and is so easy and clean to empty the bin. Very versatile with all the attachments. I have no doubt that this is the finest vacuum for pet owners that you can buy. I've had a few, and this blows the others away! I had written a previous review that said the same but, in which I had rated it at only four stars since I was having a problem getting service due to the seeming unavailability of a part. I had had no success working with the service center, or online, or by phone, with Dyson. I wrote that review on a Saturday, and the following Monday I got a call from the service center saying my part was ready for pick-up, so consider that method if you are having a problem with parts availability!
August 8, 2016
Rated

2

out of

5
 by
raccoongirl04
TOO HEAVY!
I was so excited to get this Dyson. I am a long time Dyson fan, but my older Dyson Animal vac broke. So I bought this model due to the allergy and animal components, extra tools, and no need to clean filters. I absolutely hate this vacuum. I have a bad back, and this thing kills my back every time I use it, and flares my back up for the rest of the day. It is way too heavy!!!!! In addition, it continuously collapses when I try to move it on its back wheels - which results in me having to lift & carry this bohemith thing. Again hurting my back. With my last Dyson I could vaccuum area throw rugs very easily. The new Dyson Cinetic is so strong that vacuuming area rugs is absolutely impossible. I am so sorry I bought this thing, and would love to return it, but now it's too late. It was very expensive, and a lot of money totally wasted. Plus I'm having to see my back doctor more due to this thing aggravating my herniated discs. Avoid this monstrosity! That is unless you're a heavy weight lifter!
April 17, 2016
Rated

5

out of

5
 by
BriBri
GIVE ME A REAL MESS TO CLEAN
I have three boys. Let me rephrase that, three toddlers. This equals out to having crackers, cookies, and anything that can be crushed into crumbs on the floor, crammed in between the couch cushions and all over the back seats of the SUV. We have nick named our Dyson, "Alfred". Why Alfred? Well, because of two reasons. One, the round ball on our Dyson reminds us of Alfred Hitchcock's cute, round chin. Two, Batman's butler's name is Alfred. He is always cleaning up after this super hero's messes. Our boys feel very strongly that they are indeed, "Super Heroes". When the crime is done and the super heroes leave the scene of the crime, Alfred is always there to clean up the mess. We love Alfred
August 20, 2016
Rated

2

out of

5
 by
MJNYC
Unwieldy and some issues.
Had a DC16 handheld prior and since have 4 pets needed something with more power and didn't want the V6 as the 2 year warranty on handhelds is ridiculous. This model is powerful and works well on carpets and bare floors however it is VERY unwieldy using it in my apartment and it's not a big place. The attachment for pets and furniture works well and it's better with the two wheels rotating than on the handheld with the brush type roller. When you empty the machine the button is sensitive so if you press to hard not only do you release the canister from the base but you also will empty the contents, not fun. Also, as i indicated I have several pets so lots and lots of hair, when I go to empty it generally does not empty fully and I have to pull out hair clumps, again fun. At this point if had to do over again i might have gone with the V6 absolute model or another brand as the 2 year warranty compared to the 5 for these type models is an issue as when I did have my DC16 it had issues many times.
April 2, 2016
Rated

4

out of

5
 by
Jagator60
Dyson Cinetic Big Ball Animal + Allergy
I love the maneuverability of this vacuum, but I don't like the container. It's tough to get the dog hair out because the space is so small and I have to use my fingers to grab and pull out the hair. There has to be a way of redesigning this without compromising the maneuverability. My previous Dyson Animal didn't have this issue because the container was big enough that when I opened the bottom, everything fell out freely.
September 1, 2016
Rated

5

out of

5
 by
3Ravens
I LOVE this Dyson upright
After my son took my old Dyson to his new apartment, I purchased this Dyson upright. My older son had it and highly recommended it. It took awhile to get used to "driving" it in comparison to the other Dyson that did not have the ball feature. But once I got used to it I fell in love with how easy it was to maneuver around furniture and walls. My only issue was after several months I had issue with the suction (it would sound like the machine was clogged or something). Finally figured out that cleaning the clear cylinder and wiping down the cyclone screened area with a damp cloth did the trick. This upright has no filters clean which is a definite plus too. My purchase included most of the attachments and my favorite is the newly designed rotating brush tool for furniture. Dyson upright vacuums do cost more than some other brands, but if you ask me, they are worth every penny!!!
June 22, 2016
Product Q&A
Ask your questions. Share your answers.
5 months, 3 weeks ago
by
indiana
How often do you shop at JCPenney? 
Frequently
0
out of
0
found this question helpful.
Was this helpful?
helpful
0
unhelpful
0
http://answers.jcpenney.com/answers/1573/product/pp5006120426/question/2672058/undohelpfulness.djs?authsourcetype=__AUTHTYPE__&format=embeddedhtml&innerreturn=http%3A%2F%2Fanswers.jcpenney.com%2Fanswers%2F1573%2Fproduct%2Fpp5006120426%2Fquestions.djs%3Fexpandquestion%3D2672058%26format%3Dembeddedhtml%26scrolltotop%3Dtrue&return=__RETURN__&sessionparams=__BVSESSIONPARAMS__&submissionparams=__BVSUBMISSIONPARAMETERS__&submissionurl=__BVSUBMISSIONURL__&user=__USERID__
Answers
Answer: 
This is Dyson model number 206033-01.
5 months, 3 weeks ago
0
out of
0
found this answer helpful.
Was this helpful?
helpful
0
unhelpful
0
http://answers.jcpenney.com/answers/1573/product/pp5006120426/answer/2664988/undohelpfulness.djs?authsourcetype=__AUTHTYPE__&format=embeddedhtml&innerreturn=http%3A%2F%2Fanswers.jcpenney.com%2Fanswers%2F1573%2Fproduct%2Fpp5006120426%2Fquestions.djs%3Fexpandanswer%3D2664988%26expandquestion%3D2672058%26format%3Dembeddedhtml%26scrolltotop%3Dtrue&return=__RETURN__&sessionparams=__BVSESSIONPARAMS__&submissionparams=__BVSUBMISSIONPARAMETERS__&submissionurl=__BVSUBMISSIONURL__&user=__USERID__