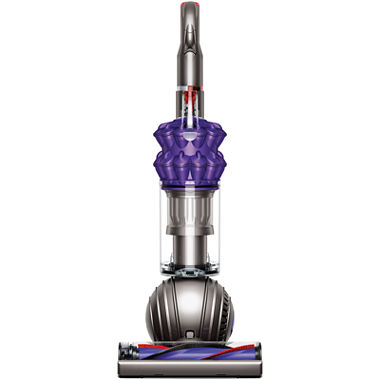 Dyson® DC50 Animal™ Vacuum Cleaner
web ID: 8691967
Featuring advanced cleaner head technology, this light, durable vacuum cleaner maneuvers easily around furniture, obstacles and other difficult places. It's perfect for homes with pets.
self-adjusting cleaner head for optimal contact on every floor type
carbon fiber brushes remove hair, dust and fine dust from hard floors
two-tier Radial™ cyclones work in work in parallel to increase airflow and capture more microscopic dust from your home
Ball™ technology turns on a dime
HEPA media vacuum bags
engineered materials are selected for their strength and durability
weighs just 11.8 lbs.
backed by a 5-year manufacturer's warranty
tangle-free turbine tool features counter-rotating heads with brushes
Plastic/metal. Wipe clean with a damp cloth. Imported.
Rated

5

out of

5
 by
JeanClaudeshopper
Great product , fast delivery
We have 6 animals in the house and all the associated hair, dander, and feathers. The Dyson picks up all of this plus the dirt and dust from our normal activities. We have to empty the canister twice per cleaning session but that is a minor inconvenience. We hope that it lasts a long time; we'll see. We received the product within 5 days of ordering it, Thanks JCP.
November 24, 2015
Rated

5

out of

5
 by
Pokey
This product far exceeds the description of its cleaning abilities!
I thought my house was fairly clean. Vacuumed with the Dyson and the finest dirt and silt and dog hair was captured and easily disposed of. Was amazed at what had accumulated using another brand name of cleaner. Would not trade it for machine costing much more money as I cannot imagine it doing a better job.
October 7, 2015
Rated

1

out of

5
Not as expected
Bought this vac as a replacement for my Dyson Animal that I loved but it broke after many years of service. I vacuum at least twice a day as we have cats that really make a mess. I knew I wanted another Dyson Animal BUT the one I mistakenly purchased is a "mini" version of what I had. It just does not feel good in hand as, for me, it is much to light (and flimsy) and the cord is much shorter than my original Dyson. I really do not like it at all. I can only blame myself for this as I was in such an urgent need of a functioning vacuum that I purchased it online without seeing it in person. I truly had no idea that it would not be the same. I am so disappointed. I also did not know that I would be washing the filter, etc. I have since had the old Dyson repaired (thank goodness) and now I rarely use this very expensive vacuum. Lesson learned - try it out before you buy!
November 19, 2015
Rated

5

out of

5
 by
Craig
Excellent Product
I was amazed with the amount of dirt and dog hair that this vacuum picked up and I love how light it is. The only thing I would change is the canister size, it could be a little bigger.
August 12, 2015
Rated

5

out of

5
 by
momof4
smaller than I expected but works great
we have 4 dogs and was fighting dog hair but now it picks up after them wonderfully
August 5, 2015
Rated

3

out of

5
 by
gawki
Baby Dyson
Right now it does not work. I cleaned the filters that were not dirty and I took the bottom apart. I cleaned it and It still does not suck up. What else do I need to do? The canister does not fill.
November 21, 2015
Rated

4

out of

5
 by
dwally
Great for pet hair!
This vacuum works great as long as you don't want to use the pull out wand-type thing very often. The vacuum itself cleans really well, is light, and is easy to move around. It is also EXCELLENT in removing pet hair from carpet or fabric (i have a dog and a cat). However, when you want to use the extension wand, you have to remove the electrical cord from where it is kept (coiled around the back of the machine) in order to get it out. The wand/tube extension is also not very long; you basically need the vacuum next to you and then have to keep your foot on it to be able to pull the extension to it's full length (probably because the machine itself is so light). I am OK with this as I also have a cordless Dyson and therefore do not use the extension wand on this very often (usually just for vacuuming the couch), but if you would use the extension often, this is probably not a good choice for you.
November 7, 2015
Rated

5

out of

5
 by
TOGA
DC 50, what a machine!
This is our first Dyson, and it rocks. Why? As a test, we first vacuumed one bedroom's carpet with our other upright we've been using for years. Then we vacuumed the same area with the new DC50. Result? The canister had more cat hair and dirt than our well-known upright brand could extract!! Then we vacuumed the rest of the house (combos of small mats, vinyl, hardwood laminate, carpet) and it got all those much much cleaner than our well-known upright ever has! I mean, it does indeed transition from carpet, to vinyl, to door mats with ease - just as Dyson advertises. We met one person who's had their Dyson for 10 years(!) and they said it still works flawlessly. Met another person who's used one for a year, and they love it. Then I vacuumed two sofas, and it pulled off more cat dander and cat hair --- that we didn't even know was there (and couldn't see)! We don't even let our cat sleep on the sofas, but cat hair made it there from our laps. We do like this vacuum!
September 3, 2015
$7.50 oversized item surcharge

An oversized item surcharge may apply to some heavy or bulky items due to size, weight or special handling required. This item surcharge is in addition to standard shipping rates.