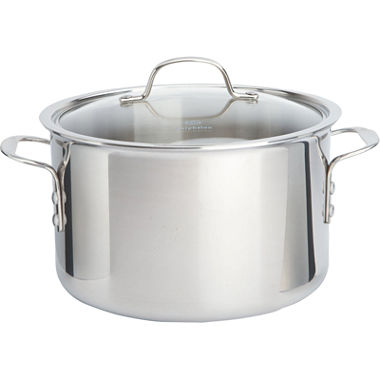 Calphalon® Tri-Ply 8-qt. Stainless Steel Stock Pot
web ID: 7823149
Covered stock pot features a tall, narrow profile that minimizes evaporation during the process of making stock or soup.
combines the beauty of stainless steel with the superior performance of aluminum
polished, stainless steel exterior with satin-finished interior
designed with 3 layers to ensure even, consistent heating
induction-capable
convenient stay-cool handles

Stainless steel/aluminum. Oven-, broiler- and dishwasher-safe. Imported.
Rated

4

out of

5
A very good pot!
This is a very good pot. This is the third Calphalon tri-ply stainless steel product that I have and they are all very easy to use and handle, keep clean and, it seems to me, require a lot less heat from the burner. However, when buying this stockpot I did not take into consideration it's diameter and compare it with the Calphalon 8qt "Dutch Oven" pot, They are both 8 qts, but from the pictures on the website the "Dutch Oven" appears wider and more shallow. The "Stockpot" is 10" x 6". The dimensions of the "Dutch Oven" are not given. I believe that given the type of cooking I do with this pot such as adding and stiring ingredients throughout the cooking process, the wider and more shallow pot would have been better for me. Also, because the "Dutch Oven" appears wider, the lid for the "Dutch Oven" pot could do double duty as a lid for the 12 inch omelette pan, which does not come with a lid. Also, the lid for the "Stockpot" is flat and not domed. It should be domed for better circulation and simmering. The lid for the "Dutch Oven" appears somewhat domed. So if your in the market for an 8 qt. pot, depending on your needs and uses, consider the 8 qt. "Dutch Oven."
March 10, 2011
Rated

5

out of

5
 by
malice40
This is the best general purpose pan in my kitchen
Because of its heavy bottom, it can be used for anything either on top of the stove or in the oven. It is great for simmering spaghetti sauce and for making soup. I use it when I want to saute large amounts of vegetables, greens or onions. It is an excellent braiser on top of the stove or in the oven, and it is large enough to hold a head of cabbage, a whole chicken, or a pot roast. The bottom of the pan is part of the pan's structure and is not a separate plate. Thus no "crud" ever gets between the pan and the bottom plate itself. Cleaning this pan is a breeze. A good scouring with a soap pad, and gone is all of the food particles, and in their place is a brilliant shine. This pan can be washed by hand, but I put mine in my dishwasher to sterilize it, and it comes out shiny and clean every time.
October 1, 2013
Rated

5

out of

5
 by
Luckyeva
Fantastic stock pot
Finally got my stock pot from JC Penney. It is absolutely fantastic. I would recommend it for anyone.
October 22, 2014
Rated

5

out of

5
 by
ReeVee
All year long!
This stock pot gets used all year long - from my husband's fall/football chili to my mom's winter potato soup to my spring/summer vegetable and lentil soup. It is never in the cabinet very long and when I make the soup, I then store it in the pot in the refrigerator. I so like that it goes right from refrigerator to stove.
November 20, 2014
Rated

5

out of

5
 by
KLFox
Perfect soup and stew pot!
We have owned this stock pot for over a year and it is amazing. The tri-ply makes it heavy enough that you can slow cook soups and stews without worry of them scorching or sticking. The product is easy to clean and looks like new even after using it extensively.
November 24, 2014
Rated

5

out of

5
 by
marycan
DURABLE BEAUTIFUL TEXAS COOKIING
This Tri-Ply stock pot piece is beautiful and love the weight.  It heats and cooks soups and vegetables evenly and quickly.  Will be excellent for bone broth.  Cooks on low heat and is a breeze to clean.  The vegetables retain their color and nutrients.   Am looking forward to getting a 1-1/2 quart sauté pan for daily morning oatmeal and free range farm poached eggs.
October 7, 2013
Rated

5

out of

5
stock pot review
I have other Calphalon products and have been satisfied with the quality of the products. I needed a good sized stockpot that did not have a non-stick coating. I ordered this pot from the Calphalon web site. I am satisfied with this product. I like the glass lid and, being stainless, it should last for a long time.
April 18, 2011
Rated

5

out of

5
Requested for Christmas
My daughter and daughter-in-law both ask for a good stockpot for Christmas. They both have glass top stoves and the ones they have burn everything. My sister recommended the Calphalon which she had bought for her daughter. The pots are beautiful, I can't wait to see if they like them.
December 22, 2011