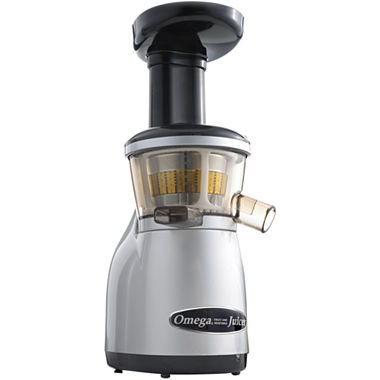 Omega® Vertical Masticating Heavy-Duty Juicer
web ID: 7802062
The low-speed juicing system in this vertical juicer will revolutionize your juicing world. The high-efficiency masticating style combines with a slower processing speed to protect and maintain healthy enzymes so each drink has the maximum health benefits.
Ÿprocesses at 80rpm
Ÿdual-stage juice processing system extracts the most from fruit and veggies
Ÿcapable of juicing a wide range of products
Ÿcompact design has a small footprint
250 watts. Polystyrene/plastic. Removable parts are dishwasher safe. Measures 8½x7x15½"H. Imported.
Rated

4

out of

5
 by
Chakra
Quality Juicer
I have been using this juicer for the past 7 days, i have to admin that the quality of the juice was really really awesome one if your using the proper mix of veggies, leaf and fruits. The lagging side of the juicer is, taking too much time to make a single glass of juice( each time it's close to 1 hr) and cleaning the juicer after using it is a pain. specifically cleaning the pulp are is really time taking process. I am expecting more easy to handle device for the price i have paid.
October 26, 2015
Rated

2

out of

5
 by
Patrickb
fails on wheatgrass
I tried this machine for wheatgrass after reading reviews and it failed miserably. I made 12 oz of wheatgrass and it plugged up and stopped five times. When it jams up it is very hard to open then clean out all the jammed up grass. In addition, I had to strain the liquid because so much pulp got in. I just bought this and will be returning this product.
November 5, 2015
Rated

3

out of

5
 by
Chris_
First Juicer I've Owned and Happy But....
Being that this is the first juicer I've owned I have nothing to compare it to except itself. My first impressions matched up with the Youtube videos I had watched. Lost of juice, a little pulp and dry extracted pulp. Other than the clean up time I was very happy. I've used it sporadically, probably not more than 30 times since I've owned it. The issue I have had the last few time using it is large-ish pieces of carrots, apples, and a few other items not getting juiced. When I start the clean-up and pull out the auger there will be chunks on it and the basket. I've followed all the guidelines about feeding different types of fruits and vegetables not all at once but in small varied groups and haven't changed my process since owning it. I've had no other problems. I've only ever used the finer mesh basket. Overall I really enjoy the juice I get from the VRT350 but I am concerned about it's longevity.
January 17, 2015
Rated

5

out of

5
 by
sfoulkrod
Workhorse
I'm going on my 2nd year with this juicer and it is a workhorse. It processes food quickly and efficiently. I use lots of carrots, cabbage, kale, beets, ginger, lemon, and lettuce. It takes no time at all to clean. The only two things I can say that may be worth thinking about when choosing models is when using leafy stuff like spinach and Kale, the fibrous strands sometimes stick in the exit chute. This can be resolved by cutting the greens cross wise to keep the strands from getting too long (alleviates problem). Also, the screen broke on me, but Omega sent me one in the mail. Customer service is great!
July 12, 2015
Rated

5

out of

5
 by
Debbie
We love this juicer!
This is the second year of using this juicer. We have juiced loads of tomatoes, peppers, carrots and cannot remember what else. We do not have any of the issues that the people that gave it a low rating stated.
September 5, 2015
Rated

5

out of

5
 by
MiamiJuicer
great warranty
I make juice a few times a week for the last 5 years with my VRT350HD. The unit died this week. I returned it to Omega for warranty repair. 3 days later i had a new unit at my door. Excellent customer service and way to stand behind your product.
August 27, 2015
Rated

5

out of

5
 by
Karl58
Great Juicer
I just got it the other day. And already I have juice 4 times. Its easy to use and clean up. My other juice use to take for ever to clean and mostly just shoot out the greens. I am sure that I will enjoy this one for years to come.
August 27, 2015
Rated

5

out of

5
 by
Mila
Nice juicer
I'm new to juicing and I bought this a few weeks ago. It's easy to use, easy to clean. I have no complaints about the noise level. It doesn't seem to like celery or kale a whole lot so I try to help it by mixing in harder veggies like carrots to help push it through. I would recommend investing in a strainer because there's a moderate amount of pulp. Overall, I love it and am glad I finally made this purchase.
August 9, 2015
$9.95 oversized item surcharge

An oversized item surcharge may apply to some heavy or bulky items due to size, weight or special handling required. This item surcharge is in addition to standard shipping rates.