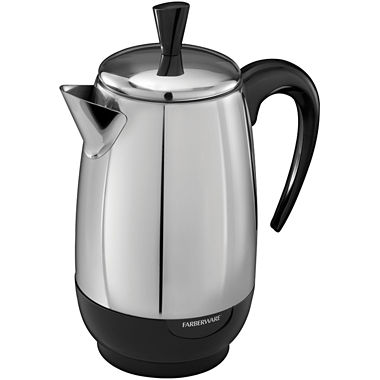 Farberware® Percolator
web ID: 7806030
Add a new twist on your cup of coffee with this Farberware percolator. Super-fast and super-delicious.
vintage-inspired brewer updated with a sleek new contemporary look
quick and easy way to brew hotter, more flavorful coffee
brew up to 8 cups
Stainless steel. 1000 watts. 110/120V, AC. UL listed. Imported.
Rated

5

out of

5
 by
oldman
forever good
mom and dad had two, one big and one small. I have tried almost ever brand on the market. no one else has the quality and looks and ability to make a great cup.
October 21, 2015
Rated

5

out of

5
 by
Bill
An excellent product for coffee lovers.
We prefer percolated coffee rather than drip and have used farberware products for some 30 years. We believe their percolators are superior to any competitors and highly recommend them for their appearance, durability and especially for the good coffee they make. We can't say enough about how pleased we are with our experience with the product.
October 14, 2015
Rated

3

out of

5
 by
silo
Farberware Automatic Percolator
When I received the percolator I liked the looks and the price. I thought I had gotten a good deal. But after I used it the first time I was unhappy. I thought I was never going to get the lid off. Then I noticed it didn't have a light on the percolator to let you know the percolator was on. I had bought one for my daughter and myself. The one for my daughter was going to be a Christmas gift but I have changed my mind about giving it to her since there is no light on the percolater to remind her the unit is on and because I know she wouldn't use it if the lid was hard to get off. It won't matter to my daughter how nice it looks it will only matter to her if it is easy to use and if she doesn't have to worry if it is on or off. I will probably be returning both of them for the above reasons.
August 14, 2009
Rated

5

out of

5
 by
Bujumb
The only drawback is that there's no light to indicate on/off. But being that it's a vintage look, that's okay.
The only drawback to ths coffeemaker is that there is no light to indicate on/off. But since it's an old fashioned style, the lack of a light is in keeping with the style.
March 18, 2015
Rated

3

out of

5
 by
ranchofiesta
not dependable
i've been using the 12 cup percolator for 5 months. the coffee it perks tastes like i remember my dad's tasted from his percolator! unfortunately my percolator works intermittently/ i start the coffee then take my dogs outside. in 5 mos. the percolator has started to perk but stopped about 12 times - i come back in 15 mins and have water, not coffee. i wiggle the cord in the connection to the pot and it starts again. for the high price; it's a great looking pot and when it perks it's great coffee. i did buy the extended warranty but because it only happens a few times per month, i have not returned it... yet...
January 8, 2012
Rated

5

out of

5
 by
Liseykooch
Makes great coffee
If you want an old fashioned brewed coffee, than order this coffee maker! You forget how good percolated coffee tastes. There is no comparison to the kuereig k-cup coffee. A farberware perculator just like I remember my dad making his coffee in every morning. Can't wait to introduce my family to real coffee!!!
November 12, 2014
Rated

5

out of

5
 by
adrianasgrammie
faberware perculator
this is the third one i've owned becaue I use this every day it gets alot of use the last one broke around the plug where it goes into the pot,prongs broke off so I didn't want to risk a fire (are the bottoms replaceable)?Faberware pots are great and they do last alot longer then most coffee makes.Great tasting coffeeis what you'l get from using these.Wish they could make the replaceable parts alittle more affordable as the pots are sorta pricey.Otherwise these pots are just the best thing in anyones kitchen.
August 11, 2010
Rated

1

out of

5
 by
seamstressmama
expected more from this brand
I purchased this coffee pot because I thought the brand was a good choice. I made the first several pots of coffee thinking I must have received a bad pot. The coffee perked so fast it was almost clear when it was poured into the cup and hardly warm. I returned the pot and reordered a second. I couldn't believe the second one did the same thing. It perks too fast to get a rich cup of coffee and the heating unit on either one didn't get the water hot until it was plugged in for over an hour. Not my cup of Joe.
November 6, 2009