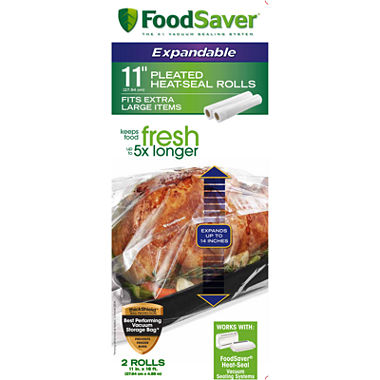 FoodSaver® Expandable Heat Seal Roll
pp5002700056
PRODUCT DESCRIPTION
You won't be crying over cold food with this easy-to-use roll that seals in heat so your food is still warm and ready to serve for holiday entertaining, everyday dining and transporting to gatherings.
seals in heat for easy transport and entertaining
fits to the various sizes of your serving or baking dishes
Plastic. Imported.
Rated

5

out of

5
 by
Thomasray
great deal
I was able to put up a home cured and smoked picnic ham that weighed about 10 lbs with no problem. Will probably have at the Thanksgiving feast. Being able to freeze something this size at home in a vacuum bag is great.
September 20, 2016
Rated

4

out of

5
 by
Rec55
food saver bags
Love my food saver it really helps keep my food fresher. I bought some rotisserie chicken chopped it up put in a food saver bag sealed it put in the freezer and a month later took it out and it tasted just like when I first purchased it.
September 19, 2016
Rated

4

out of

5
 by
ed58
Great deal
Good value-good price-ease of use-I don't know what else to say
September 18, 2016
Rated

5

out of

5
 by
Susi Leigh
Handy Rolls
I use more of the FoodSaver small rolls than I do any others. It is so nice to be able to purchase this size without buying larger bags with the packup. This is the only place I can do that.
August 31, 2016
Rated

5

out of

5
 by
kittyt
My go to size for much of my preserving
I use this size more than any other size. They are perfect for putting just enough of most garden crops we grow for one meal, with just my husband and I to eat them.
September 13, 2016
Rated

5

out of

5
 by
GMOM
Love the machine and the products!!
Received the machine as a gift. Use it many times a week. Purchased a variety of products so I have them handy!
August 10, 2016
Rated

1

out of

5
 by
Jim2664
did not hold vacuum
Used with our FoodSaver, didn't hold vacuum. Tried both rolls with same result. We also bought a box that contained two 8" and three 11" and they worked fine. This is the first time we had a problem with FoodSaver bags.
August 10, 2016
Rated

5

out of

5
 by
SamathaLee
FoodSaver
I LOVE it!! I purchase food in bulk, then package it up for us and freeze it. I've also packaged wild game that my husband brought home. Some of my packages are 3-5 yrs. old in the freezer and they still taste like I just packaged them.This is my second one that I have purchased. I wore out the first one that I purchased 10 years ago.
August 5, 2016