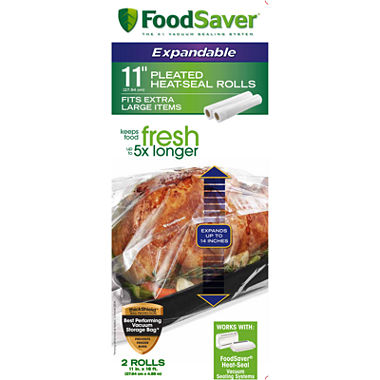 FoodSaver® Expandable Heat Seal Roll
web ID: 7801338
You won't be crying over cold food with this easy-to-use roll that seals in heat so your food is still warm and ready to serve for holiday entertaining, everyday dining and transporting to gatherings.
seals in heat for easy transport and entertaining
fits to the various sizes of your serving or baking dishes
Plastic. Imported.
Rated

5

out of

5
 by
dude71583
this product is perfect for seal my stuff
this product is so perfect its very easy to fill and seal my food so perfect my food is going to last a while for me im going to buy more when i run out
November 7, 2015
Rated

5

out of

5
 by
Frankzup
Great
Acceptably product for what I wanted great two packages deal
November 15, 2015
Rated

5

out of

5
 by
gwen
I love my food savor
I love my freezer bags use them all the time! I have put up meat for both my daughter's family and mine
October 26, 2015
Rated

5

out of

5
 by
AuntieMeMe
This is the best invention since the wheel!!
I put EVERYTHING in your bags or seal in jars. I catch things on sale & know I can freeze them or seal them up & they will last a very, very long time. I already recommend this system to everyone I know & highly recommend it to everyone everywhere!! Additionally, I had an issue with one of the units & called to see if someone could help me with the problem. The person I spoke with was extremely helpful & actually sent me a whole new unit & I returned the old one....NO CHARGE!!!! No more problem. If someone is not sure about this product, contact me & I'll reassure them that this is the very best product ever (except the wheel, of course!!)
October 6, 2015
Rated

5

out of

5
 by
GrGrandma
8" rolls are great
I received my Food Saver for a Christmas gift a few years ago. The 8" rolls are great for me. When purchasing in quantity, it's the perfect size for one person, like myself. Can't remember what I did without my Food Saver! Love it!
October 18, 2015
Rated

5

out of

5
 by
OBRONE
FoodSaver® 8" x 20' Heat-Seal Roll, 2 Pack;
THE 8" ROLLS ALLOW ME TO USE LESS PRODUCT FOR PACKAGING SMALLED ITEMS. I APPREICATE THEM BERY MUCH AND WILL CONTINUE TO KEEP A SUPPLY OF THIS SIZE ROLLS. FoodSaver® Pint-Size Heat-Seal Bags, 28 Count AS WITH THE ABOVE. THESE BAGS ARE VERY EASY TO USE AND DO MAKE IT POSSIBLE TO QUICKLY PACKAGE SMALLER SIZES OF MEATS. WITH THEM I WAS ABLE TO PACKAGE MY PRODUCTS AT LEAST TWICE AS FAST. I INTEND TO ALWAYS KEEP A SUPPLY OF THESE BAGS ON \HAND.
September 29, 2015
Rated

5

out of

5
 by
riverkeeper1965
8" X 20 ft rolls.
I love these rolls because I can make custom sized bags according to my particular needs.
October 4, 2015
Rated

4

out of

5
 by
smokerDan
this product has great features
Easy to use rolls bags. Bags are tough enough to heat up in the microwave
November 11, 2015