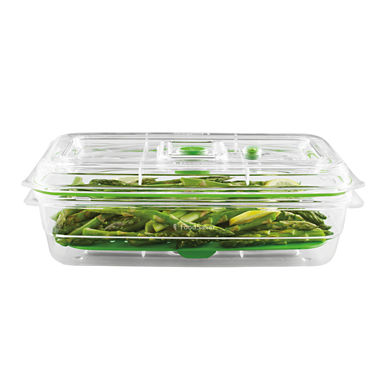 FoodSaver® FAC10-000 Single Fresh Container
pp5007770672
PRODUCT DESCRIPTION
Keep your food fresher longer with our 10-cup single fresh container.
crack and shatter resistant
stain and odor resistant
refrigerator safe
microwave safe
BPA free
compatible with all FoodSaver vacuum sealing appliances
vacuum indicator valve
plastic
dishwasher safe
imported
Rated

2

out of

5
 by
JoFaz904
Doesn't vacuum seal for me.
I got this as a sample to review how I liked it. But it didn't come with any tray saver, so I had to order that first; which I thought was inappropriate if I was sent it to give a review on. Therefore, I really couldn't give it a fair review at this point. But I did try to seal some bread in it and it failed to vacuum seal. Maybe I did something wrong ? I don't know. I thought "Foodsaver" brand was supposed to be easy ? This wasn't easy for me at all. But I wish it was, because I really wanted to enjoy using it so I could buy the whole set !! Now I'm not so sure what I want to do ? I'll keep trying...But I hope I don't keep failing !! Thanks for the container, Food Saver !! Let's hope I can get it to work. [This review was collected as part of a promotion.]
August 12, 2016
Rated

2

out of

5
 by
Quigleymax
Not sure
I'm having a problem with this 10 cup container. Not sure if it's the blue lake green beans or if it's defective. I put my green beans from my garden in it until I have enough to can and it won't stay sealed. Each time I add more I make sure it is totally dry so it will seal but within a day or 2 it's no longer sealed. My peppers are doing fine in the 8 cup container. No problem there, just the 10 cup.
August 23, 2016
Rated

5

out of

5
 by
Scubaphil
Great product
Kept my oatmeal raisin cookies soft for 2 weeks, by then they were all gone
September 1, 2016
Rated

2

out of

5
 by
dsgszoo
Doesn't seem to work for me.
I've used this several times but have not had much success. The seal seems to gradually loosen over a few days and the food doesn't seem to stay any fresher/longer than when I put it in cheap plastic containers. Disappointed.
August 29, 2016
Rated

5

out of

5
 by
MsEO18
Ftesher longer
Purchased 4 weeks ago, but wish it was slightly larger to hold the one pound container of spring mix sold in stores.
August 28, 2016
Rated

5

out of

5
 by
MKC811
I purchased 4 of these and I love them--celery,cilantro,green onions and romaine lettuce - so fresh everytime I open the container
September 2, 2016
Rated

4

out of

5
 by
ycnanff
Having problems
For some reason, 3 cup container won't stay sealed for more than one day. No problem with the 5 cup one and each treated the same-food is cool, no food particles in lid, enough space on top, seal properly in place. I give up!
August 25, 2016
Rated

1

out of

5
 by
ds56
THIS CONTAINER DOES NOT HOLD A SEAL
I purchased a set which contained this 10C rectangular container and three square containers. The square containers seal beautifully and retain their seal, but this container does not hold the seal at all. As soon as it shows a seal and I remove the sealing tube, I can hear air being sucked into the container. No matter what I try, it will not hold a seal.
August 15, 2016