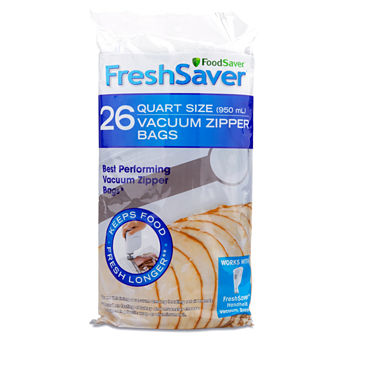 FoodSaver® Vacuum Zipper Quart Bags
pp5007770677
PRODUCT DESCRIPTION
Great for everyday use in your refrigerators, our quart bags have strong zippers to lock air and moisture out so your food stays fresh.
double-track zipper
locks out air and moisture
BPA free
plastic
hand wash
imported
Rated

1

out of

5
 by
HeatherJean13
Poor Travel/Camping Use
The vacuum itself had a nice long life, but the system overall has been a complete fail. I have used the FoodSaver (not FreshSaver) vacuum system for many years with great success. I bought this FreshSaver for travel and camping and was seriously disappointed. The bags would never stay sealed even if they (rarely) took the seal in the beginning. I contacted FoodSaver twice regarding this issue. To their credit they sent me new bags twice, but even still I had extremely unreliable results. I'm not sure what I'm going to do with the machine and bags, but I don't see myself using it again anywhere in the near future. : (
September 4, 2016
Rated

5

out of

5
 by
ronh
We will use these reseable bags for a lot of Thigs
I bought these resealable bags for Cheese That I use for cooking, For fresh popcorn. For saving unused tapioca mix. It will be fresh when I make more.
July 31, 2016
Rated

5

out of

5
 by
Inger427
So Easy to Use and Keep Everything Fresh
I had re-stock. I use these bags all the time and cannot remember what life was like before the FoodSaver Zipper bags. They keep the just bought freshness locked in. I use them everyday and many times a day for cold cuts, sandwiches and some leftovers. I either re-seal with my FoodSaver machine or the hand held one, whichever is closest and more convenient. The double zipper ensures a great seal! Love them!
June 26, 2016
Rated

1

out of

5
 by
Sophies Mom
Waste of money. Work about 1/3 the time.
I was excited about these bags but quickly became discouraged and then REALLY irritated at their poor and unpredictable performance. Msometimes they work, sometimes within minutes it's like you never sealed them. Didn't matter what I tried to seal (food, seeds, cereal, flour, couscous) sometimes it worked and sometimes not. I called customer service and read instructions. I tried using a paper towel to keep any dust out of the sealing area or motor. No improvement. These bags are no more useful than generic plastic bags. Don't waste your money. Wish I hadn't wasted mine. By the way, it's not the vacuum sealer (I have two), because if I use it the foods are all sealed perfectly, both rolls or pre-formed bags. they seal beautifully. I used the handheld, then I bought an adaptor and used it with the vacuum sealer.. No improvement. These bags suck.
March 11, 2016
Rated

5

out of

5
 by
Joannieskia
Quart zipper bags and hand sealer
I just received these a few days ago and recommend them both highly to everyone
June 9, 2016
Rated

5

out of

5
 by
Georzetta
Easy to Use and Convenient
My mother uses these because she likes to freeze leftovers. She is 84 and using the big maching is just too difficult for her these days. With these bags, she can drop the leftovers in and have the bag sealed and in the freezer and about 3 minutes. Great product.
May 8, 2016
Rated

5

out of

5
 by
BarbaraGCKS
Great upgrade to a newer Food Saver., Wonderful!!
Since receiving the newer and better feature Food Saver, I have packaged around 60 pounds of food to freeze. I buy package bulk food and reduce it into packages for two people.(Frozen Fruits, Frozen Vegetables and meats). Also prepare meals in large amounts and package for two people. The zip bags for food saver machine work great. I can put lettuce, cabbage and fresh vegetables in zip bags and then use the hand held sealer for bags. Food remains fresher than in regular food bags. I have experimented with air sealing cabbage in bags and I never have browning on the edges. Cabbage has been in seal package since before Christmas, and still not brown. The Food Saver saves food from spoiling for a longer period of time in the refrigerator. Food Saver sets on my counter ready to go to work for me.
January 18, 2016
Rated

5

out of

5
 by
bms29
Love these
I really love to use these to store various produce, cheese, etc whether I keep in the refrig or the counter (depends on what is inside the bag). - I have used mine for several months & I wash & rinse all the time Plus I have had No Problems with them. One lasts so long, I wonder why I bought so many.... The only ones I've thrown away was one I had let meat thaw in it & because of the blood, I chose to throw away instead of washing & reusing. Another I threw away, I was just too lazy to wash it again plus decided I had gotten my money's worth from it. - Never have I had one that came apart at the seam. It may be because I do not use a dishwasher to clean -instead I wash by hand. - So how you take care of the bags may have to do with how long they last as mine are lasting for weeks & months.
December 17, 2015