Carleton Euro Sham
pp5003161270
web ID: 7260548
Product Description
This ornate Euro sham features an elegant floral scroll design that makes a beautiful statement on any bed. Pair it with the Carleton comforter set and accessories to bring a sophisticated look to your bedroom's decor.
floral scroll design on front
solid faux-silk finish on back
decorative cord trim
measures 24x24"
Sold individually. Requires a 24" square pillow form, sold separately. Polyester. Washable. Imported.
Product Q&A
Ask your questions. Share your answers.
Products related to my question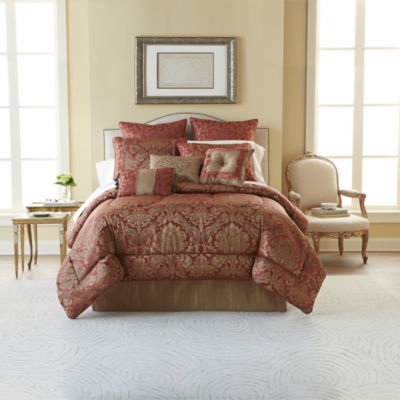 Laurel Hill 7-pc. Jacquard Comforter Set
(
268
)
6 months ago
by
Medford, NY
How often do you shop at JCPenney? 
Frequently
0
out of
0
found this question helpful.
Was this helpful?
helpful
0
unhelpful
0
http://answers.jcpenney.com/answers/1573/product/pp5003161270/question/2458326/undohelpfulness.djs?format=embeddedhtml&sessionparams=__BVSESSIONPARAMS__&return=__RETURN__&innerreturn=http%3A%2F%2Fanswers.jcpenney.com%2Fanswers%2F1573%2Fproduct%2Fpp5003161270%2Fquestions.djs%3Fformat%3Dembeddedhtml%26scrolltotop%3Dtrue%26expandquestion%3D2458326&user=__USERID__&authsourcetype=__AUTHTYPE__&submissionparams=__BVSUBMISSIONPARAMETERS__&submissionurl=__BVSUBMISSIONURL__
Answers
Answer: 
Yes! The pattern in this sham is very close to the pillows pictured in the Laurel Hill set.
6 months ago
0
out of
0
found this answer helpful.
Was this helpful?
helpful
0
unhelpful
0
http://answers.jcpenney.com/answers/1573/product/pp5003161270/answer/2444693/undohelpfulness.djs?format=embeddedhtml&sessionparams=__BVSESSIONPARAMS__&return=__RETURN__&innerreturn=http%3A%2F%2Fanswers.jcpenney.com%2Fanswers%2F1573%2Fproduct%2Fpp5003161270%2Fquestions.djs%3Fformat%3Dembeddedhtml%26scrolltotop%3Dtrue%26expandquestion%3D2458326%26expandanswer%3D2444693&user=__USERID__&authsourcetype=__AUTHTYPE__&submissionparams=__BVSUBMISSIONPARAMETERS__&submissionurl=__BVSUBMISSIONURL__