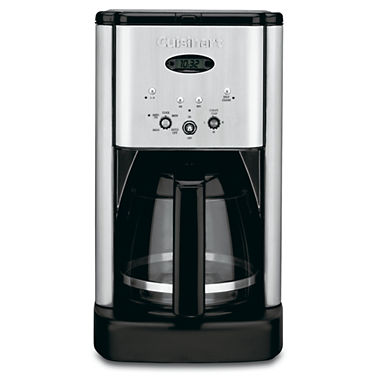 Cuisinart® Brew Central® Coffee Maker DCC-1200
web ID: 7806017
Savor delicious coffee made right, with this 12-cup coffee maker featuring a classic vintage design.
easy-to-use 24-hour programmable feature
1- to 4-cup setting for personal use
Brew Pause™ feature; auto shutoff
touch controls; self-clean indicator
60-second memory auto reset
includes gold tone filter, charcoal water filter and paper filter starter kit
1025W. Measures 7¾x9x14"H.
Rated

5

out of

5
 by
Becky
Great coffee maker!
We've had this coffee maker for approximate 10 years. We've had a good many cups of hot, delicious coffee from it. Sadly, after a few days of quirky behaviour, today it died. We know so many people that have had this coffee maker for years as well. I would definitely recommend it.
October 30, 2015
Rated

1

out of

5
 by
tommy
Ya, this is not a quality product.
Bought the DCC 1200 a year ago, feed hoses didnt handle the heat. It looks good but its not made well. Dont buy this model, it is not of good quality materials or design.
October 10, 2015
Rated

5

out of

5
 by
californiacoastal
First one lasted 3 yrs 9 mo's
I had nothing but great results with this coffeemaker and after years of dependable service, am replacing it with the same model. Plus features are the water filter and the adjustable heat on the plate.
November 10, 2015
Rated

5

out of

5
 by
reese
Great coffee maker
Fast brew, good coffee, and a timer! Overall a good purchase for a good price.
November 12, 2015
Rated

1

out of

5
 by
Schlaoner
Poor quality
I purchased this product approx. four yrs. ago and used it infrequently. It died last week. Don't waste your money on this inferior product!
August 11, 2015
Rated

1

out of

5
 by
Minnie8
DURABILITY BAD...LASTED 3 MONTHS BEFORE DYING
I got on the waiting list when I first saw a Cuisinart square coffee pot. I bought it and loved it. Coffee was hot hot hot and quality was superb with easy clean. Years later, it was looking a little worse for the wear when I remodeled my kitchen, so I went out and bought the EXACT Cuisinart pot that looked new and shiny. Well guess what--that lasted 3 months at most before totally dying. I went out to the garage and hauled in the old one, scrubbed it up and tried to reclaim it. No soap! By that time in a dusty garage, it was dead too which I expected. So now it's between Christmas and New Year's and I'm off to hunt for a new coffee pot. (Like I haven't done enough Christmas shopping already!!!) A French Presspot has saved us the past few days, but we truly need a good coffeemaker at a medium price (at or under the 'one' mark!) It's not going to be a Cuisinart this time, unfortunately. :-(
December 30, 2011
Rated

5

out of

5
 by
Aggie78
Great Coffee Maker
We first used one of these coffee makers at a rental home at the beach 2 years ago. We were sold and requested one for Christmas that year. We've had ours over 2 years and love the coffee it makes. It has a water filter inside that has to be replaced every couple of months, but our water needs filtering, so happy to have that feature. It beeps when the coffee is ready and again when the machine turns off (which you can set to go off anywhere from 30 min. to 4 hours). You can use paper filters, but we've discovered that using the gold tone filter makes a better tasting coffee (especially when you grind your own beans). I sometimes find water underneath when I move it to the back of the counter; not sure why it happens, but not that big of an issue. I just know to wipe underneath after I move it.
November 12, 2009
Rated

2

out of

5
 by
scarboro75
Hot coffee - short lived product.
We were happy when we purchased this product as the end result was a good hot cup of coffee. We bought three others as Christmas gifts for our children. All four have been in for repair, in some cases multiple times. Customer service were very helpful and repaired or replaced the coffee makers, however it necessitated a long trip each time to reach the Cuisinart facility. We have a stand-by $35.00 coffee maker which never breaks down. Although the coffee is not quite as hot, the appliance is totally dependable unlike the Cuisinart. Our current replacement Cuisinart has just broken down again and although it is still under warranty, we are opting to search and purchase another brand.
May 10, 2014
Product Q&A
Ask your questions. Share your answers.
Show all answers