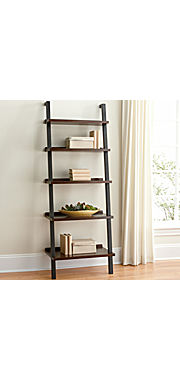 Ladder Bookcase
web ID: 7742065
Contemporary looking ladder bookshelf looks great in a study or home office for showcasing books, picture frames or DVDs.
5 shelves for storage or display
leans again wall for unique look
mahogany stain
MDF. Measures 26x16x72"H. Assembly required. Imported.
Rated

5

out of

5
 by
RBW1154
Beautiful and functional!
I LOVE this bookcase! I looked at MANY stores to find what I needed because it sits against a window (see photo) and this bookcase works perfectly! One caution: when you assemble it, make sure to attach the shelves to the braces while it's laying on its side on the floor - as illustrated in the directions. I made the mistake of assembling it flat on the floor and when I stood it up, it leaned slightly to one side. I took it apart and reassembled it the way the instructions show and it stood up perfectly straight! It was very easy to drill holes and secure it to the wall - and it's very reassuring to know I don't have to worry about it tipping over. Several days after receiving the unit, the price dropped from $180 to $150 - I called JCP and they credited my account for the difference. Great customer service!
December 31, 2014
Rated

5

out of

5
 by
Onlineshopper1078
Exactly what I was looking for!
I needed a bookcase for my new home office, and this ladder bookcase is a perfect fit! This bookcase would go in many rooms, not just an office. Very sturdy and the assembly was easy (my husband put it together)! It's priced very well!
January 24, 2014
Rated

5

out of

5
 by
KarenJCP
Looks great in my home office!
I was pleasantly surprise by the quality of the ladder. The wooden shelves have a beautiful stain color and the wood is solid. The assembly was very easy. My books and printer fit perfectly. Very pleased.
October 29, 2015
Rated

5

out of

5
 by
Mammy
Ladder Bookcase
. OH MY Goodness, when I opened the package I was so pleased to see that it met my expectations due to the reviews I read on line. I could not wait to get it put together and display all my cookbooks, Every one who has come to visit asks where did you get that stunning bookcase. I love it because it is so different and meets my needs. Thanks Penny's for carrying a Dynamite Product.
October 15, 2015
Rated

4

out of

5
 by
sandnsea212
I love these bookcases
I positioned two of theses ladders on either side of my tv stand as an alternative to the traditional, bulky entertainment center. They create a look that's airy and contemporary with plenty of room to display my books, vases, photos, etc. The five shelves gradually get smaller in depth and height as you move up the ladder. The shelves are wood and the sides are metal. As the picture indicates, the shelves are a lighter brown than the sides, but as a whole I consider the ladders to be an espresso color. They work beautifully with the other dark furniture in my living room. While they weren't difficult to assemble (my husband put both together in 30 - 45 minutes) one of the sides of the first ladder did not fit together properly. The gap that's created is not noticeable enough for me to return it, but it's still there. We had no problems with the second ladder. Both ladders arrived with no damage. Overall they are very attractive and I'm happy I bought them.
January 21, 2014
Rated

1

out of

5
 by
vertigo220
Poor quality control
I originally gave this 2 stars, but since this is the third time I'm having to write this review to attempt to get JCP to allow it, I'm downgrading it, as their attempt at censorship demands it. I bought one of these shelves, had to return it for a replacement, then bought a second one and should have returned it for a replacement as well, but due to the very poor quality control and not knowing what I'd get I just bit the bullet and kept it. As I've already reviewed this twice, I don't have the time or will to explain at length all the issue, so in quick summation the first one the shelves didn't all attach because of an improperly made piece, and on the second I had to attach it to the wall, which I wasn't going to do, simply to make it stay straight (it wanted to emulate the Leaning Tower of Pisa). Very poor quality control which ruins what would be a great bookcase.
August 31, 2013
Rated

5

out of

5
 by
Jules55
absolutely love this!
I read all of the reviews before purchasing this ladder bookcase. I am so happy that people took the time to write them as it helped my decision to buy one. I have looked at other ones that were comparable in price, and this one is definitely the best. It is extremely sturdy as it has real wood shelves and the ladder part is metal. I did bolt/screw it into the wall, but didn't use the extra reinforcements included since I only have cats that will mess with it. It is really, really nice! Don't let the metal ladder part throw you off...it doesn't even look like it is metal. Actually, I think that is one of the reasons why it is so durable and sturdy. If you are on the fence about buying this, I promise you won't be disappointed! My only complaint was that the hardware was loose in the box and some fell out when we brought the box into the house from being delivered on the porch. It was a little aggervating to look for the screws on the ground. Because of the quality...and the fact that it looked so nice in my living room...my aggervation with the hardware issue went away. According to the reviews, this wasn't something that happened previously.
August 29, 2012
Rated

4

out of

5
 by
girlgirl1
Looks great-difficult to assemble
Took 3 hrs to assemble as the shelves are not attached with screws but these other type of things which cannot be used with a drill and have to screw by HAND
April 22, 2015
Product Q&A
Ask your questions. Share your answers.
Show all answers