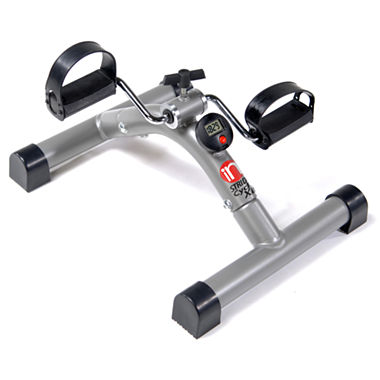 Stamina® Instride Exercise Cycle XL
15358dc
PRODUCT DESCRIPTION
Increase your strength and improve your circulation and coordination with this compact, InStride Cycle XL, while in the comfort of your own home.
adjustable tension to vary workout intensity
put it on a table for an upper-body workout; on the floor for a lower-body workout
electronic monitor times your workout
InStride Cycle XL is 19x15¼x12¼"H. Assembly required. Battery included for monitor. Warranted by manufacturer.
NOTE: Before you exercise, it is best to consult your physician for a complete checkup. Proper use of the equipment is also essential. Read instructions carefully. If any discomfort should result, stop exercising and consult your physician.
Rated

4

out of

5
 by
TeriS
Easy To Use!
I purchased this cycle because I don't have space for full size exercise equipment. I love the simplicity and ease of being able to exercise at home without having obvious exercise equipment in my living room!
September 15, 2016
Rated

5

out of

5
 by
Subhash
Great machine!!
We bought it for one of our family members who is 89. She exercises daily on this machine. She loves it and looks forward everyday to her excercise regime.
June 25, 2016
Rated

5

out of

5
 by
Happy Couple
Great product
I bought this great product for my wife, she has hip & back problems and this is just what she needs to get exercise without living the house. I would like to add that I`m also using it and we both love it.
June 17, 2016
Rated

5

out of

5
 by
dbennett23060
Easy setup,, worked out of the box
Recently had knee surgery and the PT used one of these in the exercises I need to do daily. Decided to purchase my own as I found it very helpful in getting the muscle strength back in my knee.
June 4, 2016
Rated

5

out of

5
 by
Sheil
Excellent quality for a decent price.
My surgeon ordered exercise 5 times daily on a peddler such as this following a total knee replacement. The ones they had at Physical Therapy did not compare in any way to this one. It has been a great help in my recovery of range of motion.
May 22, 2016
Rated

5

out of

5
 by
lhpadilla
Stamina InStride 15-0120A
I bought this peddle machine for my 94 year old Dad to use as part of his hip repair surgery rehab. It is sturdily built and assembled easily. We are very happy with it!
May 3, 2016
Rated

5

out of

5
 by
Coyote
Awesome cycle
I bought this because the one I had been using had to be returned to the therapy facility. This cycle to me is better. It was a breeze to set up and it is heavy enough not to slide when I use it. This is a great cycle and for the price is unbeatable. [This review was collected as part of a promotion.]
April 14, 2016
Rated

4

out of

5
 by
Mschelly02
Good little peddler
I bought this to use when I work from home and it's great! Easy to move around but sticks to the floor pretty well. The only downside is it squeaks pretty bad when it gets too hot from the friction. I have to keep the tension down to avoid the noise. But otherwise it's exactly what I wanted. [This review was collected as part of a promotion.]
April 5, 2016