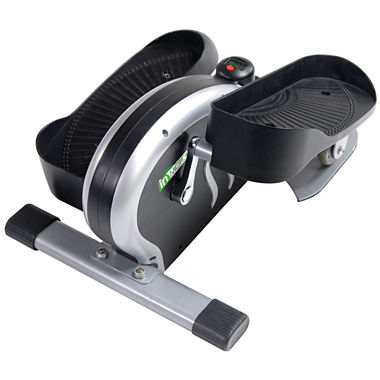 Stamina® Inmotion® E1000 Elliptical Trainer
web ID: 6857000
This lightweight Stamina E1000 elliptical trainer delivers a low-impact workout that's easy on your joints and is compact enough to store easily under a desk or in your closet.
adjustable tension to control workout intensity
forward or backward pedal action
electronic fitness monitor displays strides per minute, exercise time, calories burned and total number of strides
Steel/plastic. 1-year warranty on frame; 90 days on parts. Imported.
Rated

5

out of

5
 by
StephenJ
Amazing machine, and AWESOME Customer Service!
I am a 51 year old man, 6'1" and 215 pounds, with very arthritic knees who is not allowed (Doctor's orders) to walk or run and must use a no-impact elliptical to exercise. I bought this machine more than 3 years ago, in July, 2012. Since then, I've used it hundreds of times, burning up to 1,000 calories per session. My knees feel great using it, the calories burned are real, and the E1000 paid for itself in terms of gym membership savings within the first month! Also, as tiny parts have worn out (inevitable with any workout machine if you are a large and and use it as much as I do), I have found it EXTREMELY easy to get replacements from Stamina. Their customer service department is INCREDIBLY helpful, and the parts are very inexpensive and easy to replace. This is EASILY the best workout/exercise machine I have ever purchased. I plan to have one of these until I die.
October 28, 2015
Rated

5

out of

5
 by
buddyap
losing weight effortlessly!!!
I bought this many years ago but just started to commit myself to a regular workout routine. Boy, I'm glad I did! I've lost 8 pounds after 3 months of working out 5 days a week for 30 minutes while watching my favorite tv show. I wasn't losing weight at first. I didn't begin to lose weight until about 2 1/2 months. Suddenly, I started to lose a pound every few days. I'm glad I persisted. I guess it just took awhile for my metabolism to kick in. I didn't change my eating habits so i knew the elliptical trainer was the culprit. I worked out with the resistance knob turned 1 time with the knob line mark at top, which enabled me to burn 250 calories 30 minutes. I love that this elliptical trainer is so compact, and virtually tucks away inconspicuously anywhere, out-of-sight.
November 14, 2015
Rated

5

out of

5
 by
JoAnn
Great alternative to gym membership!
I always used an elliptical machine at the gym as best workout machine for hips/back without stress on knees, ankles, back etc. When the gym closed I researched &, based on many good reviews bought this Stamina InMotion Compact Strider. Easy to store & gives me the workout I had at the gym less the side handle bars - but I just use hand weights at times with it as suggested on website video. Great that I can get a good workout at home despite weather, no gym costs, no special gym clothing, etc.
October 21, 2015
Rated

5

out of

5
 by
Harv
We Love it!
My wife and I use this strider nearly everyday. We love how easy and convenient it is to step on and exercise while watching TV. Also, great customer service!
November 2, 2015
Rated

5

out of

5
 by
erik13
solid product for the money
I have purchased 2 of these units as they work great for my clients. My clients are mostly elderly and suffer from osteoarthritis This device has provided them with a pain free exercise that can help keep them moving
October 23, 2015
Rated

5

out of

5
 by
AmateurFL
Fabulous!!!
I bought this a month ago to use at my desk at work. My tweenage daughter ask to keep it at home so she can use it. Now that is great to hear when your kid wants to get some exercise in too.
October 16, 2015
Rated

5

out of

5
 by
vitasweeta
I love it!!
I originally bought it to use at my desk, but with high heels, wasnt working out so much. So I brought it home:)) using it a lot now:))
October 19, 2015
Rated

4

out of

5
 by
amandaleslie
Good product!
I have bought this product 2 seperate times. The first elliptical lasted me a few years of regularly use before multiple parts needed to be replaced, so I bought a new one. The second one- the foot pedal fell off 6 months in (the reason for 4 stars, not 5), however, their customer support were very helpful and replaced the base of my machine for me. It's very compact, easy to use.
September 28, 2015
$15 oversized item surcharge

An oversized item surcharge may apply to some heavy or bulky items due to size, weight or special handling required. This item surcharge is in addition to standard shipping rates.