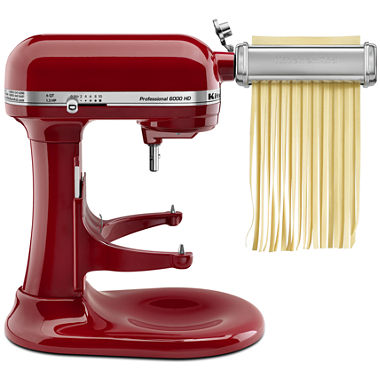 KitchenAid® 3-pc. Pasta Roller & Cutter Mixer Attachment Set KPRA
web ID: 7804032
The KitchenAid pasta roller is a sleek and handy tool to have in the kitchen for your signature pasta dishes.
versatile enough to make thick egg or lasagna noodles
easily cuts rolled dough into fettuccini
also makes spaghetti and thick or thin linguine
includes brush for cleaning
Stainless steel. Remove dried pasta with included brush. Measures 10x9¾x4". Imported.
Rated

4

out of

5
 by
Lovingpasta
Worked as expected
I got this as an additional gift for my daughter along with a new KitchenAid mixer. Nothing beats the taste of homemade noodles!
January 3, 2013
Rated

5

out of

5
 by
chlyab
Us italians love pasta, this is perfect!
I couldn't wait to get my hands on this attachment set and the ravioli set! My first pasta i made with this set was spinach fettuccine. I can't believe how easy it was to use and perfect on the first try! The pasta turned out fantastic, as i expected and placed it into little nests to store! not only did they look great and taste great, they were a HUGE hit in the house. I haven't tried the ravioli make yet as i just got it for Christmas, but i expect it to taste as well as the pasta.I can't wait to try it but having a hard time finding the semalina flour.. I know our coop has it in bulk but its a distance away. I expected the first time to be a disaster and had help on standby, i didn't need any and did it all on my own! Amazing! Cant wait to make more and experiment with different ingredients. Truly a delightful time! Ever since i got my very own artisan mixer, I've ditched all my other appliances and replaced with KitchenAid. Great customer service, too! My rollers were delivered damaged and they replaced them no problem. Highly recommend.
January 2, 2014
Rated

5

out of

5
 by
Meatball
Amazing product, glad I bought it!
Works like a charm. I enjoy making pasta! This product makes pasta making so simple!
June 16, 2015
Rated

5

out of

5
 by
pastalady
This product delivers
The pasta roller and cutters are awesome making my own pasta is so much easier and faster now than when I was using the hand machine. I would recommend this set if you make a lot of your own pasta as it will speed up the process and you will get great results.
April 28, 2015
Rated

5

out of

5
 by
townmama
Kitchen-aide pasta roller
It's fun. I'm experimenting with different flavors.
May 6, 2015
Rated

2

out of

5
 by
Lynnette
Problem with spaghetti cutter
I just used the attachments yesterday for a Sunday dinner. Everything worked great until I started cutting the spaghetti. The cutter did not cut the noodles all the way through. We had to separate them by hand because they were fetticini size. Nothing to adjust to fix this problem. I purchased these because my aunt and daughter had them and they worked great for them. My aunt made the dough yesterday so there was no issue there. She actually did the rolling to demostrate as well. I am going to see about a replacement.
February 1, 2015
Rated

5

out of

5
 by
CapHoya
Make pasta like a pro in no time!
I received this as a Christmas present and was a bit intimidated at first because I'd never made pasta dough. But my first attempt came out perfectly, and I've just been getting better ever since. I'm looking forward to securing additional attachments for more variety, but I found that if I roll my pasta thin I can get close to a capellini. Having used regular flour and semolina flour, definitely go with semolina. It's a little more expensive, but so easy to work with and you can't beat the taste.
August 4, 2014
Rated

5

out of

5
 by
rparrny
Great for pasta lovers!
I learned how to make pasta on the old fashioned Atlas that you clamp to the kitchen table and hand crank. The pasta was great but what a pain to have only one hand to deal with the dough and one hand to crank. This unit looks and acts exactly like the Atlas but no hand cranking leaves two hands free to handle the dough! A tip for new users, a good dough will seem dry to you...if it holds together when you grab a fistful, it's fine. Dough that is too moist will be a horror to roll out. Don't bother kneading the dough, let the number one roller do it for you. Your first pass through will look like a nightmare...cracked and falling apart...that's fine, just fold what you have in half as best you can and pass it through again...and again...and again until the gluten forms and you will see a change in the dough to a smooth consistency and an intact sheet, then move on to the next level which will nearly double the length of your sheet...after your dough is good at level one, only one pass through each of the remaining levels. Level 3 is good for ravioli, the higher the level, the thinner and more fragile the dough and the longer the sheet. When the sheets get too long I just cut them in half and cover the half I'm not rolling with a damp paper towel. Once the sheets are at the desired thinness, before you pass it through the pasta cutter (spagetti or whatever) I find lightly sprinkling with flour can help prevent sticking.
December 16, 2013
Product Q&A
Ask your questions. Share your answers.
1 week ago
by
0
out of
0
found this question helpful.
Was this helpful?
helpful
0
unhelpful
0
http://answers.jcpenney.com/answers/1573/product/257780/question/2491319/undohelpfulness.djs?format=embeddedhtml&sessionparams=__BVSESSIONPARAMS__&return=__RETURN__&innerreturn=http%3A%2F%2Fanswers.jcpenney.com%2Fanswers%2F1573%2Fproduct%2F257780%2Fquestions.djs%3Fformat%3Dembeddedhtml%26scrolltotop%3Dtrue%26expandquestion%3D2491319&user=__USERID__&authsourcetype=__AUTHTYPE__&submissionparams=__BVSUBMISSIONPARAMETERS__&submissionurl=__BVSUBMISSIONURL__
Answers
Answer: 
Just the attachments
5 days ago
0
out of
0
found this answer helpful.
Was this helpful?
helpful
0
unhelpful
0
http://answers.jcpenney.com/answers/1573/product/257780/answer/2478783/undohelpfulness.djs?format=embeddedhtml&sessionparams=__BVSESSIONPARAMS__&return=__RETURN__&innerreturn=http%3A%2F%2Fanswers.jcpenney.com%2Fanswers%2F1573%2Fproduct%2F257780%2Fquestions.djs%3Fformat%3Dembeddedhtml%26scrolltotop%3Dtrue%26expandquestion%3D2491319%26expandanswer%3D2478783&user=__USERID__&authsourcetype=__AUTHTYPE__&submissionparams=__BVSUBMISSIONPARAMETERS__&submissionurl=__BVSUBMISSIONURL__