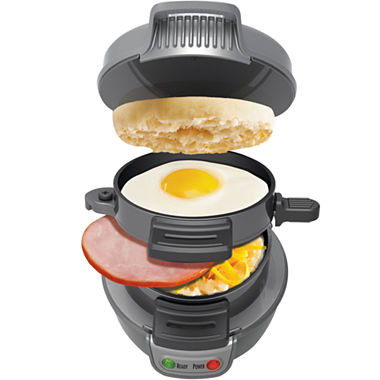 Hamilton Beach® Breakfast Sandwich Maker
web ID: 7805485
Now it's possible to break the cereal routine and save the time and money of a deli run. This incredible appliance cooks the egg and melts the cheese while toasting your bread for a flawless sandwich at breakfast time—or anytime.
silver finish matches any kitchen decor
cooks breakfast sandwiches in 5 minutes with your fresh ingredients
top plate gently toasts the bread and holds the heat inside
egg layer cooks insides flawlessly
quick and easy recipes included
Plastic. Measures 6.81x6.89x13.38"H. Dishwasher-safe parts. Wipe base clean with a damp cloth. Imported.
Rated

4

out of

5
 by
OleandLena
This sandwich maker let's you make a quick breakfast in 5 minutes.
This sandwich maker let's you make a breakfast sandwich in 5 minutes. It's cheaper than running through the drive-up at any of the fast-food chains; plus, you can personalize it to exactly what you want. If you want shredded cheese and peppers on your egg throw them in. You can put it on an English muffin, a mini cinnamon raisin bagel, or cut your favorite bread to fit. Skip the meat layer or maybe try some tuna--what fast-food chain offers that! If you need to hurry, wrap your sandwich up in a paper towel and head out the door.
January 29, 2014
Rated

5

out of

5
 by
Fladiva
Good purchase for the on the go!
The breakfast sandwich maker performed exactly as it stated. 5 minutes and you have a hot breakfast sandwich!!
October 21, 2015
Rated

5

out of

5
 by
momrd
Love It!
I love this breakfast sandwich maker as do my junior high and high school kids! Even the ones that are grown have come to visit and love it as well. I don't use it everyday so I don't burn them out but they ask me to please make them a lot. We've gotten very creative on ingredients we use...sometimes sausage or bacon, but usually turkey lunch meat. We use different cheeses as well...American, pepper jack, etc. and for different ones I'll use jalapenos or salsa, salsa verde or pico de gallo. I'm going to try Italian sausage with provolone or swiss with tomato slice for a lunch time sandwich. It is so easy to use and extremely easy to clean. I generally just wipe it with paper towel. Don't over use the cooking spray then you will have to more thoroughly wash it and only spray about every 6 - 8 uses. Also, the cooking time usually is better on 7 - 8 minutes to get the egg whites cooked. I'm using eggs layed by my chickens so that may be why mine have to cook a bit longer.
February 12, 2014
Rated

5

out of

5
 by
gmalinda
love this product
I have used this machine every day since receiving it. It makes just the right size sandwich.
September 16, 2015
Rated

5

out of

5
 by
emilye
A product that has it all.
I purchased this for my grandchildren for Christmas. I have never given them anything that they love as much as this sandwich maker. My daughter said she and her husband can't keep enough english muffins and bagels on hand for them. They make breakfast sandwiches in the morning before school, which keeps them from stopping at the local donut place for one, saving them a lot of money each day. They just pop the egg, bacon or ham, cheese and muffin or bagel in and bingo, they have a delicious breakfast sandwich in no time at all. They say the sandwiches from this Hamilton Beach Sandwich Maker are the best they have ever had. My daughter loves it because its small, takes up no counter space and is very easy to clean My son-in-law told me, he thinks, this sandwich maker was the top Christmas gift that they received this year. Sure made me feel good.
January 28, 2015
Rated

5

out of

5
 by
Lov2shopcoupons
Best ever
I love this sandwich maker. It's easy to use and easy cleanup. My son use to go out for breakfast often and now he makes his own sandwiches in 5 minutes.
February 26, 2015
Rated

4

out of

5
 by
tdog7
would recommend - great for breakfast- saves money
present for my daughter, She reports it works well, fairly easy cleanup, loves the breakfast sandwiches it makes.
February 4, 2015
Rated

5

out of

5
 by
ADKinAC
This product is worth the money.
I bought this sandwich maker for my son who is a bachelor. He likes that there is very little clean up. The very first sandwich was awesome!
January 21, 2015