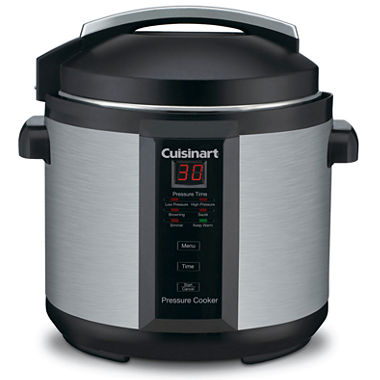 Cuisinart® 6-qt. Electric Pressure Cooker
web ID: 7803050
Cook your favorite pot roast, stews or chili up to 70% faster than traditional methods with the Cuisinart pressure cooker.
cooker creates hotter temperatures since the pot is completely sealed and the steam is trapped
includes a removable 6-quart nonstick pot and trivet
sealed lid locks in steam so foods can retain more nutrients for healthier eating
variable heat control maintains selected temperature
high and low pressure settings
additional settings let you brown, simmer or sauté foods before cooking under pressure
Cooking pot and trivet are dishwasher safe. Brushed stainless outer housing wipes clean. 1000W. 12.2x12.2x13.9". Imported.
Rated

5

out of

5
 by
GaGa
This product has great features
I was a little hesitant in using the Cuisinart 6 qt. Electric Pressure Cooker, since I had not used one in over ten years. After reading the instructions and reviewing the recipes listed, I tried my first meal, and it turned out GREAT! All my fears subsided
July 30, 2015
Rated

5

out of

5
 by
charlie66
Really enjoying my new Pressure Cooker. Cuts my time in the kitchen way down. Time to enjoy my great Grand daughter. Made BBQ ribs, pork roast & beef.
Great time saver. Roast beef, pork roast, BBQ ribs all very tender and fell of the bones. Potatoes cooked in 8 minutes. Just what I needed to get me out of the kitchen faster. Very easy cleanup also.
July 22, 2015
Rated

1

out of

5
 by
crfjacks
JCP - Do Not Sell
I was SO excited to get this appliance because of my brother having one, however - a different brand, and couldn't wait to use. We continued to have issues with it and even called the manufacturer direct. After spending 30+ minutes on the phone and doing everything that we were told, the manufacturer themselves told us to return it to the store so it could be returned to them. We were SO disappointed in the appliance which is an understatement! We literally spent 2 full evenings - hours each evening, trying to get it to work like it should and had to give up after 10:00 - ordering out for pizza one night and eating canned soup the other night from our pantry. I even called my brother and he was confused of the operating instructions and he has had his brand for 4-5 years, loving and using it continuously. At this point, I don't believe I will ever purchase another appliance from JCP. We do not live close to the JCP we had to return it to. So not only were we totally frustrated, but had to waste time and money in gas to return it to the store so it could be shipped back. Yes....I am crying!
August 8, 2013
Rated

5

out of

5
 by
luv2cook
This product gets an A+ for it's features.
I've never used an electric pressure cooker before, this one is easy to operate and cooks to perfection. It can brown, sauté, cook, and keep warm all in the same pot. Find recipes online, and cook from frozen to done in a fraction of the time. All this and the price was good too!
June 11, 2015
Rated

1

out of

5
 by
crazy2shopjcp
This product didn't work
Purchased the Cuisinart Pressure cooker and had it deliverd to my home. Was all excited to start cooking a new way. Went out and bought a nice big pot roast, potatoes, carrots and onions. I was going to follow the recipe in the booklet that came with the cooker. It started out great. The meat browned nicely, the onions and garlic sauteed nicely, but as soon as I tried the cook cycle it wouldn't work. I called Cuisinart for assistance, they were very helpful but we came to the conclusion the pressure cooker was defective. Great, now what do I do with all this food. Had to remove everything from the pressure cooker and put in in a roasting pan and put it in the oven. We usually eat at 5:00, we finally ate at 7:30. Very frustating, it could have been worse, I could have had company. Returned the item to store without issue. Thanks
August 26, 2013
Rated

5

out of

5
 by
Love2ShopGranny
One Thing to look for.
This is a great time saver and does meats, chicken mac & cheese in no time. One thing to look for is the book tells you that the little red light blinks until the machine reaches full pressure and stays on. My experience (having called customer service and returned 2 units to another store) is that the red light will begin to blink at another time later in the cooking process. The instruction book does say that pressure will fluctuate during the cooking process but the book failed to tell you that the red light will begin to blink again when that happens. After using 3 units I have concluded that the light blinks when that happens. Having this knowledge will save you from thinking that something is wrong with the unit. I have used the browning feature to brown chicken breast (boneless) in oil, added flour to brown to make a roux added seasonings and then added 2 cups of water to make gravy. Cooked for 15 minutes! Yummy stewed type tender chicken in a flash. This is so easy to learn to operate. As we age meats begin to be harder to chew and this solves that problem by turning out tender meats. Everyone should have one, especially us elder folks.
November 20, 2013
Rated

5

out of

5
 by
iamsumaty
I've become a good cook
I've always used a stove-top Presto pressure cooker and decided that I was tired of babysitting the cooker and would take advantage of the new technology. The Cuisinart is great. First, there is no steam escaping while you cook - the cooker electronically controls the temperature to keep the pressure at the perfect level. Also, all you do is set it and walk away. When it is done cooking, it beeps and goes into a keep warm mode. As far as the food, it's great. I cooked a pound of lentils in 10 minutes from dried beans to bowl. Short ribs and pork boneless ribs fall apart. Boneless skinless chicken breasts are moist - the cooker makes great cacciatore. I browned cubed beef right in the cooker, added veggies, rice and water and made a great soup. I'm going to try making a cheesecake. Some advice - read through the recipies to get an general idea of what it cooks and how much pressure, time, etc. to use. And be sure to place the pressure release valve exactly as directed or the cooker will not build up enough pressure for the timer to start counting down. If you hear steam hissing, it's not on right. I gave the cooker the highest rating because that's what I've enperienced in the short time I've had it. Highly recommended
September 11, 2014
Rated

5

out of

5
 by
SLKP
Excellent
This is a replacement for another brand pressure cooker. I wanted one that was medium size and this had a good rating. This is especially good for chuck roasts---really tender.
May 20, 2015