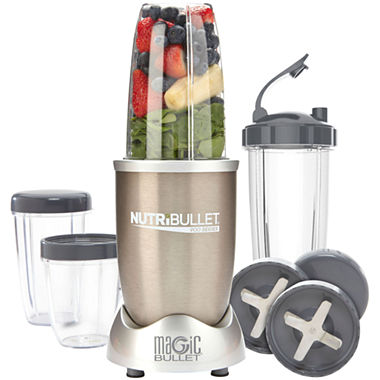 NutriBullet Pro 900 Series Bullet
web ID: 7801369
Pulverize even the toughest ingredients with the 900-watt motor and increased capacity of the NutriBullet Pro 900. From wheatgrass and kale to seeds and roots, get creative and easily satisfy your appetite while staying healthy.
convenient flip-top lid and to-go cup for on-the-go use
one speed setting for ease of use
BPA-free plastic cups and lids
Includes:
one power base
one 18-ounce short cup
two 24-ounce tall cups
one 32-ounce capacity cup
one flip-top lid
three stay-fresh resealable lids
two extractor blades
900 watts; AC current. Metal base. Measures 5½x5½x14½"H. Dishwasher safe. Imported.
Rated

5

out of

5
 by
Hendrika
A fast and healthy way to make great smoothies
I tried the NutriBullet Pro900 for free for Houseparty but my opinions are my own. I just love this machine. It is so fast and powerful and in just a couple of minutes you can make the best smoothies you ever had. The NutriBullet Pro900 really gets the most out of all the ingredients. The NutriBullet really extracts all the nutrition out of the fruits and vegetables. You really taste the difference between smoothies made with this machine or a normal blender. The NutriBullet comes with nice accessories like different cups with lip rings or a on the go lid, extractor blades and resealable lids and a great recipes book and a pocket nutritionist booklet. The NutriBullet is easy to use with just one cup in which you put your fruits, veggies, seeds, nuts or super boosts. The smoothies really energize you and taste so good. In the recipes book you will find all kinds of recipes for every healthy concern. I really recommend the NutriBullet Pro 900 when you want to have a healthy lifestyle!
August 20, 2015
Rated

5

out of

5
 by
jennyw88
The NutriBullet® Pro 900 is one AMAZING Smoothie-Making Machine!
I recently received a NutriBullet® Pro 900 for free and hosted a House Party to show off this powerful little machine! All of those who attended the party were amazed by the power (900 watts!) and speed of this machine. Several different recipes were tried using Silk® Almondmilk and they all turned out DELICIOUS! Moms tried a recipe that included spinach, avocado, oranges and Silk® Almondmilk. Kids especially loved a different recipe that contained frozen fruit, Silk® Almondmilk and Silk® vanilla yogurt. Regardless of the recipe that is made using the NutriBullet® Pro 900, what is loved most by those that attended the party is that it completely breaks down the ingredients in their most nutritious, absorptive state (versus juicers that eliminate several nutritional components of the food). These smoothies were a huge hit for all guests, kids and adults. Moms especially loved that they were giving their children all the best nutrition that they possibly can in one super smoothie!
August 20, 2015
Rated

4

out of

5
 by
crystar
NutriBullet Pro 900: The pros outweigh the cons
I've been making smoothies for a while now. I've gotten to where I'm having at least one most days of the week. I'm actually having a nutriblast as I write this review. I've been using an older Ninja model for a while. The NutriBullet Pro beats it (mostly) hands down. The NutriBullet is much more powerful; it really breaks the food down as close to juice as possible without using an actual juicer. I never have to worry about chunks of food in my drink. I also love the portability of it. I can make a blast in the morning, take it off of the machine, throw the flip top on, and I'm out the door. The Nutribullet is definitely my go-to machine. The only negative for me is cup size. I have periods where I do two meal replacement smoothies a day for weight loss or detox. Even the colossal cup isn't big enough for me to make two at once. I can make two small smoothies, but I need more for an entire meal. That's where the Ninja's blender came in handy. That's the only thing that keeps me from giving 5 stars.
August 21, 2015
Rated

5

out of

5
 by
Momof3girls
We love this product!
This is our first NutriBullet product. It is so much easier to use for smoothies than our traditional blender. And the clean up is super easy and fast too. My tween daughter even made a tart crust recipe that was included with the product. I can't believe we waited so long to buy one of these! Definitely recommend.
November 18, 2015
Rated

5

out of

5
 by
clodhopper
It is going to help keep our granddaughter on a healthy diet.
We purchased the Nutri Bullet as an early Christmas gift to help our young adult granddaughter be able make some very energizing drinks and smoothies. She was so excited to receive it, and so far has given it raving reviews.
November 12, 2015
Rated

5

out of

5
 by
allensj
Awesome Blender!
I've had my Nutribullet for six days now, and I've made at least that many smoothies. My concoctions keep getting better and better, and I've learned a lot! The Nutribullet itself is very convenient to use and to clean. I love the simple design and sleek surface: no buttons, etc. Just press the top and either lock it to stay on, or pulse it yourself. It's very powerful. I've tossed in frozen fruits, apples, oats, seeds, nuts, spinach, and milk. It's had no problem at all. The flax or chia seeds don't really get blended unless you do it for a few minutes though. Mostly they just stick to the sides. Two small criticisms: the large plastic glasses (it came with four) do not nestle into each other, making storing pretty bulky. Also, it came with a handle cup lid, a sealed lid, and a "drink" lid. I wish it came with a lid for a straw, because I always take my smoothies to go, and I hate tipping up the whole thing and hoping it's not going to leak on me.
August 20, 2015
Rated

5

out of

5
 by
Lucylaloca
My Best Friend The NutriBullet!!
I previously had received the original NutriBullet as a gift. I used it so much I wore it down!! I finally got the chance to host a house party and receive the NutriBullet Pro 900 for FREE!!! I'm so happy to say that I just love love this new NutriBullet!! The cups are bigger and it now carries two blades which is a life saver! It grinders quicker & helps me make my wonderful shakes. The party pack was so wonderfully loaded with great items! From the measuring cups to the cutting board, great glasses & spoons. I was also was given the chance to try the dietary supplements which were the super greens & the super energy boost! Great additional to my daily shakes. The recipe booklet & coupons were an added plus letting me try some new shake ideas. I use my NutriBullet twice a day every single day!! I couldn't live without it. Feeling so happy & blessed to have been chosen to receive this package for free & help with my healthy lifestyle changes!!
August 20, 2015
Rated

4

out of

5
 by
corinajess
NutriBullet Pro 9000
I absolutely love my NutriBullet Pro 900. I have never owed a smoothie maker before. I love how easy it was to use. It mixes the fruits/veggies and all ingredients so well. Your smoothies come out smooth and not all gritty. I love the extra attachments as well. I can simply make a smoothie and pop on a lid on the same cup I blended it in, I do not need to dirty another dish by pouring it into another cup. The only thing about the NutriBullet Pro 900 that I did not like was that when you push the cup down to lock it, it starts blending before its locked. There is no hazard to this because the blades are screwed on to the cup, I just think it would be better if it did not start blending until it was fully locked in. Also another great thing is you do not have to worry about a mess if you forget to put the lid on because the lid is actually the blender and it goes on upside down. Overall I absolutely love the NutriBuller Pro 900. I received a free party pack from #HouseParty and #Nutribullet in return for my honest opinion on the product.
August 20, 2015