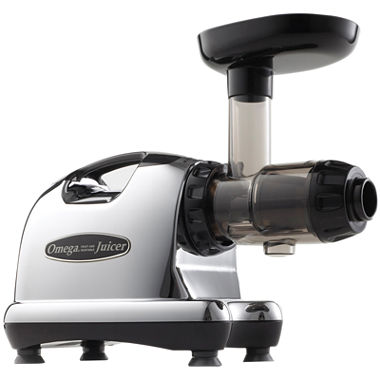 Omega Heavy Duty Nutrition Center Juicer J8006
web ID: 7802032
Make delicious and nutritious drinks, snacks and meals with this heavy-duty nutrition center juicer. Designed with a dual-stage juice processing system so you get the most of your fruit and veggies, this juicer also juices at a slower speed, which protects and maintains healthy enzymes so each drink has the maximum health benefits.
Ÿmasticating style
Ÿprocesses at 80rpm
Ÿthe GE Ultem Auger is 8x stronger than most other plastics
Ÿpowerful gear reduction is equivalent to a 2HP motor
Ÿperfect for whipping milk, extruding pasta, grinding coffee, mincing herbs and making nut butters and baby food
150 watts. Polystyrene/plastic. Removable parts are dishwasher safe. Measures 7x15½x8½"H. Imported.
Rated

5

out of

5
 by
Five1110c
The perfect juicer !!!
I purchased this juicer Omega 8006 less than a month ago, and have juiced both fruits and vegetables, thought this isn't my first juicer,my husband purchased my first juicer as a gift, so I have used it ( the one he purchased) for three years and finally felt that I could purchase the juicer of my choice, without it seeming I did not appreciate his gift. It wasted the majority of the product, and was a bit tedious to clean, compared to my Omega 8006. I am very pleased with the dryness of the extracted pulp and the quick clean up and assembly of the 8006, and I believethis aids in ensuring frequent usage. Thank you Omega for standing behind your product with the 15year warranty, something I look for when making what I deem to be a quality purchase, is the manufacturers willingness to back their product with an extensive warranty. I am very pleased with my purchase.
October 11, 2015
Rated

4

out of

5
 by
LorneB
Strong machine....
I bought the Omega 8006 a year and a half ago. I use it about once or twice a week to juice greens and wheatgrass. It has served well for juicing those things and I'm basically happy with it. However, last week the juicing screen cracked while I was just starting to juice wheatgrass, and I've had order the part. So I'm not happy about that. Hope I get the part soon, as I had to throw away a whole tray of wheatgrass that I had harvested.
November 2, 2015
Rated

3

out of

5
 by
Tracy
workhorse
Have this juicer for nearly a year - love it. However the feeding part could be larger, doesn't juice cucumbers well, fruit pulp gets stuck inside frequently and turmeric stains are impossible to remove. Also 2 parts already broke. Despite all that, I still love my omega. The motor is great, it is the parts one has to disassemble that could use some improvement
October 25, 2015
Rated

5

out of

5
 by
normeey
Works great, masticates leaving dry pulp
I am very happy with the way my Juicer works compared to what I used 20 some years ago. I only wish I could keep juicing more then 30 minutes, as I like to freeze enough juice in pint jars to last a month. I have been recommending this great juicer to many people.
October 13, 2015
Rated

5

out of

5
 by
Honeybee
Finally...
I've been through several juicers that just made the grade, but found this one with the masticating portion set apart from the motor & the heat. The results couldn't be better. This is truly worth the money spent on it. Thank you for the design!
October 6, 2015
Rated

4

out of

5
 by
CynT
Excellent, but... less plastic please!
​Last year I purchased Model 8006. The only initial concern I had was the amount of plastic in which food has to come in contact. Although the machine is working perfectly, the "Black" (plastic) Auger is now tinted green along the mid-section with stripes of white (worn off plastic?) along the "blades"​ and the Juicer Screen is also streaked with wear​. I would prefer that at least ​these the auger have a stainless steel cover and the juicer screen be lined with stainless steel. I also want to get a new plunger made of wood (or I will make one with the right-height stopper). I do not put nuts through it and I thin-slice my carrots to speed up the juicing (and minimize the time and friction with plastic parts). ​Lastly, I have to set it up a bit higher so I can use a glass 2-cup measure to catch the juice. The pulp overflows into a casserole dish so I can easily keep separate what I want to toss into my compost (the wheat grass, garlic, ginger, citrus, etc.) and save for my muffins (carrots, apple, celery, sweet potato, etc.) ​I have been using a Vitamix instead until I can get the Auger & Juicer Screen replaced.
May 31, 2015
Rated

5

out of

5
 by
rdhudas
Amazing and SIMPLE!!!
I bought the 8006 Masticating Juicer 5 days ago and I am truly shocked. I read a great deal of information regarding green juicing prior to making my purchase. My research revealed that people quit juicing because of the time and labor involved in cleanup. The 8006 is a SIMPLE SOLUTION to what has become a complex task for juicers using a lesser quality product. The 8006 has five pieces, I repeat five pieces of hardware that assemble and disassemble with ease making cleanup SIMPLE. The pieces are large too...No chance of losing anything down the drain. Learning to juice with the 8006 has been SIMPLE. I was astonished to find the instruction book short and concise because it's truly that SIMPLE. The Juicer is truly versatile as it does a great job with wheatgrass, ginger, greens, apples, and nuts. I highly recommend this juicer for any beginner or anyone who values daily green juicing!
May 20, 2015
Rated

4

out of

5
 by
Steph22
Easy to assemble and use! Makes great juices!
I got it for Christmas this past December (2014), and I love it. I have been making multiple juices with various fruits and veggies. I will say juicing carrots, apples, kale and harder fruits and veggies is much easier. When you use lemon, oranges, pineapples you have to make sure to use apples or something to help it wash it down so it doesn't accumulate! However, I am sure that all juicers are made to juice harder fruits and veggies, so its normal! It does take more counter space than the vertical ones, but for me its not a problem. It's longer to wash than a blender obviously, however it is easy to disassemble and assemble as well as wash the parts. The pulp is pretty dry, can't squeeze out juice out of it. Overall, I am very happy with this juicer! Also you can use it to make other things if you switch up the nozzles but for me I don't need that.
January 27, 2015
$9.95 oversized item surcharge

An oversized item surcharge may apply to some heavy or bulky items due to size, weight or special handling required. This item surcharge is in addition to standard shipping rates.