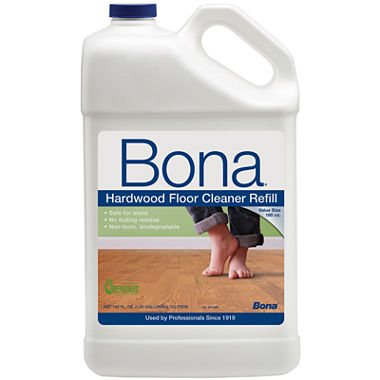 Bona® 160-Ounce Floor Cleaner Refill
web ID: 8691300
Maintain your hardwood floor like a pro with this floor cleaner refill. Unlike all-purpose cleaners, it won't dull your floor's finish or leave oily residue.
economy size
waterborne, non-toxic and environmentally responsible formula
safe for all types of residential wood floors
refills easily into Bona spray and cartridges
Plastic bottle. Made in America.
Rated

5

out of

5
 by
TBender
WOW !!!!
I received a sample of this product just in time..I was giving up on ever seeing my unfinished hardwood floor ever shine again until i tried Bona Hardwood Floor Cleaner. WOW ! I sprayed a very little bit on the floor and started to see shine. So i finished the entire bottom floor of my home. Thank you Bona, my floors feel and look clean and Shiny. I can't wait to try your other products, #! FAN FOREVER
November 16, 2015
Rated

1

out of

5
 by
Crazy Bill
Have used this product for over two years and never had a problem. Started using it to clean up after the puppies were let out of the pen. Noticed the dogs licking the floor, and a few days later they became sick. No information in the MSDS if it could be harmful to pets.
September 1, 2015
Rated

4

out of

5
 by
Patti78
Mixed review
I have been using Bona for years, in 3 different homes - when there was only a single product. On my 3rd home, there is a whitish residue not overall, but in a few small spots. I can't figure out why it's only in small areas & not all over. I apply on a cleaned floor. Help please! Love how the floors look.
August 22, 2015
Rated

3

out of

5
 by
annie
Hardwood floors look dull after cleaning.
I bought this product (and the applicator that is sold with it in some packaging) because it is highly advertised. It seems to have cleaned the floor but left it looking dull. Now I need to apply another finish to restore the shine - neither the Bona Hardwood Floor Cleaner nor the Bona website mentioned that would be necessary. Bottom line: This product is meant solely to clean; do not expect your floor to look clean AND shiny.
July 30, 2015
Rated

5

out of

5
 by
sonnyroy
why dull floors
Read the instructions for those of you who complained about the cleaner leaving a dull finish!! Bona makes finishes that is recommended to be applied after the floor is cleaned. Using this cleaner, then a finish, whether it be dull or shiny results in a beautiful and durable finish. I've used both and am completely satisfied with the results...
July 28, 2015
Rated

5

out of

5
 by
Jop1019
Best Product EVER for hardwood floors!!!
This product does a beautiful job cleaning my floors, leaving them shiney and film free. I highly recommend it to everyone! Thank you for a great cleaner.
July 12, 2015
Rated

1

out of

5
 by
Wolfman
RESIDUE!!!!!
Used as directed on new engineered floor just a few weeks old. Left a flat residue. Interesting that the Bona website has no instructions! Use a little or a lot? When to change mop heads? Use pressure or not? Terrible!
June 6, 2015
Rated

5

out of

5
 by
Nannie Pat
Fabulous product !
I bought this product just hoping for something that would clean my floors . Good grief ....I never expected such beautiful results. I also purchased the floor polishing solution and I can't tell you how excited I am about my floors now. So easy to use. I am thrilled to have found this.
April 16, 2015