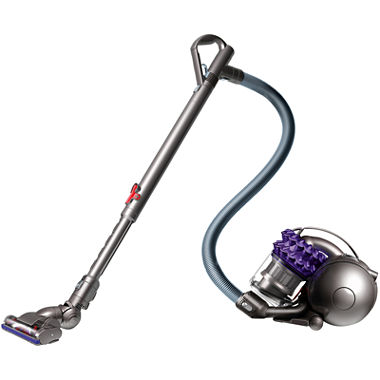 Dyson® DC47 Animal™ Vacuum Cleaner
web ID: 8692140
The only canister vacuum with a central steering mechanism, this Dyson Animal Canister vacuum is compact and light to pull across different floor surfaces. It's perfect for cleaning homes with pets.
two-tier Radial™ cyclones work in work in parallel to increase airflow and capture more microscopic dust from your home
Ball™ technology turns on a dime for greater control
HEPA media vacuum bags
smooth profile with low-friction bearings
ultra-fine carbon fiber brushes remove hair, dirt and fine dust from hard floors
tangle-free turbine tool
backed by a 5-year manufacturer's warranty
Plastic/metal. Imported.
Rated

4

out of

5
DOES THE JOB
It picks up more dirt than any other vacuum when new. It is light weight enough to move easily around. I really like the wind up cord. I really like the size of it. The attachment head is not the usual 12 inch like I am used to and does seem small. The on/off button would be nicer if it were on the handle. The on board tools are just not placed well. I dread the filter getting dirty as the Dyson's do not work as well without a NEW filter. After you wash the filter it just doesn't seem to work as well. For the price it is the best for picking up dirt that I have found.
November 10, 2015
Rated

5

out of

5
 by
xcoastie
Pint size power!
For a small canister it really picks up well. With eight in the houshold along with two dog as and a cat you need a powerful vac. The DC-47 Animal conquers Husky fur, Lab fur, and Calico cat fur. Nice well engineered machine, easy to operate, empty, and keep clean. Thanks Dyson!
October 29, 2015
Rated

5

out of

5
 by
redsawdust
My lil sugar
I named my little dyson Sugar, since suga means suck in Swedish and I thought the name appropriate since these smaller canister vacuums are so cute! But don't let the looks fool you, this lil thing is a beast. I bought my DC47 recently but haven't used it at home yet since I just moved, however I did take it to work and cleaned my office which I don't think has been vacuumed for years. I think I could taxidermy a small animal out of the amount of hair it pulled and we're talking about only a cubicle sized office. I'm so impressed with the weight, how easy I can get to every little nook and cranny by the way the nozzle rotates. There were some long hairs that did get tangled up in the nozzle but since I'm easily able to remove it, it took but a minute to get it clean again. It's really quiet too and just overall makes me want to use it more often. I don't see vacuuming so much a burden anymore! Highly recommend this model if you hate upright vacuums like me, got a small place, and have tight spots you need to get to.
June 27, 2014
Rated

4

out of

5
 by
NCBree
LOVE this vacuum...BUT
I really love this vacuum and it did an amazing job getting up the dog hair that had taken up seemingly permanent residence in my old carpet. It is super lightweight and has amazing suction. I thought I would be disappointed that the head was smaller and would take what seemed twice as many strokes to vacuum but instead it was way better than my old one. Because it was smaller I could get into more cracks and crevices. plus it was so light it did not matter that I had to go over more times. Two small things though - I am a little taller (5ft 8in) and I have to stoop a little because the handle on the brush head is just a little too short. Not a big deal because my house is not too big but if I had a lot of space to do I would get tired. Second for all you pay, they couldn't put a light on the brush head? Now I can get into all of these places that I couldn't before because of the awesome design, but I can't see if I am about to suck up something really bad.
November 8, 2013
Rated

5

out of

5
 by
snuphiluphigus
Truly Amazing!
We moved into a home and was informed that the carpets were "professionally" cleaned. Once we started vacuuming, we discovered that either that was not the case or the "professionals" did an extremely poor job. Dyson has done it again with this excellent, easy to maneuver vacuum. Within the first hour of vacuuming, we filled it up almost twice. It found dog hair that was buried deep into the carpet. It works very well on hardwood floors as well. I intend to purchase one of these for my Mom because it is such a great product. Kudos Dyson.
August 13, 2015
Rated

5

out of

5
 by
CCB4
Powerful Animal!
I just purchased The Animal yesterday and have only used it one. My previous vacuum was a Dyson and I loved it. The head stopped working so I was in the market for a new one. Although I loved my other Dyson, it did not pick up pet hair as well as I would have liked. After reading reviews I decided to purchase this one. I love it. Although the head is smaller than my other Dyson and the canister is as well, it does exactly what I need it to and in record time. I like the extra attachment head just for cleaning pet hair from furniture. It's amazing. I'm so very happy with my new Dyson. It's an animal!
September 3, 2015
Rated

5

out of

5
 by
sprudo
Great vacuum
Received the Dyson DC47 as a gift. It's one of the best gifts you could ever ask for. Not only does it do a great job vacuuming, but it's easy to use and can reach places that are not usually vacuumed with our regular vacuum. Works great, it really sucks and is easy to do stairs with and even easy to empty (which is good because you will need to do it often). A great vacuum which is easy to use!
August 13, 2015
Rated

4

out of

5
 by
HenriettaHairyHouse
Small & Powerful
This vacuum is both small & powerful. The Pros are: - Sucks up everything in its pathway with great power. - Doesn't get clogged by pet hair. - Has many attachments for every job. - Light weight easy to move around. - Durable. I've dropped mine a few times and it keeps on running. The Cons are: - Very small space from the hose to the canister gets clogged easily with larger items picked up. - Small canister needs to be emptied frequently & usually not just with the push of the canister button. I usually have to pull the dirt out by hand due to the small space and the large amount of hair. - Pricey
July 28, 2015
$7.50 oversized item surcharge

An oversized item surcharge may apply to some heavy or bulky items due to size, weight or special handling required. This item surcharge is in addition to standard shipping rates.