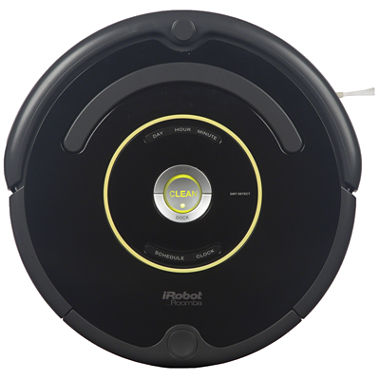 iRobot® Roomba 650 Vacuum Cleaner
web ID: 8691006
The Roomba 650 picks up an amazing amount of dirt, pet hair and other debris with its patented three-stage cleaning system. A spinning side brush cleans along wall edges, counter-rotating brushes act like a dustpan and broom, and a powerful AeroVac™ vacuum pulls dirt, hair and debris off the brushes and into the large-chamber bin. The Roomba 650 also features on-board scheduling so it can be programmed for up to seven cleaning sessions per week, even when you're not home.
Dirt Detect technology employs an acoustic sensor to identify dirtier areas and spends more time cleaning them
an advanced system of software and sensors allows Roomba to clean more of your home more thoroughly
vacuums every section of rooms multiple times
cleans hard-to-reach areas under furniture, around obstacles and along walls
avoids stairs and drop-offs
navigates past soft barriers such as couch skirts and carpet fringe
self-adjusts to hardwood floors, carpet, and linoleum
Measures 18x17x5"H. Imported.
Rated

5

out of

5
 by
Rodney
This 650 is awesome!!!!!
I thought we had a pretty clean house. I was wrong ! This unit cleaned under the beds,dressers,bedside tables,coffee tables,sofas,chairs, and everywhere else that we never vacuum,and it was amazing how much dust and other "stuff" it picked up. We don't have even have pets in the house and I've emptied a FULL bin multiple times in 3 days. It's nice to just put it in a room and close the door behind it and let it do it's thing for 30 mins or so. We're amazed at how much dust and carpet fibers this thing has picked up over the past couple of days.I can't comment on the the long term durability of this unit yet, but on my first impression, this thing rocks!!! The brushes do need to be cleaned of long hairs occasionally, but overall I couldn't be more happy with the purchase. It is outstanding on hardwood and tile floors and does a pretty good job on thick carpet. If this unit continues to perform like it has initially, we'll never be without one again.
October 23, 2015
Rated

4

out of

5
 by
Mary
Great investment!!
This machine is everything I hoped for! I work 10 1/2 hour shifts while going to school full time, so vacuuming is not what I want to do with my free time! Not to mention I have 3 dogs and 2 cats!! (I love them but oh my gosh the hair) I used to spend at least 4 hours trying to vacuuming my house and eventually giving up before I got done with the living and kitchen. Now I simply turn roomba on and then empty him at the end of his cycle. My house has never been so pet hair free! I do turn him on daily but pushing a button is nothing compared to manual labor. I do not have any carpet so I am not sure how well it would work on that but I do have hard floors and it works perfectly. If I want a certain room spotless quickly I just use the virtual wall! Roomba is worth every penny! For the people who are saying negative things they must not be very busy people and can stare at their floor to see if it's "spotless".... Roomba does a better job than I do!
October 17, 2015
Rated

4

out of

5
 by
Roomba family man
owner of 4.models
I bought the original Roomba Discovery. Doesn't sweep anymore, but still vacuums. Uses a Series 400 battery. Then bought a Dirt Dog Roomba Sweeps, no vacuum. goes in the garage under the cars. Great product but discontinued. Then bought Red top Professional series, came with a small suitcase full of spare parts. Then was given a Black series 600.. Bought lithium batteries for both from another company. Runs three times longer but you have to dump the dirt bin. The original design had a bin and a filter to clean, but the Aeroforce is the best. One big bin, wash the filter, use Dawn soft bristle brush and let dry. I don't want the 800 series and up with their small hepa filter. I converted my Red Top Proffessional from the old style filter and bin design. Just buy the Aeroforce bin assembly and put it on. Have a 4,800 sq. ft. home. Use 2 at a time.
September 17, 2015
Rated

5

out of

5
 by
bob
I would recommend this to a friend
Does a great job sweeping but is loud and bumps into dark thing. Also, it's easy to use, just hit clean and it will start cleaning. If you hit dock it might take 5 minutes but it will find its way back.
November 1, 2015
Rated

1

out of

5
 by
Your Highness
Probably not. Worked great when new (about 2 months ago)
Front wheel falling out.
October 21, 2015
Rated

5

out of

5
 by
Doggie Owner
Trust Me, You Need This
If you have a pet, you need this. If you don't, you still need this. I program it to vaccuum everyday while I'm at work, come home, empty the full bin quickly, and the house has much less dog hair! It may not get the whole floor perfectly clean everyday, but if you schedule it to run daily it will clean the whole floor and keep it clean over time. And I have to give BIG kudos for the customer service of iRobot, I am glad I purchased directly through them. They will help you with any problems or questions, and from my experience go above and beyond your expectations. I have had mine over a year, and did a bit of maintenance on the vaccuum recently. Everything is easy to replace and switch out, including the brushes, filter, bins, even wheels. After a year my robot is working the same as brand new with minimal maintenance costs. I didn't have to perform the replacements (they were all still working), but I want to keep it working like new because I love this thing.
August 27, 2014
Rated

4

out of

5
 by
feisty_girl
I'd trade my husband before my Roomba...
I cannot imagine life without Roomba. I've had various models over the last 8 years and have to say this model seems to be the best all-around. It's reliable, cleans well, large dust bin and able to schedule. We have one old yellow lab that sheds constantly, and 2 cats one of which is a Maine Coon cat; so needless to say we have a lot of pet hair. Moe is scheduled to run every morning around 4am so when I get up at 6am, my kitchen, dining and living room is clean; it is the best way to start my day. I clean the dust bin and brushes daily and am always amazed at how much dirt/hair/stuff he picks up! It's also good in that it promotes good cleaning habits, my 5 year old learned early on that she needs to pick up all her toys every night before bed so Moe doesn't get them. My experience with irobot's customer service has always been hassle free. The only way they could improve this product is to extend the warranty beyond a year; I've had a couple that "died" after 1-1/2 to 2 years of use, which is the reason for 4 stars not 5.
December 10, 2012
Rated

4

out of

5
 by
SCM
Where roomba misses
Purchased Roomba 650 when my husband, who normally does the vacuuming, had shoulder surgery. Overall, Roomba was worth the money for sure, but I was surprised (disappointed) about several things: 1. the effort required to clean Roomba after she has done her job is nothing like they show in the video. We have two papillons and they don't shed a lot but their hair is long and I have to cut it to pull it off the brushes. Ultrafine dust gets past the filter and collects on the fan, which cannot be cleaned. I assume this dust will eventually contribute to --or cause-- failure. 2. We had tile floors with nice wool area rugs. Roomba cleaned both but left a line of dirt at the perimeter of every rug which I had to come around and sweep. 2. We now have carpet throughout (1900 sq ft minus large kitchen and bathrooms) and she does okay with that but I have to empty her multiple times and recharge her partway through her job. Thus vacuuming takes the better part of a day. I can be doing other things, but need to be here to make sure there is no interaction with the pets, or getting stuck somewhere. The noise can get tiresome after that much time.
June 19, 2015