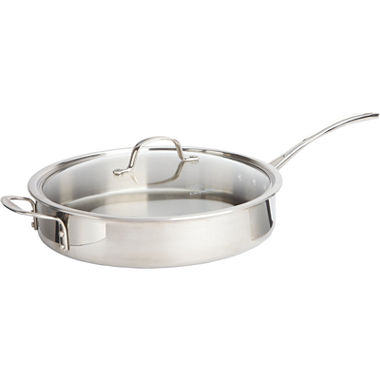 Calphalon® 5-qt. Tri-Ply Stainless Steel Sauté Pan
web ID: 7823826
Covered sauté pan has a wide, flat bottom surface ideal for searing and sautéing meats, fish and poultry.
low sides allow air to circulate so that foods remain crisp, yet high enough to contain juices and prevent splattering
combines the beauty of stainless steel with the superior performance of aluminum
polished, stainless steel exterior with satin-finished interior
designed with 3 layers to ensure even, consistent heating
induction-capable
convenient stay-cool handles

Stainless steel/aluminum. Oven-, broiler- and dishwasher-safe. Imported.
Rated

4

out of

5
 by
ljaw
Stainless Pan
I am a novice cook and so I need to learn to utilize stainless over hard anodized which I have been utilizing for years. Wanted a healthier cooking surface and decided to go to stainless just need to learn how to keep things from sticking.
July 15, 2015
Rated

5

out of

5
 by
RogerMaslow
Great for searing!
I had this as part of a large I purchased several years ago and it was used repeatedly for searing steaks and seafood. Sear the steaks, pop in the oven, pull out steak to rest, and sear your seafood. That easy. I'll be buying this again as it's large enough to do two t-bones simultaneously and it's great to cook whatever else you wish; also found it to be a great pan to cook meatballs and sauce in (easy to deglaze). I'm hoping the warping issue may be as simple as a bad batch of the alloy used in making some of stainless versus a design flaw.
January 6, 2015
Rated

5

out of

5
 by
joseph l.
use of stainless again
I love getting back into a quality pan for cooking again. I have worked in resturants in the past, but have not invested in a nice cooking set til now. The 5qt. saute pan was the first to try in the set. The heating for the pan is perfect and the food comes out awesome. Yes, if you are a beginner then you may have some sticking issues or some discomfort with using stainless, but with the even heating of this set it sure makes it easy. The cost is more then fair for the quality of the product. We are so happy that I went out this weekend to the outlet store and purchased the 11 piece set of the tri-ply to go along with the two pieces we have.
November 7, 2011
Rated

5

out of

5
 by
cookinmom
Great for stir fry
I have had this big sauté pan for a few years now. I didn't use it much when I first got it, but my family has grown and it's great for making a nice big meal! I have had no issues or troubles at all with this pan. Sometimes, it's a bit heavy to lift a pan full of food by the handle, so I use oven gloves and lift with both handles and that works fine. We cook veggies in it, potato hash, stir fry, meats, and it all works great.
November 15, 2014
Rated

5

out of

5
 by
Chrissie
Cooks Great!
I decided to try and convert fom using nonstick to stainless steel once again. Without a doubt, Caphalon was on top of my list. After watching a video about proper care & cooking, my beginning sceptism turned into a positive ending. It cooks very evenly is what is noticable. Since I am a"fond" lover to begin with, I can honestly say that I have been missing out on the intense flavors that I have found since I began cooking with my new stainless steel saute pan. The best tip I learned was after the pan is empty, put hot water into it, return it to the warm burner & allow it to sit. Makes cleaning it easier~
August 4, 2013
Rated

5

out of

5
 by
Rykaman
Great pan
This as all thuis brand we own preform excellent we use them on our new induction cooktop and they work GREAT!! even heating and they heat up FAST!! easy to clean an they Look Great too,you can spend more on cookware but I don't think you can get any Better than Calpalon Cookware Thanks hope this helps someone with making the move to Calpalon Cookware you will be satisfied Just follow the instructions that come with your cookware,...................Rykaman
August 19, 2013
Rated

5

out of

5
 by
babble
Great Sauté Pan!
Not as quick to heat as say the other leading brand, however. Does a great job of browning meats and otherwise delivering even, consistent heat.
November 24, 2014
Rated

5

out of

5
 by
Valerie V.
The stainless steel 5 quart sauce pan is top quality. While there are other top name brands out there in stainless steel their quality has gone down considerably over the years. The brand my mother used when I was still at home has not met with my expectations, sadly. Calphalon stainless products are outstanding. I would recommend them to everyone. My son, chef that he is, uses nothing but Calphalon stainless steel pots and pans.
July 13, 2011
Product Q&A
Ask your questions. Share your answers.
WHAT ARE THE MEASUREMENTS IN DIAMETER OF THE PAN AND THE COOKING SPACE? IS IT THE SAME SIZE OF THE TOP DIAMETER OF THE PAN?
2 months, 2 weeks ago
by
california
How often do you shop at JCPenney? 
Occasionally
0
out of
0
found this question helpful.
Was this helpful?
helpful
0
unhelpful
0
http://answers.jcpenney.com/answers/1573/product/pp5002301390/question/2394657/undohelpfulness.djs?format=embeddedhtml&sessionparams=__BVSESSIONPARAMS__&return=__RETURN__&innerreturn=http%3A%2F%2Fanswers.jcpenney.com%2Fanswers%2F1573%2Fproduct%2Fpp5002301390%2Fquestions.djs%3Fformat%3Dembeddedhtml%26scrolltotop%3Dtrue%26expandquestion%3D2394657&user=__USERID__&authsourcetype=__AUTHTYPE__&submissionparams=__BVSUBMISSIONPARAMETERS__&submissionurl=__BVSUBMISSIONURL__
Answers
Answer: 
The diameter of the interior cooking surface is 12".
2 months, 2 weeks ago
0
out of
0
found this answer helpful.
Was this helpful?
helpful
0
unhelpful
0
http://answers.jcpenney.com/answers/1573/product/pp5002301390/answer/2382618/undohelpfulness.djs?format=embeddedhtml&sessionparams=__BVSESSIONPARAMS__&return=__RETURN__&innerreturn=http%3A%2F%2Fanswers.jcpenney.com%2Fanswers%2F1573%2Fproduct%2Fpp5002301390%2Fquestions.djs%3Fformat%3Dembeddedhtml%26scrolltotop%3Dtrue%26expandquestion%3D2394657%26expandanswer%3D2382618&user=__USERID__&authsourcetype=__AUTHTYPE__&submissionparams=__BVSUBMISSIONPARAMETERS__&submissionurl=__BVSUBMISSIONURL__