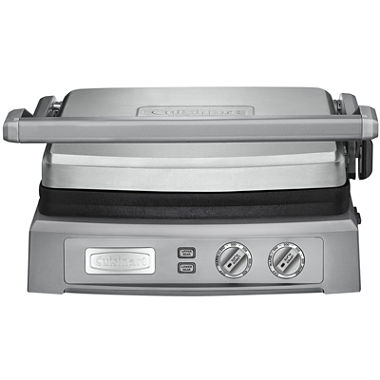 Cuisinart® Griddler Deluxe
web ID: 7803019
Flatten your plans of owning a griddler that makes nothing but pancakes. This appliance offers six cooking options in one for limitless menu planning options the whole family will enjoy.
contact grill, panini press, full/half griddle, full/half grill and top-melt functions
removable, reversible and nonstick grill/griddle plates
dual-zone temperature control
sear at 500° for up to 2 minutes at a time
adjustable top cover
large grilling surface
integrated drip tray
cleaning/scraping tool included
green LED indicator lights
instruction and recipe book included
Stainless steel/plastic/metal All accessories are dishwasher-safe. Wipe exterior clean with a damp cloth. Imported.
Rated

3

out of

5
 by
Noishe
So close, but just average
makes a great steak, but Cuisinart isn't fully behind their product line. The lack of accessories for the so-called "deluxe" version is disappointing to say the least. For this reason, I can't give a higher than 3 star rating. I'm throwing my voice out there, with literally every other review to say, we want our waffle plates!
October 26, 2015
Rated

5

out of

5
 by
Ellen1947
I love this griddle
I was looking to replace my George Forman as the hinges that hold the plates were not staying in place. This far surpaces my expectations. The Sear works great for steaks and the panini has a nice sturdy hinge to keep from squashing sandwiches. Cleans very easy and usually hand wash but I did also try the dishwasher which was good also. It was larger than expected so I do leave out on my rolling butcher table as it would be pretty heavy to store in a closet and need to move out to the counter often. I am very glad I purchased even though a little pricey I use at least twice a week. Great Product! I have other Cuisinart products so knew it would be a keeper.
October 7, 2015
Rated

4

out of

5
 by
shawny
Needs a waffle plate please!!!!
I had put the Cuisinart - Griddler Deluxe on my wedding registry by mistake as we wanted the lower model with a waffle iron plate. This was our mistake and we got the girdler deluxe and the waffle attachment for the lower model. I was so excited I took everything out and threw out the boxes and now have a waffle iron for the wrong model griddle :( I used the Griddle deluxe and love it! I just feel that Cuisinart needs to step up to the plate and make a waffle Griddle for this upper scale model so I can make the waffles I was so looking forward to! Why would the more expensive model not have as many if not more options than the lower models? Also is there anything I can do about the waffle iron plates I can not use, as in return them? I have all the literature that was in the box and they have not been used, I just don't have the box. I have only used the griddle once so far. From the one time I have used it the quality was excellent. Very easy to clean and use! I can not speak for long term reliability as of this point but it feels very sturdy.
September 9, 2014
Rated

5

out of

5
 by
Teri
This product is great !
Perfect for pancakes, bacon, eggs, grilling items like hamburgers. I use it every week and am so glad I opted for the higher end model.
October 1, 2015
Rated

4

out of

5
 by
KittyMomNJ
As billed
The griddler was a Christmas present to ourselves and we've been very pleased. We used a different grill for many years and really liked it but this one has it beat. It heats quickly and the sear function is great for steaks. I used it opened as a griddle and the heating was even and it cooked exactly as needed. The only down side is that the handle makes it hard to open under our upper cabinets. Sllding it out an inch or two works fine.
January 24, 2015
Rated

3

out of

5
 by
Cook
Cooks well, but broke with use.
The griddle has worked well and I have used it approximately once a week for about 6 weeks. The unit lacks a built-in timer - something that is found on other brands - but that is a minor inconvenience. More frustrating is that the bracket that holds the drip tray extends outwards from the rear of the appliance. As a result, mine broke off despite careful handling. Replacement parts do not appear to be available and it seems unlikely that one could successfully glue something in proximity to heat. I am disappointed. They should modify this design issue in future models.
September 13, 2014
Rated

4

out of

5
 by
rcee
Great Unit - Where are the waffle plates????
Deluxe unit with no waffle options?? Please provide as an accessory.
January 23, 2015
Rated

4

out of

5
 by
Wants Waffle Plates
Where are the waffle plates
We love our new Griddler Deluxe. We are making pancakes at this time. The unit allowed us to get rid of several other devices - except our old waffle maker! Where are the waffle plates??
January 4, 2015
$6.95 oversized item surcharge

An oversized item surcharge may apply to some heavy or bulky items due to size, weight or special handling required. This item surcharge is in addition to standard shipping rates.