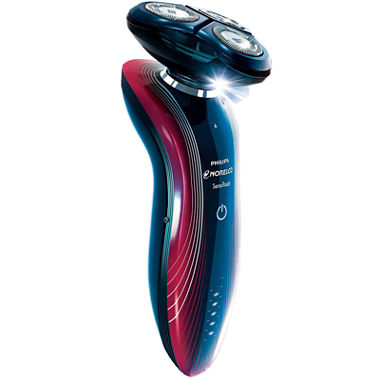 Norelco® SensoTouch 1180X Mens Shaver
web ID: 8641045
Shave with perfect control and precision with the Norelco SensoTouch 1180X rechargeable shaver.
Gyroflex 2D system adjusts easily to the curves of your face
DualPrecision shaving heads shave even the shortest stubble
SensoTouch shavers have patented super lift & cut action
aquatec seal for comfortable dry and refreshing wet shaves
smooth, low-friction skinglide shaving surface minimizes irritation
precision trimmer for perfect mustache and sideburn trimming.
Plastic/metal. Rinse to clean. Imported.
Rated

5

out of

5
 by
oldgoat
Good product
I was disappointed that there was a newer model out. I spent the big bucks thinking I was getting the latest. The one I bought is a good product and look forward to using it many years to come.
July 8, 2015
Rated

5

out of

5
 by
numberoneracer27
Great Shaver
Battery lasts very long which is nice, Kept it in my car the whole week and used it twice a day. Doesn't get completely smooth like a traditional hand razor, but comes very close. All in all, I love it and is a great purchase.
May 27, 2015
Rated

4

out of

5
 by
Buck
Good & long-lasting shaver.
The Norelco Senso Touch shaver is quite good. My new one replaces a similar Norelco one that was 10+ years old & still working after several replacements of the shaver blades.
May 20, 2015
Rated

5

out of

5
 by
Tonalone
Great features - easy to use and clean. Charger stops when it charged which is great!
This product has great features: it seems to have a good strong battery that is rechargeable; the battery charger seems to stop charging when the battery is fully charged which is a great feature; the shaver is easy to break apart to clean by brush or wash; the charger is also a handy stand to set the shaver; last, but not least is that it looks good. Hopefully the battery will last a reasonable length of time before it or the whole system is replaced.
October 1, 2015
Rated

5

out of

5
 by
Firstjump
Great razor
Great razor smooth shave. I found that I was moving it around too quickly, since I slowed it down I get a much better shave, I don't think I was giving the blades time enough to work.
September 17, 2015
Rated

5

out of

5
 by
AnthonyH
Phillips Norelco shaver 6700
This product is so easy to use. The shave is wow! So close. I hope it last me a long time.
September 16, 2015
Rated

1

out of

5
 by
Bill0512
very disappointed
I purchased the 1180x Sensotouch about 2 years ago. The first razor I had to return to the store, not working. I have not been satisfied with the quality of shave and have been through 6 sets of blades in the past 2 years. Now the casing over the power button is cracked and no longer water proof and at times hard to turn on.. I have and still have other Philips products that are excellent, but I am planning on replacing my razor and not planning on buying another Philips razor. I can't explain how dis-satisfied I am with this razor. I am so dis-satisfied I had to write this review. I first for me.
August 1, 2015
Rated

2

out of

5
 by
Piggy
Good & Bad
The sleek thin design has made the unit easier to hold, and much less likely to be dropped. I would however, recommend a wrist rope to ensure it doesn't hit the ground if dropped. The shave is relatively close, and the unit easy to use as long as you don't have more than one days stubble to deal with. It is however, difficult to get a close shave under the chin, the nostrils, and a neat look under the sideburns. Another issue with the unit is that it sprinkles small stubble debris all over your chest area when in use, whether you emptied it before use or not. I have yet dared to try removing the shaving head in order to use the trimmer. I'm just glad the thing has not fallen apart yet. The battery life is impressive, and the new stand up charger is favorable. In closing, I would truely like to have the performance of my last shaver, Norelco of course, with the nice, and comfortable design features this new shaver sports. Not sure this new unit is quite worth what I paid for it, but that remains to be seen. Best of luck with the next model. Regards, Piggy
September 8, 2012