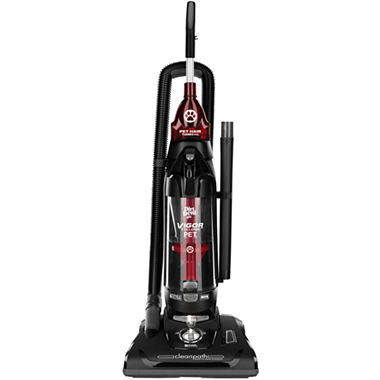 Dirt Devil® Vigor Cyclonic Pet Bagless Upright Vacuum Cleaner
web ID: 8691035
Don't worry about having to replace any bags on this vacuum. The Dirt Devil Vigor cyclonic pet bagless upright vacuum features a bottom-emptying dirt cup for effortless cleanout, and its five-position height adjustment makes it easy to move from room to room, cleaning all flooring types.
includes pet-friendly, on-board tools that help gather pet hair on upholstery and stairs
single-stage cyclonic technology provides an added level of dirt separation
features a multilevel height adjustment to clean all floor types
a bottom-emptying dirt cup makes it easy to dump and clean collected dirt and hair
a carbon filter helps eliminate pet odors
HEPA filter
14-inch cleaning path
features a long, 25-foot power cord and premium stretch hose
Heavy-duty ABS plastic. Measures 14x13x43½"H. Imported.
Rated

5

out of

5
 by
mzimmers
Great vac for what I need!
Switching to area rugs and hardwood from wall-to-wall carpeting means less vacuuming. Yay! But a light weight vacuum--which to choose? I went with the Dirt Devil Cyclonic Pet Bagless (another yay!) Cleaner and I'm very happy. It stores easily, cleans the areas I need, tackles pet hair well, and has great suction. And the Dirt Devil brand to boot. It's a definite win-win.
January 22, 2015
Rated

1

out of

5
 by
Unimpressedwithdirtdevil1
The World's Worst Vacuum
After using the vacuum once the suction failed and all the dirt was spitting out ( I could feel it hitting my feet!) And by the second time I used it I gave up in frustration and swept the house instead. This vacuum gets clogged instantly with cat hair, and I only have one shorthair cat! I was feeling paranoid and tested my theory by gathering some dirt and trying to suck it up... Nope, it just spread the dirt everywhere!!! I had brought the vacuum to a repair shop convinced that it must be broken, they removed a clog. When I brought it home to use it, I vacuumed 2 rooms and gave up again since it was already spitting out dirt and failing to suck up everything. I have spent more time cleaning the filter every week, fixing the turbo tool and hunting for the next clog that I'm questiong whether I should be paid for just using the darn thing, honestly its a full time job! This was the biggest waste of money!!! I will never ever buy dirt devil again!!! Stay away people this vacuum is the devil...
September 4, 2015
Rated

5

out of

5
 by
Anrean
LOVE IT!!
Bought this to replace another pet vacuum cleaner to keep up with my cat's hair on the furniture as well as traditional vacuuming. Works exactly as expected. Using the special upholstery tool is a breeze and does a great job of not having to go over the same spot repeatedly to get up the hair. Also does an excellent job as a regular vacuum cleaner including the handle going all the way flat to clean under the bed!. Very easy to empty the canister - it empties from the bottom and everything comes out instead of the usual having to turn the canister over and have dust fly everywhere. Also has a small "thingy" in the canister that catches larger particles like tiny stones so they do not fly around and damage the machine. cleans to the edges. Extremely easy to put together! Just need 1 phillips head screwdriver for 3 screws.
November 6, 2015
Rated

1

out of

5
 by
Trace
Clogs every 2 minutes!
I bought this about 2 months ago and used it about 5 times. The first couple times using it I was very impressed. It had good suction power and was lightweight. The last 2 times of use the vacuum clogged repeatedly and spit out dirt. This vacuum now sits in my garage because it is useless. I am very disappointed in this product and if I had my receipt I would definitely return it
September 25, 2015
Rated

5

out of

5
 by
joapple
love the features
I love the features and the powerful suction. Even went so far as to get one for my mother-in-law!
October 7, 2015
Rated

1

out of

5
 by
slowrysc
disappointed
I purchased this vacuum through a rewards program less than 30 days ago. After using it only 3 times it just stopped working. I have cleaned the parts and washed the filter, but it still does not work. Very disappointing. I have called the support line but was left on hold for so long with elevator music that I gave up.
September 11, 2015
Rated

3

out of

5
 by
girl920
Works great - for a few months
I bought this vacuum a few months ago when we bought our first house. It was an older home with carpeting in bedrooms. The carpet had supposedly been cleaned and looked pretty good, but the amount of dust and pet hair that I got up with this amazed me! Every time I vacuumed (weekly) I was shocked at how much I filled this from one room. Compared to other vacuums I've had, this was good. However, I've only had this about 6 months, and it has completely lost suction in the bottom. I can use the hose/ext for some reason just fine, but when you plug it back into the base, it won't pick up by running the unit over the floor. It makes no sense to me, b/c the tube is right there and there's no clog? It looks like it will cost me almost as much as a new one to have it fixed. I'm having issues with Dirt Devil's website trying to figure out how to contact them and see if it's covered under the warranty still. Not happy with it and not happy with their lack of troubleshooting on their website. I'll keep trying and see how their customer service does, if they respond.
August 12, 2014
Rated

1

out of

5
 by
megd11985
Already died!
I purchased this vacuum about 4 months ago. While using it today it just died! I have never had this happen. I loved it but really only after 4 months??? I only use the vacuum twice a week. It wasnt a belt or anything like that. It just stopped working!
August 1, 2015