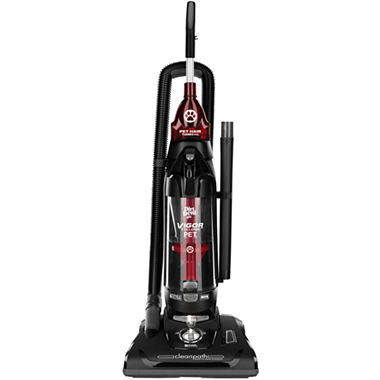 Dirt Devil® Vigor Cyclonic Pet Bagless Upright Vacuum Cleaner
pp5003162937
PRODUCT DESCRIPTION
Don't worry about having to replace any bags on this vacuum. The Dirt Devil Vigor cyclonic pet bagless upright vacuum features a bottom-emptying dirt cup for effortless cleanout, and its five-position height adjustment makes it easy to move from room to room, cleaning all flooring types.
includes pet-friendly, on-board tools that help gather pet hair on upholstery and stairs
single-stage cyclonic technology provides an added level of dirt separation
features a multilevel height adjustment to clean all floor types
a bottom-emptying dirt cup makes it easy to dump and clean collected dirt and hair
a carbon filter helps eliminate pet odors
HEPA filter
14-inch cleaning path
features a long, 25-foot power cord and premium stretch hose
Heavy-duty ABS plastic. Measures 14x13x43½"H. Imported.
Rated

5

out of

5
 by
mzimmers
Great vac for what I need!
Switching to area rugs and hardwood from wall-to-wall carpeting means less vacuuming. Yay! But a light weight vacuum--which to choose? I went with the Dirt Devil Cyclonic Pet Bagless (another yay!) Cleaner and I'm very happy. It stores easily, cleans the areas I need, tackles pet hair well, and has great suction. And the Dirt Devil brand to boot. It's a definite win-win.
January 22, 2015
Rated

5

out of

5
 by
CrazyCatLady
WOW!!!
This vacuum is absolutely amazing! I have two Main Coon cats and it gets every bit of fur off the carpet, every piece of furniture and even their cat tree. Which I have had for 3 years and only ever cleaned maybe two times since I've had the tree. I only wish is the collection cup was a little bit bigger. I have to empty it out a lot but for the job this vacuum does I really should not complain. Kudos on a great product!
August 8, 2016
Rated

4

out of

5
 by
winkler
Nice
works great, great value for the purchase price i paid
July 29, 2016
Rated

3

out of

5
 by
girl920
Works great - for a few months
I bought this vacuum a few months ago when we bought our first house. It was an older home with carpeting in bedrooms. The carpet had supposedly been cleaned and looked pretty good, but the amount of dust and pet hair that I got up with this amazed me! Every time I vacuumed (weekly) I was shocked at how much I filled this from one room. Compared to other vacuums I've had, this was good. However, I've only had this about 6 months, and it has completely lost suction in the bottom. I can use the hose/ext for some reason just fine, but when you plug it back into the base, it won't pick up by running the unit over the floor. It makes no sense to me, b/c the tube is right there and there's no clog? It looks like it will cost me almost as much as a new one to have it fixed. I'm having issues with Dirt Devil's website trying to figure out how to contact them and see if it's covered under the warranty still. Not happy with it and not happy with their lack of troubleshooting on their website. I'll keep trying and see how their customer service does, if they respond.
August 12, 2014
Rated

1

out of

5
 by
Jackie03
Dirt Devil Vigor
I bought 2 months ago but does not work properly because the dirt cup appear to be defective. It keeps falling out.
September 5, 2016
Rated

4

out of

5
 by
DougATL
Almost Perfect
The vacuum and its attachments work wonderfully. I was surprised how much dog hair and dust had settled into the carpet in 4 rooms. And it's also great on the tile in the entryway and bathroom. My only complaint is the way that the attachments (the hose, the wand, the duster, and the pet hair attachment) were made to adhere to the cleaner. I love the idea that the attachments were made to travel with the vacuum as I go from to room to room. But, they fall off way to easily. It seems they aren't really "attached" to the vacuum, but rather they are simply sitting on their respective perches. They fall off even if with the simple back & forth motion when vacuuming an open area, let alone when vacuuming under a chair or along a wall. The second the vacuum comes into contact with another object, even with just the slightest impact, it causes the duster and hose to come loose from their respective perches. The vacuum cleaner should have been designed with a more secure way to keep the attachments in place.
October 24, 2015
Rated

1

out of

5
 by
Steph
Do NOT buy this vacuum!
I don't even know where to begin. This was the worst money I have ever spent. I purchased this vacuum 6 months ago. The description says it works on hard surfaces... It doesn't! Even on the bare floor setting it just blows dust around instead of picking it up. The hose connects to the base and never stays in place. It pops out and I would say I have to put it back into position every 30 seconds or so. Very annoying. The handle release pedal broke completely off five months after I purchased the vacuum. I store the vacuum in a closet and I am not hard on it at all so I wouldn't expect it to just fall apart. The "pet" attachment doesn't work! It doesn't pick up ANYTHING! Overall, the vacuum is worthless and falling apart to boot. My next complaint is the company itself. I reached out to them to see if they could fix the handle release or just send me the part. They refused to do anything without a receipt even though I had the serial number. Terrible customer service to go with their terrible product. My mom bought a Shark a couple months before I bought this piece of junk and that thing is awesome. I wish I would have listened to her and went with the Shark. Do yourself a favor and stay away from Dirt Devils! If I could have, I wouldn't have given it any stars.
April 7, 2016
Rated

5

out of

5
 by
Anrean
LOVE IT!!
Bought this to replace another pet vacuum cleaner to keep up with my cat's hair on the furniture as well as traditional vacuuming. Works exactly as expected. Using the special upholstery tool is a breeze and does a great job of not having to go over the same spot repeatedly to get up the hair. Also does an excellent job as a regular vacuum cleaner including the handle going all the way flat to clean under the bed!. Very easy to empty the canister - it empties from the bottom and everything comes out instead of the usual having to turn the canister over and have dust fly everywhere. Also has a small "thingy" in the canister that catches larger particles like tiny stones so they do not fly around and damage the machine. cleans to the edges. Extremely easy to put together! Just need 1 phillips head screwdriver for 3 screws.
November 6, 2015